This post may contain affiliate links. Read my disclosure policy here.
At our house, we're celebrating the first signs of spring, anxiously awaiting the new baby, and also getting ready for spring break. As the weather begins to slowly warm, my kids have been asking to picnic more often. I've been serving simple lunches on our deck, which makes all of us happy. Turns out, all you need to do is throw down a picnic blanket, put some snacks in plastic bowls, serve some drinks — and that my friends, is a picnic. My favorite part… the kitchen stays clean!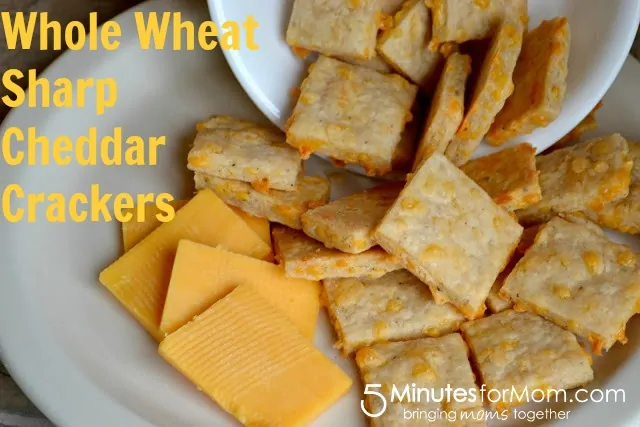 This cracker recipe is one of our go-to picnic favorites. The kids just love them, especially when they're still warm from the oven. Make them with your kids, or as a special snack to send outside with your little ones.They're super easy and I love that they don't have all the added ingredients that store bought crackers have!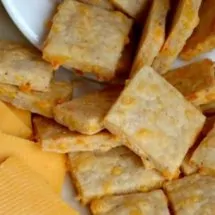 Ingredients
4 tablespoons 1/2 stick unsalted butter, at room temperature
8 ounces sharp cheddar cheese grated
1/2 teaspoon salt
1/4 teaspoon coarsely ground black pepper
1 cup whole wheat flour
2 tablespoons cold water
Instructions
In a bowl, mix together butter, cheese, salt and pepper. Add in cold water and flour and knead the dough together with your hands, bringing it together into a ball.

Chill dough for at least 30 minutes.

While dough chills, place a rack in the center and upper third of the oven and preheat oven to 375 degrees F. Line two baking sheets with parchment paper and set aside.

On a lightly floured work surface, roll dough very thin, about an eighth of an inch thick. Use a pizza cutter or butter knife to cut the dough into squares. Place crackers on prepared baking sheets. The pieces can be close together as they won't expand much when baking. Bake for 13 to 15 minutes until golden brown, and crisp.

Enjoy fresh from the oven or store in an airtight container for two or three days.
Do you have certain homemade foods that are your child's favorite? What is your child's favorite picnic food?