This post may contain affiliate links. Read my disclosure policy here.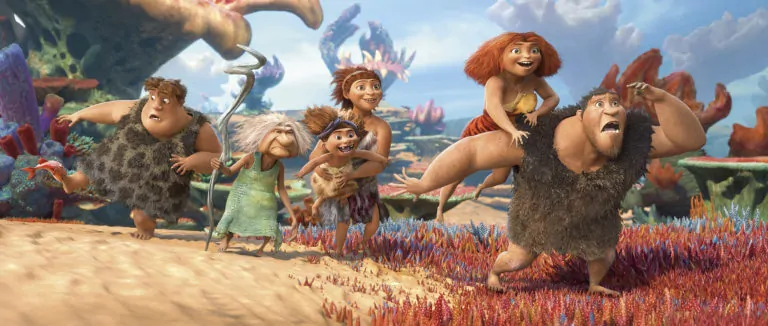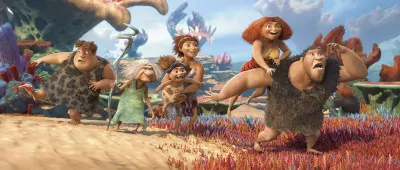 Last month, I was given the unimaginable opportunity to travel to DreamWorks Animation Studios in California to be one of the first people to screen their first family animation movie, the Croods, due out in just a few days now. As a self-proclaimed movie buff, I was beyond excited to view the latest animated offering from the same studio that created my girls' favorite, The Rise of Guardian.
In this new take on the classic coming of age story, Cave Girl Eep is struggling to find her own place in a world she has been virtually hidden from her entire life…for her protection. At the same time, Eep's father, Grug, is struggling with his own inner demons – the same struggles every parent deals with as their family grows and evolves.
Not only did I fall in love with Belt, cheer for Eep and Grug, swoon over the adorable animals, and laugh with Guy, I left the movie thinking about my own pre-teen and the changes beginning to take hold in our own relationship.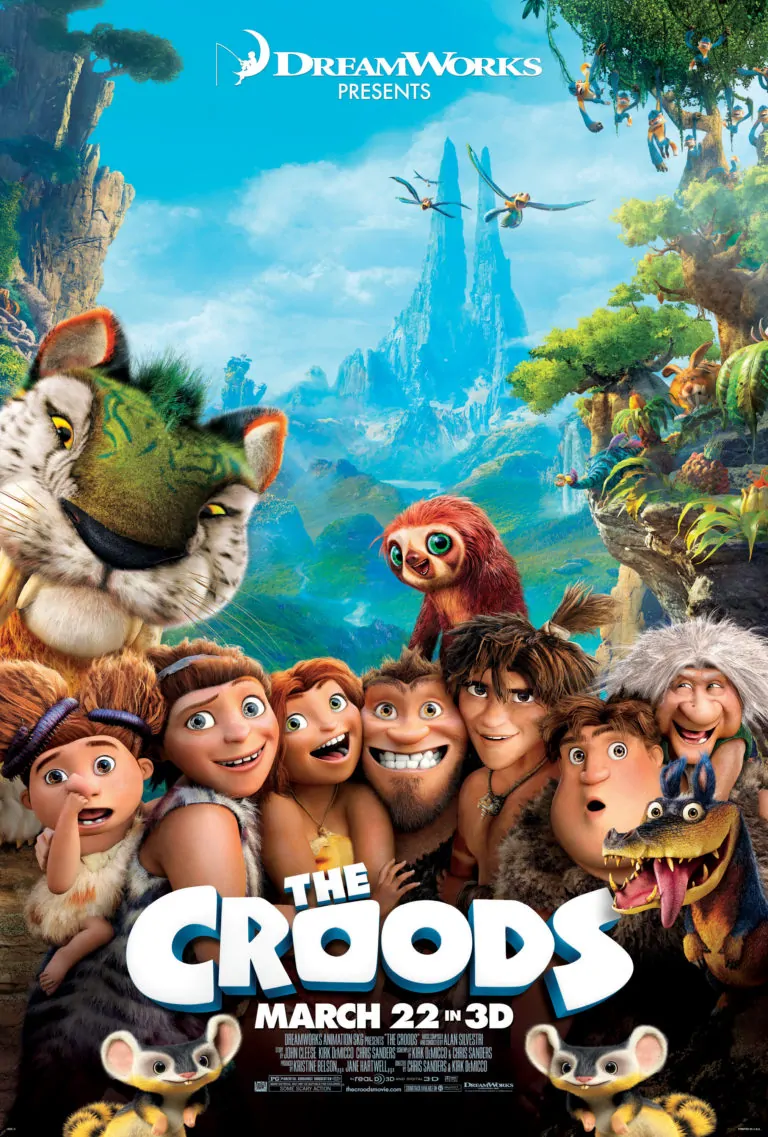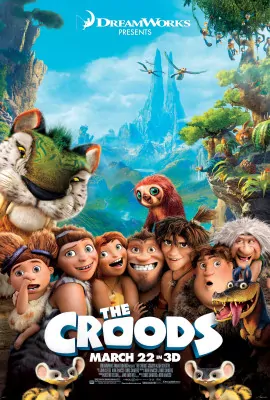 With the help of an odd stranger, Guy, and his accessory, Belt (who is the cutest thing ever), the prehistoric family is forced to venture far out of their comfort zone to find survival and a new way of life for everyone. Along the way, the family and their new friends discover fantastical animals, mystical plants, and even a little bit about themselves.
The Croods isn't only a story of adventure and self-discovery, it's also a heartfelt look at a father-daughter relationship, the changes this relationship goes through over the course of the movie closely mirrors the growth and change a parent-child relationship experiences over the course of a lifetime.
One word of advice for parents: bring tissues. The Croods' are a family after my own heart, with their crazy grandmother (oh yes, I had one of those) and over protective father – in fact, the realtionship between Eep and Grug (daughter-father) is especially poignant to me as I grew up close to my father and have a close relationship with both of my girls.
While we were at the screening, we were able to take part in a Q&A with the Directors & Producers, here's what they had to say about the ties:
Blogger: I know that the main focus was a family story. But, to me, what really touched me was the father-daughter bond. So, is that something you really wanted to emphasize?

Mr. Kirk DeMicco: I think the thing that kept it together through all the years whenever we'd come through and get lost, and when you're going in different directions, and you come back to what it is. And it was a father-daughter story.

Here at DreamWorks, there's been lots of families of friends, that's the way it is. But, actually, a true father-daughter story was pretty unique, and everyone was really engaged by that.

And I think that once we got Nick [Nicholas Cage] the hard part wasn't just pages and what you're looking at when you're doing it. It's Grug, he's very domineering and he's strict.

But, when Nick brought to it what he brought to it, it was just this warmth and this beleaguered and the weight of the world on his shoulder. He has his heart in the right place for every frame of the film, which is also kind of rare. He just is trying to do his very best. He's just in over his head.

And so, Eep is actually the one with the biggest arch, really. I mean, Grug has an arch kind of for thinking, but Eep's got to really take on board so much, like when she says what her father's done and what he's been trying to do.

But, Grug he's been in the right place. He's just misunderstood.
This is struggle something I completely understand, perhaps now like never before. My eldest daughter will be turning ten this June and we're just starting to see the changes that are inevitably coming now. Any parent can relate to Grugs feeling of complete and paralyzing fear at the thought of their children growing up and eventually leaving…throughout the entire movie, we find more and more we can relate to within Grug and his daughter's relationship.
Eeps innate need to stretch her wings is something we've all felt, something we can all relate to. I found myself, and I know you will too, fully invested in the whole family's survival by the time the movie was over. With The Croods, Dreamworks does something no other movie has ever come close to doing – they bring a family together, lead them through life changing experiences, and help them face their fears.
Grug (played by Nicolas Cage) is just like most fathers and is fiercely protective of his wife and three kids, which drives his eldest daughter, Eep (voiced by the amazing Emma Stone), absolutely insane. His hyper-vigilance of all outside forces has kept his cave-bound family safe, secure, and away from the dangers of the outside world – what parent doesn't understand this driving need?
I know I do the very best I can to shelter my daughters from the scariness of the outside world, but just like Grug, I'm learning that my girls need to spread their wings a bit every now and then. And just like Grug, I'm learning that just because I allow them to be their own person, doesn't mean they won't still need me to guide them.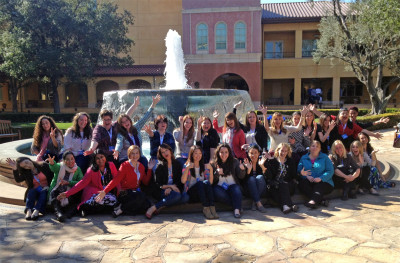 About The Croods
THE CROODS is a 3D comedy adventure that follows the world's first modern family as they embark on a journey of a lifetime when the cave that has always been their home is destroyed. Traveling across a spectacular landscape, the Croods are rocked by generational clashes and seismic shifts as they discover an incredible new world filled with fantastic creatures — and their outlook is changed forever.
The CROODS is Starring: Nicolas Cage, Emma Stone, Ryan Reynolds, Catherine Keener, Clark Duke and Cloris Leachman.
Follow The Croods
Visit the official website
Like The Croods on Facebook
Follow @DWAnimation on Twitter #TheCroods
Re-pin great DIY tutorials, printables & more from The Croods on Pinterest!
Disclosure: I was invited and attended The Croods Blogger Summit, but did not receive any financial compensation in exchange for my series of posts.