This post may contain affiliate links. Read my disclosure policy here.
When my daughter was a little girl, we spent countless hours watching princess movies. There is just something magical to a little girl about dreaming of being a princess. For me, it was Cinderella, Belle, and Ariel. For this generation today, there is beautiful Princess Sofia.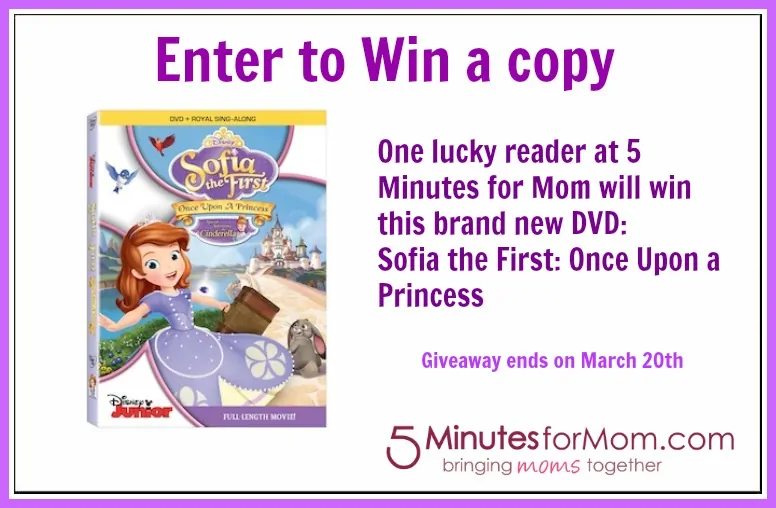 Now for the first time on DVD, young viewers can join Sofia the First as she experiences first-hand what it really means to be part of the enchanting world of a princess.

When Sofia's mom marries the king, she's whisked off to the castle, where she learns what it means to be a true princess. In addition to learning how to fit in with her new family including her step-father, King Roland II, and step-siblings, Amber and James, Sofia quickly discovers that looking like a princess isn't all that difficult, but possessing the characteristics of a true princess – honesty, loyalty, courage, independence, compassion and grace – is what makes one truly royal. While living in a captivating world of castles, wizards and flying horses, Sofia is a relatable peer-to-peer princess who is experiencing many of the same social situations as young viewers at home – learning how to fit in, making new friends and conquering new skills. Helping her in her journey are the three headmistresses of Royal Prep Academy – Fauna, Flora and Merryweather (the beloved fairies seen in Disney's classic "Sleeping Beauty"); the royal steward, Baileywick; and a group of cute woodland creatures including a rabbit named Clover; as well as Cinderella, a classic Disney Princess, who makes a special visit to offer Sofia words of wisdom.
Sofia the First has a talented cast such as Ariel Winter (ABC TV's "Modern Family") as Sofia, Sara Ramirez (ABC TVs "Grey's Anatomy") as Queen Miranda, Wayne Brady (TV's "Let's Make A Deal") as Clover, and Tim Gunn (TV's "Project Runway") as Baileywick.
If you have never watched Sofia the First, check out this sneak peek clip called True Sisters:
To celebrate the release of the movie 5 Minutes for Mom has some cool activities that you can print and play with. Also — don't forget to enter to win a copy of the Sofia the First DVD.
Enter to Win
One lucky reader is going to win Sofia the First: Once Upon a Princess DVD. Use the Rafflecopter form to enter this giveaway. New to Rafflecopter? Watch this 45-second video on how to enter!
We were provided a copy for giveaway purposes. All opinions listed are our own.