This post may contain affiliate links. Read my disclosure policy here.
From the minute that I was informed I would be flying to L.A. to meet all the actors and actresses of the new Oz the Great and Powerful movie, my daughter and I have talked non stop about interviewing James Franco. In my mind, I kept thinking —What is he going to be like? Will he be rude? Will he be prideful and act like he's better than me? On and on these questions flew through my mind, right up until the minute he walked through the door of the interview room.
Be still my beating heart.
When James walked in the room, you could basically hear all of us mom bloggers holding our breaths. We were all pretty excited to talk to him about his leading role as Oscar Diggs. The first thing he said when he walked in was exclaim, "I wanna see pictures of everyone's kids and get to know each other. We'll get all the pictures and then we'll be done.". That pretty much broke the ice and we all exhaled and knew that James was a down to earth type of guy who we could definitely relate to.
James was glad to be reunited with his old friend and director, Sam Raimi, for this film. They had worked together previously on all the Spiderman films, so he was really excited to be working closer together. James said that this was a long film to shoot — right at 6 months, but that he and the cast all had a great time doing it.
In the film, Oscar is a magician in a traveling circus, so to be really great at his role, James was able to study and learn from Vegas magician Lance Burton. He got to learn some really cool tricks like making doves appear and pulling rabbits out of hats. James has a long list of things he is good at, and now he can add magician to that list!
James has always been a fan of Oz. Long before Harry Potter or other wizardry books, he spent his days reading the L. Frank Baum complete Oz series. He said he enjoyed it so much that it was a pleasure he had outside of school! To me, that is a great role model for kids who don't like to read. Oz was his Harry Potter.
James talked to all of us moms a little bit about the difference of being a supporting role actor, like he did in the Spiderman films, versus his leading role in Oz the Great and Powerful.
He laughed as he told us, " In the Spiderman films, I play Harry Osborne who is a supporting character and the thing I've learned about Sam Raimi is that he identifies with the characters in a lot of his films.  So, when we did the Spiderman films, he identified with Peter Parker and even though he and I got along very, very well, and became very good friends,  I felt like I was not getting the full sunshine of his love because I was playing the character that was trying to kill his alter ego.
In this film, I'm the lead and I think Oz is a stand-in for certain sides of Sam.  Oz has a little nerdy side and a childlike side, but he can also be a little bit of a trickster.  In addition to that, Oz in an entertainer. He  creates illusions to entertain people, and that's exactly what Sam does.  So,  I'm finally playing the character that Sam identifies with and so I get all of his love. So it's great!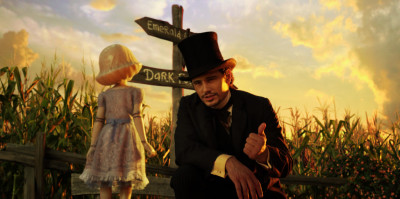 James talked to us about how he shared the script with his English class at UCLA. They helped him work through his character role, as well as Sam's suggestions and changes. James and the cast worked many days rehearsing through lunch, going over lines, and really trying to hone the personality of Oscar Diggs to just the right level. He really wanted him to have a personality all his own, without losing the person that was created in the script.
The cast was amazing to work with according to James. All his leading ladies who played the witches each had their own personality and he really enjoyed working with them all. Two of his favorite to work with were Zach Braff (who plays Finley) and Joey King (who plays China girl). He really spent quite a bit of time on scenes with them and they wound up really creating a great bond. There was CG animation involved for these characters and James had a great time working through that with them. His movie, Planet of the Apes really helped him prepare for acting with CG scenes.
James really loves what he does. Us mom bloggers spend a lot of time writing and working online and although we love what we do, we get super tired! Inquiring minds wanted to know how James does all that he does in a days time. In fact — we wanted to know if he ever slept because he leads such a busy life.
He laughed and said, I do sleep, I sleep about six hours a night.  I do a lot of things but I'm in the fortunate position that my job is what I love, so I don't need a relief from it.  I just kind of move from project to project because it's how I enjoy life, you know.  It seems like I'm doing a lot of things but it's really just because I fill all of my time with these things."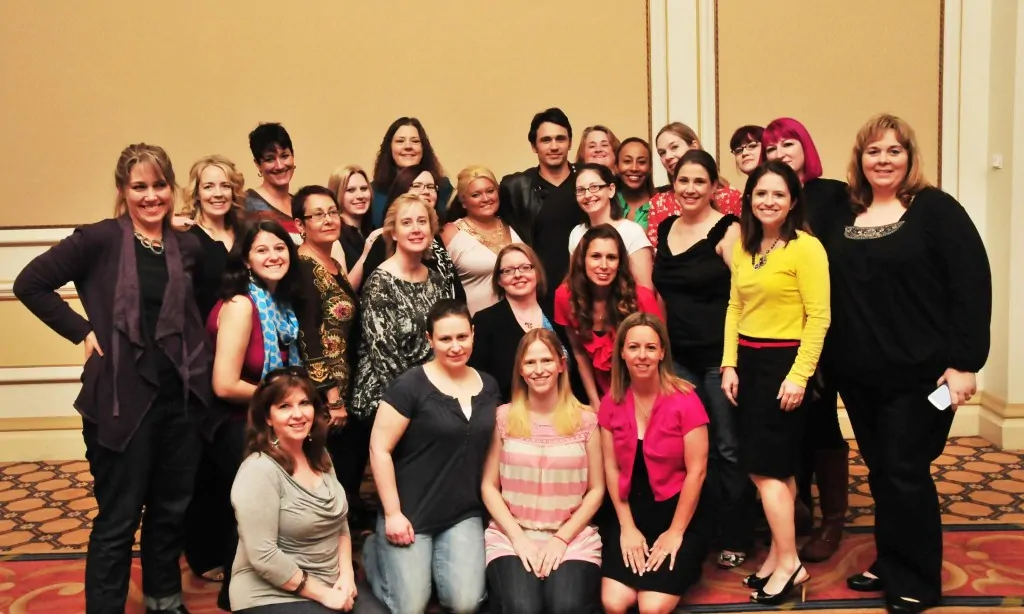 James was an amazing man to interview, and I have to say has always been one of my favorite actors. Talking with him pretty much was like sitting and talking to an old friend. His smile was warm, his eyes danced with happiness while he talked to us about doing something that he loved, and then — after our group photo, he reached over and rubbed one of our mom blogger's baby bump. It was the sweetest gesture I have ever witnessed from an actor.
Movie Synopsis:
When Oscar Diggs (James Franco), a small-time circus magician with dubious ethics, is hurled away from dusty Kansas to the vibrant Land of Oz, he thinks he's hit the jackpot—fame and fortune are his for the taking—that is until he meets three witches, Theodora (Mila Kunis), Evanora (Rachel Weisz) and Glinda (Michelle Williams), who are not convinced he is the great wizard everyone's been expecting. Reluctantly drawn into the epic problems facing the Land of Oz and its inhabitants, Oscar must find out who is good and who is evil before it is too late. Putting his magical arts to use through illusion, ingenuity—and even a bit of wizardry—Oscar transforms himself not only into the great wizard but into a better man as well.
Disney's Oz The Great & Powerful will be in theaters on March 8th.
Make sure your following Disney Oz Movie on Twitter and "Like" the Oz the Great & Powerful Fan Page. You can also check out their website.
Pictures courtesy of Insideoutmotherhood.com & Disney
Disclosure: This post was facilitated as a result of a press trip. As always, ALL opinions are my own.