This post may contain affiliate links. Read my disclosure policy here.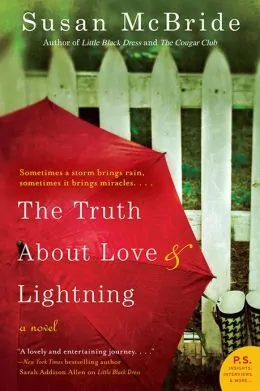 Love can be a tricky thing, there's no denying it. And love as portrayed in fiction can be compelling and exasperating, all at the same time. In Susan McBride's new novel The Truth About Love and Lightning, there's a bit of both aspects in several relationships in these pages. Add to that a mystery man and a bit of magic, and you've got an emotional and entertaining read.
Family relationships are at the center of character development here, and for readers to truly understand Gretchen Brink, a woman who believed she had lost all chances at true love forty years ago, they must know of her past. The daughter of an unabashedly honest mother, Gretchen saw firsthand the pain that can be inflicted from absolute honesty. She made it through a childhood marked by the departure of her father, and she and her younger twin sisters learned to rely upon each other for support. The path of Gretchen's adult life was built upon a significant lie, though one that was made with nothing but good intentions. When a tornado blows through her tiny Missouri town decades later, it brings with it the possibility of a second chance, but one that might be accompanied by a discovery she hoped would never be made.
Gretchen's history wouldn't be complete without Sam, the boy who loved her since they were young. Before he left on that fateful trip to Africa after high school, Sam declared his love to Gretchen, but she wasn't in the same frame of mind. When he didn't return, Gretchen made a decision she would have to live with forever. The lore attached to Sam's family became as familiar to her as her own family life, though she was never quite sure how much of it to believe. Now she's forced to face it in a way she never imagined.
Layers of the big picture are revealed through alternating narratives about different characters in Gretchen and Sam's families, all leading to the closing chapters in which readers will discover Gretchen's fate all these years later. McBride proves to be a concise storyteller with The Truth About Love and Lightning, creating images and generations of history in a novel that is easily read in one or two sittings.
Intrigued? You can win your own copy of The Truth About Love and Lightning by entering via the Rafflecopter below. U.S. and Canada residents only, please.  New to Rafflecopter? Watch this 45-second video on how to enter!
Dawn loves escaping into a novel, and when one makes her shed a tear or two while riding the bus on her morning commute, she knows it's a keeper. Dawn tries to blog every once and a while at my thoughts exactly.