This post may contain affiliate links. Read my disclosure policy here.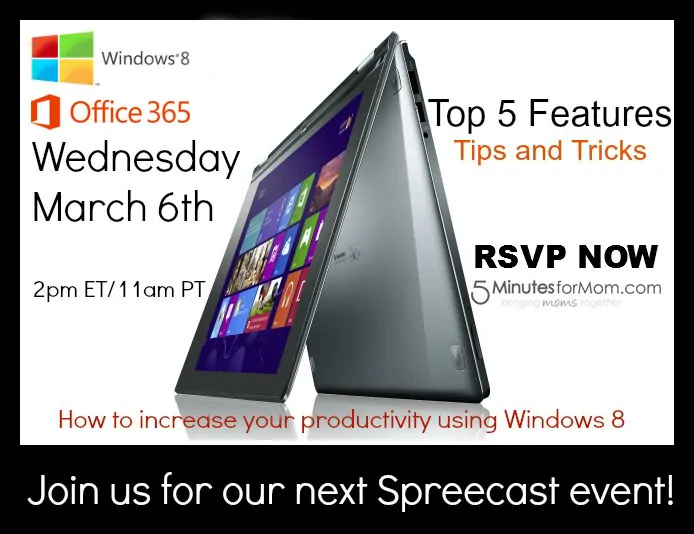 Join us on Wednesday, March 6 at 11am PT/2pm ET/1pm CT, to talk with Microsoft about the exciting new Office and Windows 8 features and how they can increase your productivity.
What You'll Learn in the Office + Windows 8 Spreecast
During this LIVE web cast, you will learn directly from Microsoft about the new Office and Windows 8 apps and features that will make your online life so much simpler.
During the Spreecast, you will learn:
What's New in Windows 8?
The Top 5 Features and Tips for Windows 8
What's New in Office?
The Top 5 Features and Tips for Office
Accessing documents across Windows devices
OneNote on a touch screen
What are the Hottest Windows 8 PCS
and MORE…
Have Questions? You Can Ask Them LIVE!
Do you have questions about the new Office or Windows 8? This will be your chance to get your questions answered.
Laugh, Connect and Meet other Mom and Dad Bloggers
Live web casts are a great chance to "get out of the house" without leaving your house, and have some fun networking and mingling with other bloggers. So, don't miss this chance to have some live fun with blogging friends.
Win a Lenovo IdeaPad Yoga 11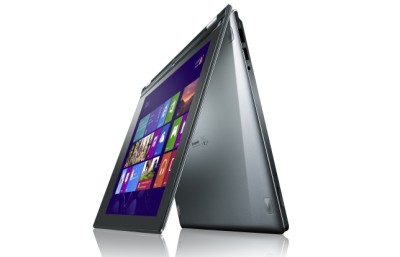 Of course, we will be giving away a FABULOUS prize to the attendees of the Spreecast!
One winner will receive a Windows 8 Lenovo IdeaPad Yoga 11. To win, you must be present during the Spreecast, so RSVP below.
You will be able to watch and participate in the webcast right here at 5 Minutes for Mom, or on the Spreecast website.
RSVP now for the webcast so you get a reminder email.
Watch The Live Spreecast Here
The embedded Spreecast will play below… or you can watch on the Spreecast website here.
Want to Share? We love it when you do! Stumble, Tweet, Pin, Facebook Like… whatever suits your mood. Thanks so much! We really appreciate your support of 5 Minutes for Mom.
Written by Janice Croze, co-founder of 5 Minutes for Mom
Please Note: This post and Spreecast are part of a promotional campaign with Microsoft Office and Windows 8. All opinions are always 100% our own.