This post may contain affiliate links. Read my disclosure policy here.
It's always the goal in my house and I'm guessing I'm not alone – I want my house tidy, neat, and smelling fresh. I'm more than halfway there, thanks to the new add-on for Rooma from Robot Add-Ons!
Two former engineers from iRobot, the company that makes Roomba, started their own company and now have a Yankee Candle scented add-on to your Roomba that creates scent wherever the Roomba vacuums. Brilliant, no?
The idea was simple. The inventors knew that those who purchase vacuum robots also tend to purchase Yankee Candle products, and they found a simple way to combine the two.
The RoomAroma simply attaches via two adhesive strips on the backer of the holder for the air freshener. You simply place the holder over the air vent of the Roomba. Each time you vacuum, the scent will fill the area that is vacuumed with one of four authentic Yankee Candle scents – Vanilla Cupcake, Sun & Sand, Macintosh Apple, or Clean Cotton. Each scent is designed to last for at least 30 days, assuming an hour a day vacuuming with the Roomba!
The product is currently available only at Bed, Bath & Beyond and on the Robot Add-Ons website for $19.99 for the starter pack and $14.99 for refill packs. Both the starter packs and the refill packs come with two air freshener cartridges, giving you at least 60 days of scent. Best of all, the cartridges can be swapped out so you can change how your house smells on a daily basis if you choose – just remove the cartridge and replace it with a new scent, then put the original scent back in the holder when you're ready for another change.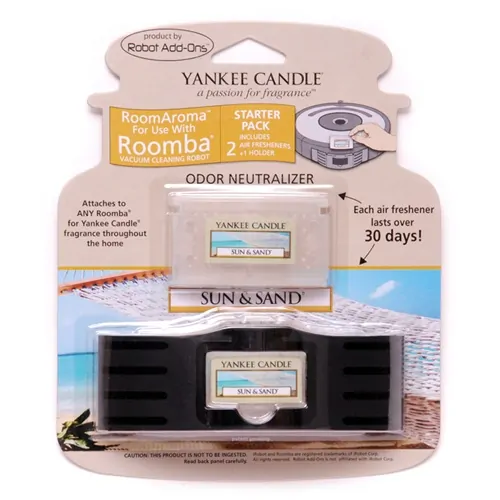 They work with any Roomba, making it easy to not have to figure out which model number works with the Roomba you happen to own.  The oil-free scent means that it won't give you a strong smell when you first install it then quickly dissipate.  The EVA substrate is a polymer that is designed specifically to ensure the scent maintains its strength over time.
This isn't the first product Robot Add-Ons has designed for Roomba, Scooba, and Mint robot vacuums.  They have products to ensure your robot vacuum keeps off certain areas, a HEPA-type filter, hard floor cleaning pads, and more.  The RoomAroma is just one new product they're currently showcasing, and they are looking to add more Yankee Candle Scents to their collection. Like Robot Add-Ons on Facebook to ensure you know their next innovation.
Enter to win!
One lucky reader will win a RoomAroma starter pack!  Use the Rafflecopter form to enter this giveaway. New to Rafflecopter? Watch this 45-second video on how to enter!
a Rafflecopter giveaway
In the interest of full disclosure, this was a compensated promotional post.  That said, all opinions remain my own. Written by 5 Minutes for Mom contributor Michelle who could use a little tidying of her home, especially after her most recent injury.  Find out what happened on her blog Honest & Truly! or follow along with her on Twitter where she is also @HonestAndTruly.