This post may contain affiliate links. Read my disclosure policy here.
She flows through the room on screen in her beautiful greens, blacks, feathers and sequins, showing her confident witch side. You can tell just by her eyes that she is evil — pure evil. On screen, her smile is one that will chill you to the bone.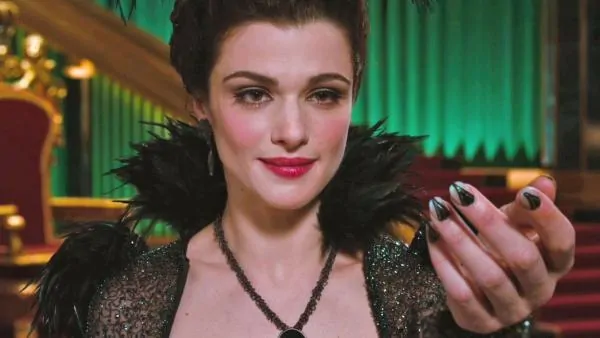 Yet when she walks into the interview room, I found myself mesmerized by her charm, poise, and beauty. Yes ladies — I am talking about none other than the beautiful and talented Rachel Weisz.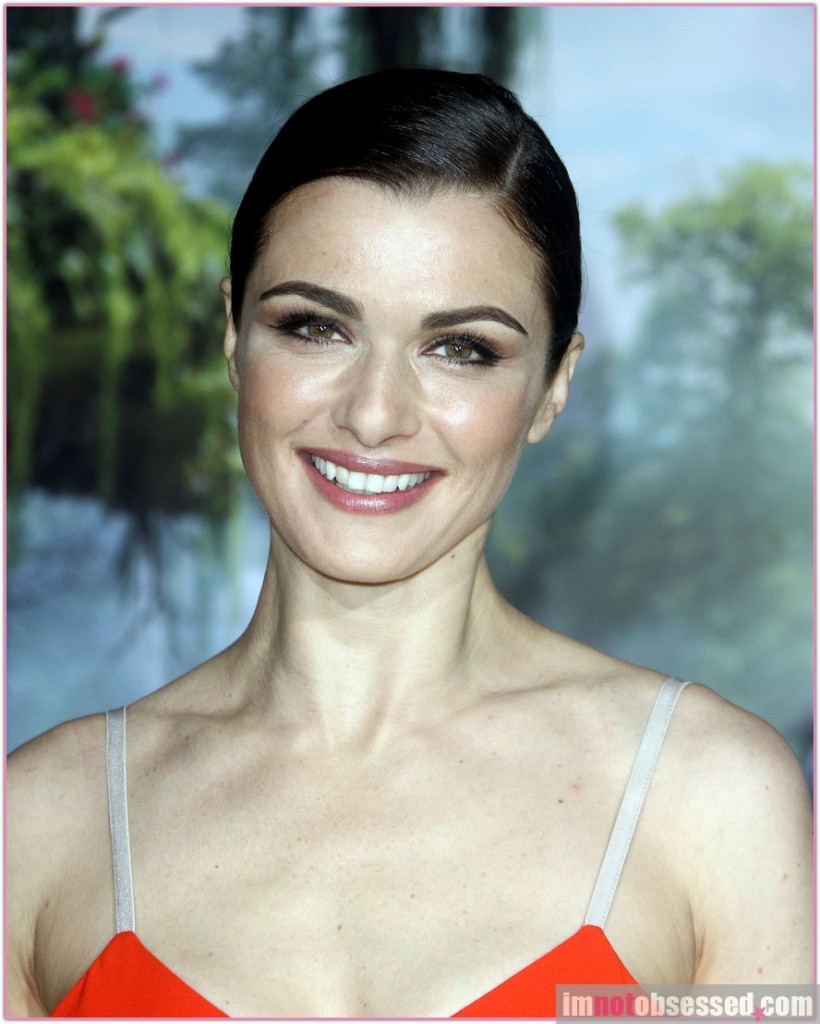 Rachel was the first of the cast that we interviewed. I loved how shocked she was to enter a room full of moms who were waiting excitedly to talk to her about her role as Evanora the Witch. She started off talking to us about her costume. "When I put that costume on I became that character. I couldn't have played her without that corset, and sequence, and feathers, and lashes, and lips, and pushed up boobs. The costume was a huge part of the character and really helped me get into the role of Evanora."
Because Evanora plays such a devious role in Oz the Great and Powerful some of us moms were concerned that her character might be too much for younger kids, however Rachel assured us that Evanora was bad — but Disney bad. "Most kids are used to seeing evil characters in movies and fairytales. Like all the Grimm's fairytales have people in them, so I think kids are used to evil characters.  I think she's dark, but she's having a lot of fun being bad — Disney bad."
During the interview, all of us were curious to know what her most memorable part of the film was. As she laughed she shared with us about her scene where she gets to torture one of the characters: "Evanora really loved the torture scene. It was  just pure fun being evil as the character, and flying. Flying is really fun, kinda — a little scary and quite exciting, like having a really good rollercoaster ride."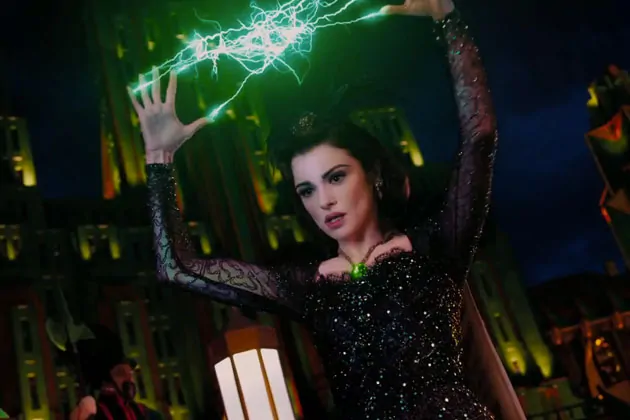 Photo credit
We were all very impressed that Rachel did all of her own stunts! She said she had so much fun flying that she really wanted to do it all herself- and that she did.
Rachel was very nervous taking on the role as Evanora simply because she had no one that she could watch to help her get into her character. She let the costume be the lead and just allowed herself to have a lot of fun while doing it. " I've never played a fantasy character before. You know, of late I've been doing very kind of gritty, earth-bound gals with no makeup. So this film was something new and exciting for me."
Rachel said that as a child she remembered sitting in the theater peering over the seat and hiding her eyes as she watched the original Wizard of Oz on screen. I remember going to the cinema to see it when I was about five, and I, and I vividly remember the seat in front of me, and trying to see over and hiding. I mean witches really terrified me. They, they seared into my mind as properly terrifying. I think children's fairytales, like Grimm's fairytales are really, really dark. I think it's to teach children about good and evil and morality, and I think there's a reason why there's been for hundreds of year.  I think they're kind of like important, archetypal stories, but, I do remember vividly seeing it. It's one of those movies you never, forget.
All in all Rachel really is a down to earth lady who is an amazing actress. If you really want to see her in action and catch her wonderfully evil and delicious performance, be sure to catch Oz in theaters on March 8th!
"Like" OZ THE GREAT & POWERFUL on Facebook: http://www.facebook.com/ozthegreatandpowerful
"Follow" OZ THE GREAT & POWERFUL on Twitter: https://twitter.com/disneyozmovie
Visit the website: http://www.disney.com/thewizard
OZ THE GREAT AND POWERFUL lands in theaters on March 8th!
I was provided an all expenses paid trip by Disney for the #DisneyOzEvent Press Junket. All opinions listed are my own.