This post may contain affiliate links. Read my disclosure policy here.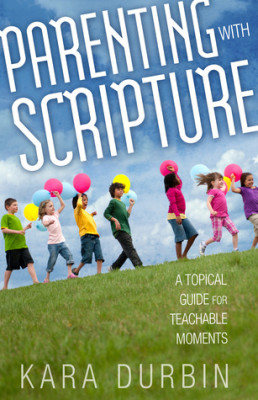 Parenting with Scripture
: A Topical Guide for Teachable Moments, by Kara Durbin is a fantastic resource for Christian parents. It is designed and created to serve parents as they seek to use and memorize God's Word before, during and after "teachable moments" with their children. This book provides scriptures for all of the issues that you can imagine facing as a parent: from lying, to dealing with anger and self-control, to learning appreciation and gratefulness. Durbin has cataloged a list of scriptures for you to have at the ready when walking your children through life.
Kara Durbin is a mother herself and she knows the challenges faced by by parents when it comes to teaching their children well. So, she has compiled and indexed scriptures by topic (and lists them in alphabetical order) for easy reference on the part of the parents. Do you find yourself dealing with issues of pride or kindness with your kid? Or perhaps your child is in need of words of hope. While we as Christian parents are required to spend time daily in the Word of God, as humans we're very prone to forgetting where the reference is located for "that passage we read a few months ago." Durbin makes it easy for you to locate verses which are applicable in whatever stage or trial of life that you and your child are facing so that you can make use of your best tool and resource in teaching your children about God, how He relates to us and how we are to respond to Him: the Bible.
In Parenting with Scripture
Durbin offers advice for how to approach scriptures and use them in conversations with your children. She notes the importance of scriptures in the life of Christians and encourages you to saturate yourself in them. Along with each topic and set of scriptures there is a devotional which you may choose to use by yourself or with your child to better understand the Word of God and how it can be applied to one's life.
This is a fabulous and great resource for parents who long to teach and instruct their children according to the Word of God and understand that they could use some help in drawing out scripture and making it known and relevant.
I highly recommend this book and am glad to announce that one of you can win a copy. Follow the instructions in the rafflecopter below to enter to win your own copy.
To see more of my thoughts on it (and to have a second opportunity to win a copy) head on over to Reading to Know.
Thanks to Moody Publishers for sending a copy of this title my way and for offering another to readers at 5 Minutes for Mom and Reading to Know.
Carrie blogs at 5 Minutes for Books. You can also visit Carrie at ReadingtoKnow.com for more suggestions on great reading materials for families.