This post may contain affiliate links. Read my disclosure policy here.
My grandmother used to say that "aging is not for the weak." I always laughed when she said it, but now that I am approaching "middle age" I don't find the phrase as funny anymore. I am noticing lots of little changes to my body, most noticeably in my skin and facial appearance. Little wrinkles are starting to appear where there were none and the skin on my face is much, much drier that it has ever been.
So naturally, I am on high alert for products that will help diminish the wrinkles and bring back some the moisture that my skin has lost. As fate would have it, opportunity knocked in the form of the Meili & Grace Anti-Aging Pillowcase.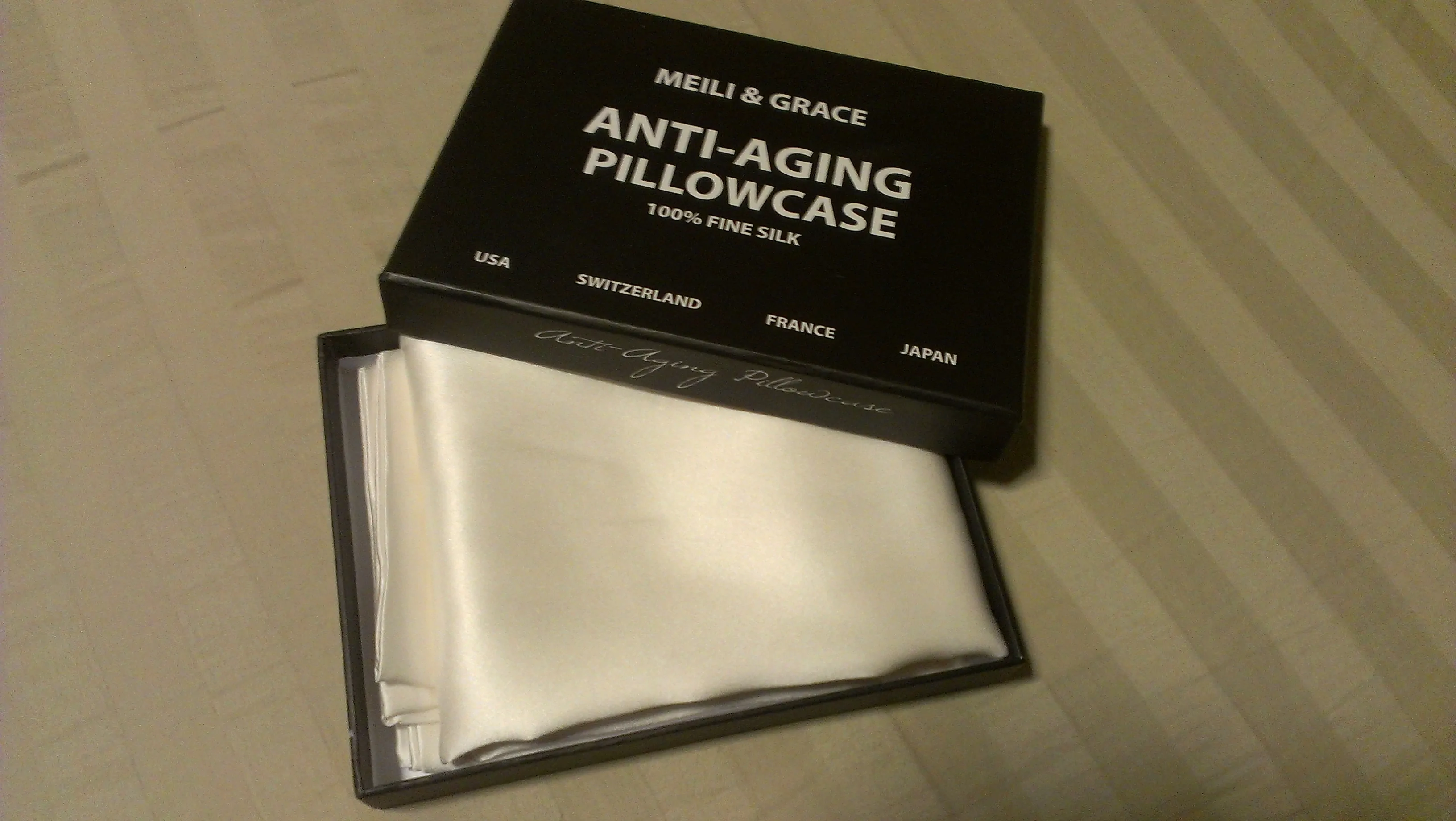 I will start by saying that pillowcases were NOT on my radar as far as anti-aging products go, so I was a little skeptical about something that covers my pillow making that big of a difference with my wrinkles and skin hydration. But hey…sometimes the best remedies are ones we would not normally think of, right? Gotta keep an open mind.
The Meili & Grace Anti-Aging Pillowcase arrived in a sturdy black gift box. The lid of the box says the pillowcase is 100% fine silk.  My first thought was, "A silk pillowcase?  That's it? How is that gonna help slow down the aging process?" I got on the internet and started reading about the benefits of high quality silk.  Turns out there is a lot I didn't know about silk or pillowcases, for that matter.
According to the American Association of Dermatology, sleeping on your side, with your face rubbing back and forth on your pillowcase causes wrinkles. The more friction your face encounters, the more chance you have of causing creases and folds in both your pillowcase and your skin as you sleep. After years of sleeping like that the creases on your face can become permanent.  Who knew?
Meili & Grace Anti-Aging Pillowcase is made of 100% fine silk. The smooth texture eliminates friction by seamlessly adjusting to your sleep movements, which helps prevent wrinkles and eliminates sleep lines.
I also learned there is a big difference between cheaply made silk and fine, high quality silk.  The unique silk used in Meile & Grace pillowcases contains 18 amino acids that easily react with skin and are quickly absorbed, which is how some of the skin revitalization process takes place while sleeping on an Anti-aging pillowcase. Silk has been also scientifically proven that natural silk is hypoallergenic and stops dust mites, making it a viable remedy for people with allergies.
So there's the science part of the review, wanna see some photos of the results I got while using the Meili & Grace Anti-Aging Pillowcase?  Here are the before and after photos!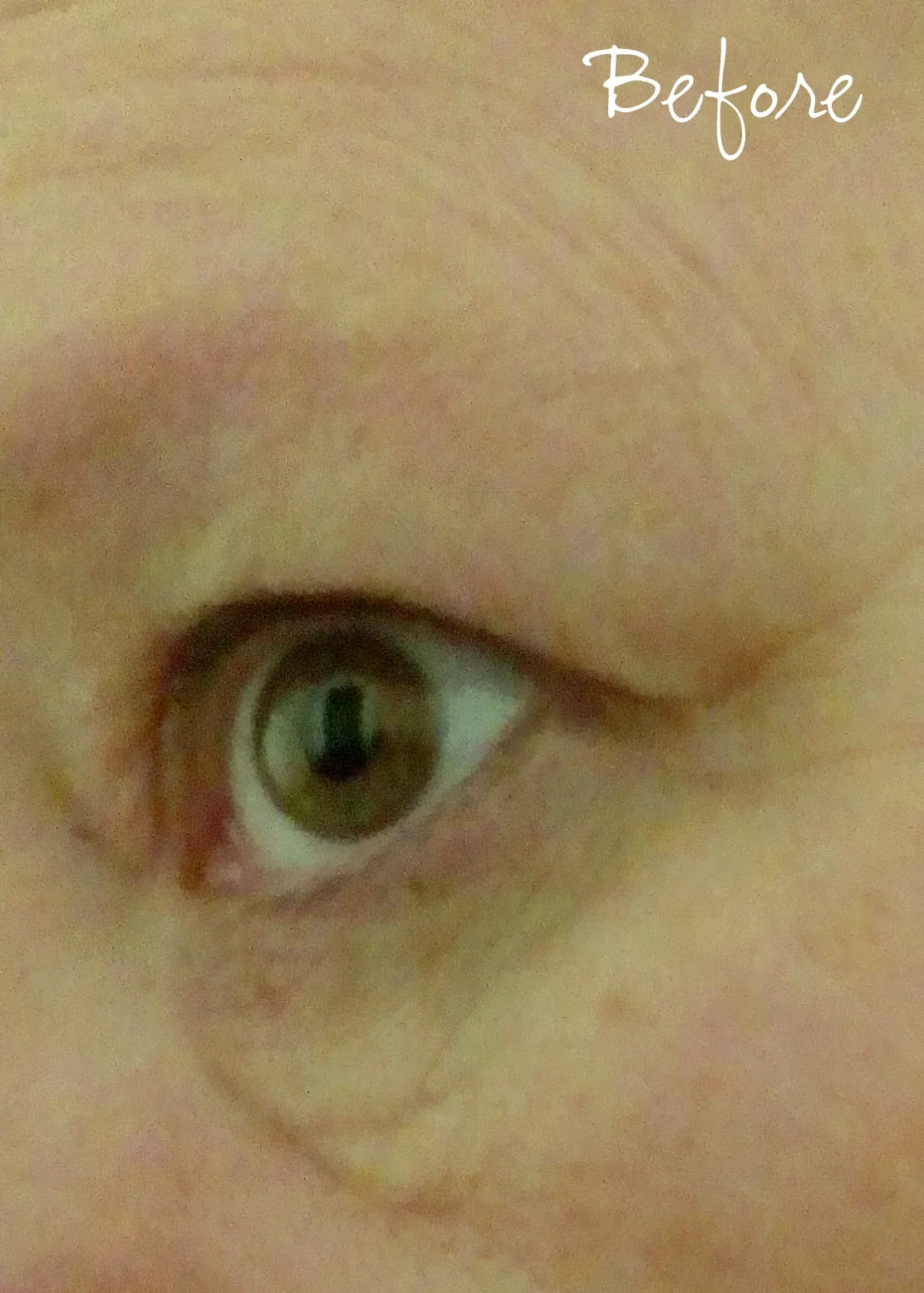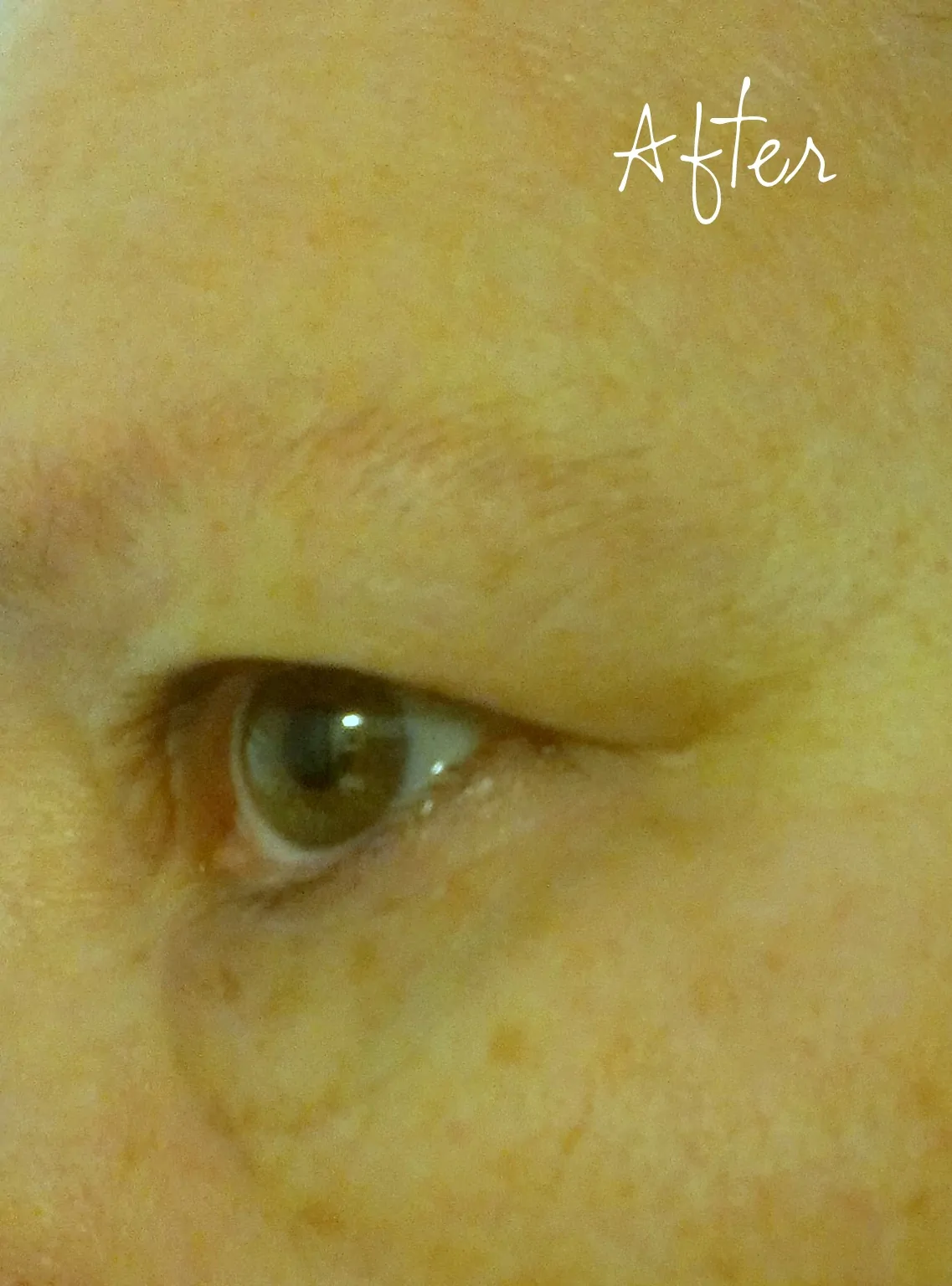 The "Before" photo was taken the morning before I started the trial, before I used the pillowcase.  The "After" photo was taken 6 days later after using the pillowcase every night. (Pay no attention to the thinning eyebrows, please. Is that an aging thing too? Because I hate it.)  Both photos were taken within minutes after waking up. You can see that the crease under my eye and at the outside corner of my eye are somewhat diminished in depth. I did nothing to retouch the photos, though I really should have put on makeup or at least penciled in some eyebrows, but I wanted to show real results on a real person.
Things I Loved about the Pillowcase
Smooth, luxurious fabric felt amazing against my skin. Seriously. It felt ah-mazing!
The fabric stayed cool throughout the night. I hate hot pillows.
No static. I was worried that I'd have all kinds of sparks flying from my hair all night.  Nope. None.
My hair was not a rat's nest the next morning. Hardly any tangles.
My face is not as dry and flaky as it has been. It's not at all where I would like it to be yet but I can honestly say, it is noticeably less dry.
Creases by eyes where my face is smashed on the pillow every night are less pronounced.  They are still there, but not as deep. Because my face is not smashed. It glides across the pillow when I move my head.
Concerns about the Pillowcase
I did have a small breakout on my face after I started using the pillowcase. It showed up three days into the trial and started clearing up on its own about two days later.  Not sure if that was related to pillowcase or not, but I hardly ever have breakouts and did not change my nightly routine as far as cleaning my face during the trial.
Kind of pricey at $65!  However, the silk is very high quality.  Not at all like the cheap, flimsy silk pillowcases I bought when I got married that fell apart after two months of use.  But if you think about how much you spend on face creams, etc, the pillowcase is not a bad investment as it will last years compared to a jar of cream!
The Verdict
Since so much of our skin's restorative process happens while we sleep, it seems smart to make sure that the bedding you sleep with is giving your body and skin all of the help it needs to appear fresh and healthy when you wake up. The Meili & Grace Anti-Aging Pillowcase is a helpful tool to have in your arsenal of anti-aging products if you are concerned about sleep lines and sleep related wrinkles.
Enter to win!
We are giving away a Meili and Grace anti-aging pillowcase to one lucky reader! Use the Rafflecopter form to enter this giveaway. New to Rafflecopter? Watch this 45-second video on how to enter!
Disclosure:  I received a complimentary product in order to facilitate this review for Meili & Grace Anti-Aging Pillowcase. The views expressed in this post are my own.
Geri Chase is mom to 2 hilarious boys and wife to an insanely funny husband, all of whom like to remind her that the fact that she is a girl does not give her immunity from their testosterone induced humor. While she pretends not to be amused, she secretly laughs herself silly over their antics and frequently blogs about life and family friendly products over at I Am Boymom.