This post may contain affiliate links. Read my disclosure policy here.
Looking for a new way to create a baby book for your child?
The Story of You iPad app is a new way for parents to create online baby books. This app makes it easy to design and share your beautiful baby photos.
Downloading the free app is easy – follow two simple steps to create an account. You will quickly be on your way to organizing and sharing your little one's precious memories.
When you log in you will be prompted to choose a template from the five available options. All the templates are cute.  One is free; the others range in price from $0.99 to $1.99.
After you choose your template, you upload a picture for the cover of the album. Then you'll be prompted to add content to your album. The photo below gives a glimpse of the variety of text prompts. You can also upload special moments to your album.

Then, insert the pictures of your choice; take pictures or you can upload them from your camera roll. You can upload multiple pictures that can be flipped through for easy viewing.
This app is a time saving tool that makes it easy and convenient to share your online baby books. Once you complete your baby book you can share it on Facebook or email a direct link to any email you add.  Coming soon you will also have the option to order a hardcover copy of your book for $29.99.
Story of You also offers a premium data protection package for $11.99. All of your data including photos, videos and book formatting will be synched to the Story of You hosting server where it will be backed up in case something should happen to your device. With the premium data protection package, you'll have peace of mind knowing your baby's memories are protected.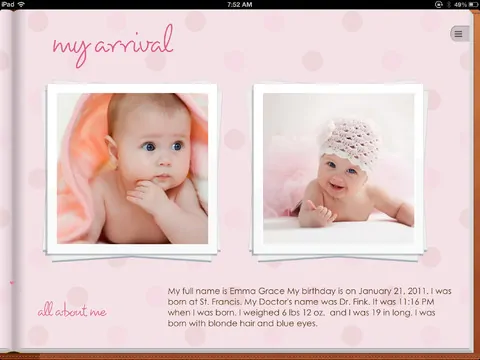 The Story of You iPad app helps busy parents easily organize their baby's photos and memories in a beautiful and meaningful way. I sure wish The Story of You iPad app had been available when my kids were babies!  Don't miss out on this great opportunity to preserve your baby's memories.  Visit the app store today to start creating your own beautiful online baby books.