This post may contain affiliate links. Read my disclosure policy here.
I have a thing for sparkling water. I used to joke that I went through San Pellegrino like water.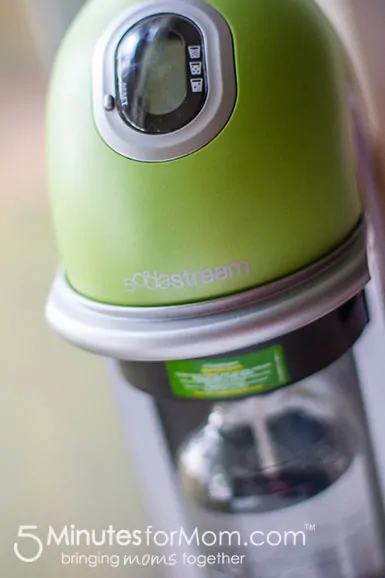 But now, thanks to SodaStream, I can turn water into sparkling water all by myself. I am saving myself a ton of money and lot of bottles.
I love that I can make myself a sparkling glass of water using my own filtered water, add a splash of lemon and some ice cubes, and sip away with no guilt as I work. I get to have a refreshing "drink" but with no calories and very little cost.
Oh Yes — the KIDS love it too…
I may be using our SodaStream machine daily myself, but when I first heard about SodaStream, my initial thought was, "That will be perfect for Jackson." Like most eleven year-olds, my son loves pop, (or soda as many of you call it.) But, like most moms, I try to limit the purchasing and consuming of pop/soda to special occasions.
With Jackson's birthday coming, I thought SodaStream would be perfect for his party. He could get his pop/soda hit and I could offer a healthier alternative.
I was right, Jackson was thrilled. Somehow, he already knew all about SodaStream and exclaimed, "YES! We got SodaStream — I totally wanted that!"

SodaStream was a huge hit with all the kids. Such a huge hit that I was so busy making more SodaStream for the kids I didn't get a chance to grab any photos of it during the party.
Jackson loves to "make" the SodaStream himself. It really is so super easy and fast that he can do it in a flash.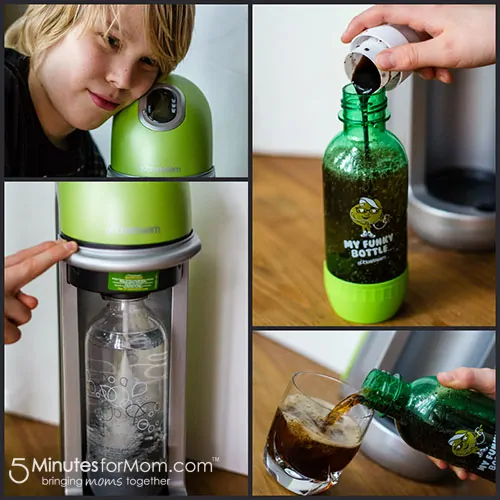 SodaStream's syrups are lower in calories, carbs, sugar, sodium and caffeine than national brands. Their clear, natural and sparkling water syrups provide natural flavors without the sugars and calories.
I do limit the times when Jackson can add syrups though. Often he is just drinking sparkling water with lemon juice like I am.
If you or your kids love soda or sparkling water, definitely check out SodaStream. It is a fun, healthier alternative to purchasing bottled soda. With the home soda maker, you get to customize the carbonation, the amount of flavor in the soda, and of course, you can skip the syrup entirely like I usually do.
SodaStream is available in Canada and is also available in the US.
Canadians — This One is For You
If you want to win, use the Rafflecopter form to enter this giveaway. New to Rafflecopter? Watch this 45-second video on how to enter!