This post may contain affiliate links. Read my disclosure policy here.
Both my children are still in booster seats, and they will be staying that way for awhile for their safety.  When we have friends in the car with us, children are often twisting or turning to talk to them, or someone is bending over to pick something up causing the booster seat to drift out of position.  It makes me nervous every time.
Fortunately, Graco has come up with a great solution. Their new Affix Backless Youth Booster comes with the Latch system that made me so much more confident back in the day when my children were in car seats and infant seats.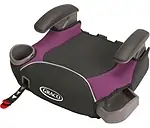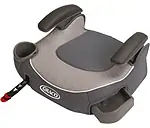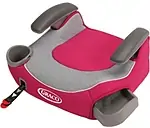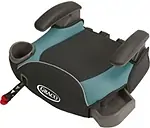 While Latch was sometimes difficult to install in the car seats, we didn't move them often, so it was worth the five or so minute scramble to secure them into the car.  The Graco Affix Backless Booster has a one-hand front Latch secure system that secures the booster to the seat, making moving it in and out much easier.
I am so thrilled by this advancement. I want my attention on the road and safe driving, not on whether or not the children riding in my car are staying where they belong in their booster seats.
The Affix Backless Booster contains a cup holder for drinks or snacks, plus a nifty hide-away storage compartment for your child's favorite things.  When your child has eaten and drunk in the booster seat and gotten it properly filthy – as every booster seat too quickly does – the cover is removable and machine-washable for easy cleanup.
The Affix Backless Booster is designed for children ages 4 to 10 – those who weight 40-100 pounds (the more important measure than age!) and from 40″ to 57″ tall.  The AAP does recommend that all children under 4'9″ use a belt positioning booster for safety.  The Graco Affix comes in five color choices – Sailor blue, Ashcroft grey, Jillian red, Davenport black, and Kalia purple, offering your children a choice in their booster as they become independent bucklers, getting in and out of the car without our help.
The Affix Youth Backless Booster with Latch System sells for MSRP of $34.99, a small price for safety.  Not surprisingly given everything about this booster, it was engineered and crash tested to meet or exceed US standard, and in addition to meeting or exceeding all applicable US safety standards, the Afflix Backless Youth Booster with Latch System has been side impact tested.
Enter to win!
One lucky 5 Minutes For Mom reader is going to get their choice of color for a Backless Booster with Latch System!  Use the Rafflecopter form to enter this giveaway. New to Rafflecopter? Watch this 45-second video on how to enter!
In the interest of full disclosure, I was compensated to write this post.  That said, all opinions remain my own.