This post may contain affiliate links. Read my disclosure policy here.
If you are ever in a contest for a kid's favorite person, here are two surefire ways to win: 1. Get them a Polly Pocket® Zipline Adventure Pool or two. Get them Princess Ariel's Floating Fountain. If the competition is really stiff, get them both and you're basically a hero forever – or at least until you tell them it's time to get out of the bath. Then you're the Worst Mommy Ever.
When our Mattel toys came in the mail, I explained to my kids we could open the Polly Pocket now but needed to save the Ariel fountain for the tub. After a few minutes of assembly, our zipline was ready to go and the kids played happily and creatively with it on the floor sans water. I'm a pretty fun mom but we keep the water in the bathtub or outside. But I did agree to an early bathtime so they could have extra time with both Polly and Ariel.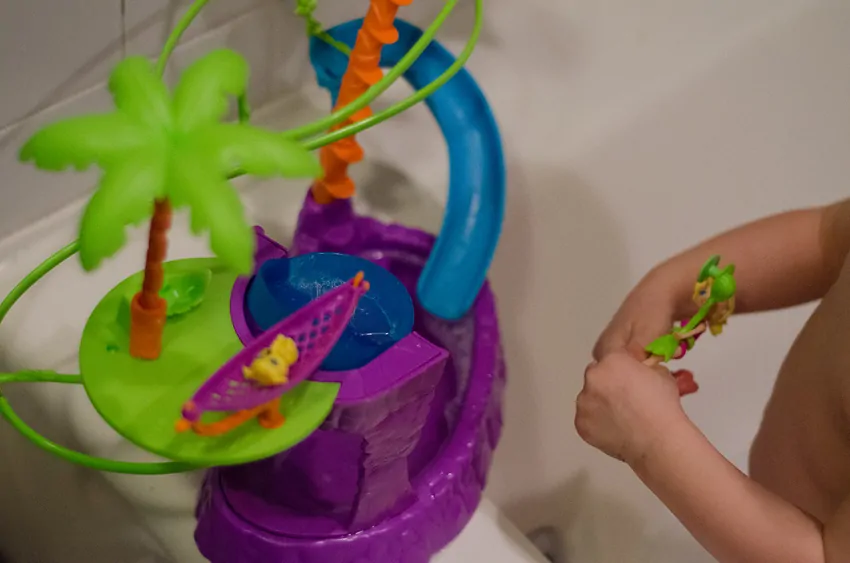 Polly Pocket® Zip 'n Splash Playset includes a Polly Pocket doll with color changing hair, two little friends and the Zipline Adventure Pool. My almost 4 year old (who happens to be a boy, but don't you dare tell him he can't play with Polly Pocket) had no problem figuring it out how to send Polly down the line on her own, and his 2 year old sister was happy to help set up the "surprises" Polly triggers. They both loved pouring water to make the waterfall into the pool and swinging Polly in her hammock.  After 20 minutes I could tell it was definitely a hit. There were a couple of tiny pieces that came with the set (itty bitty drinks for Polly and friends to sip by the pool) so I ust put those away for now until there's no danger of anyone swallowing them.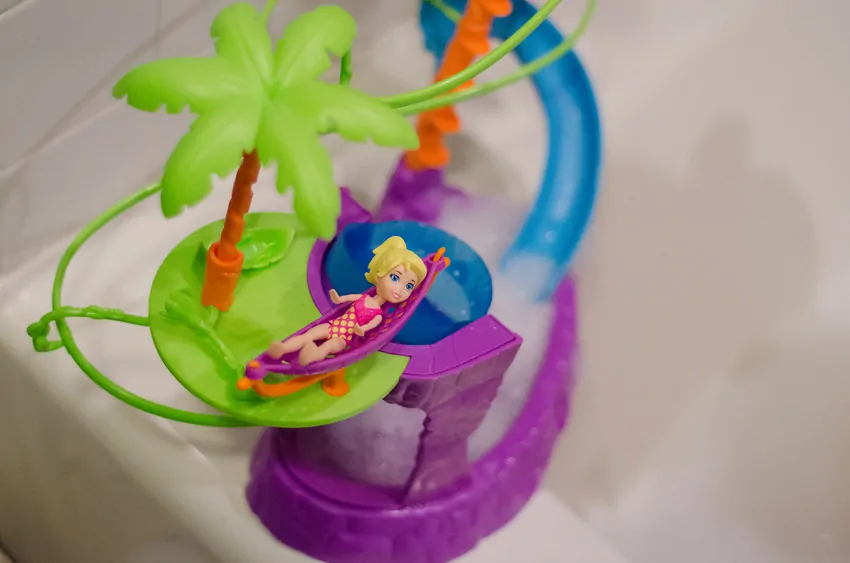 I'm not going to lie, I'm a little jealous of her hammock and her zipline. Girl's got it made.
The Princess Ariel Floating Fountain is a hit as a bath toy, but would be even betting in a kiddie pool on the patio. The fountain part works by squeezing a bulb – no batteries or moving parts to replace or jam. With a hard squeeze the water is capable of traveling pretty far, but it's a very small volume and my bathroom didn't require any mopping up after the kids were done.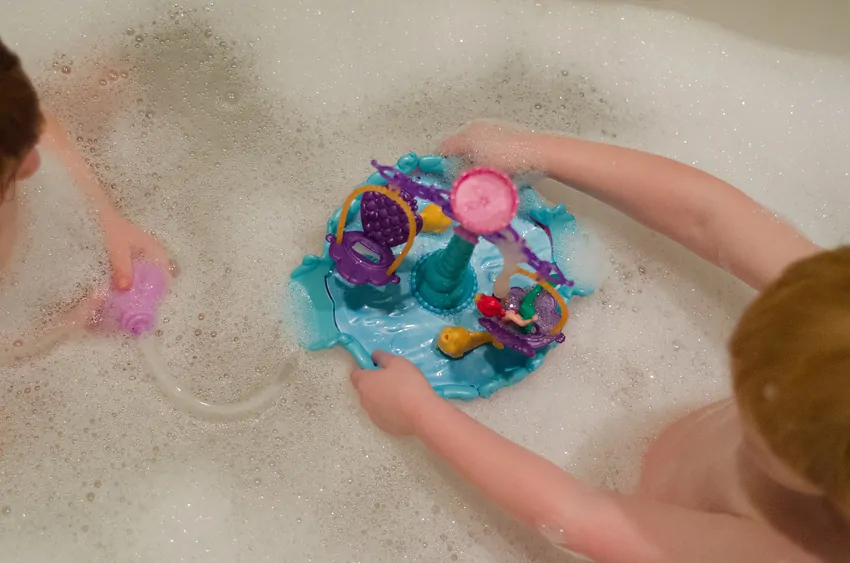 Ariel herself can sit on the swing and spin around or slide down into the pool. Caroline also fell asleep clutching her "mermaid pin-cess" several nights, despite the fact that I don't think she's ever even seen the whole movie! The only problem we had with it as a bath toy is that after a few minutes the hollow inside filled with water and it didn't float very well. My son had no trouble figuring out how to tip it over and drain it so they could keep playing Spin Ariel And Polly Around Until They Fall Off.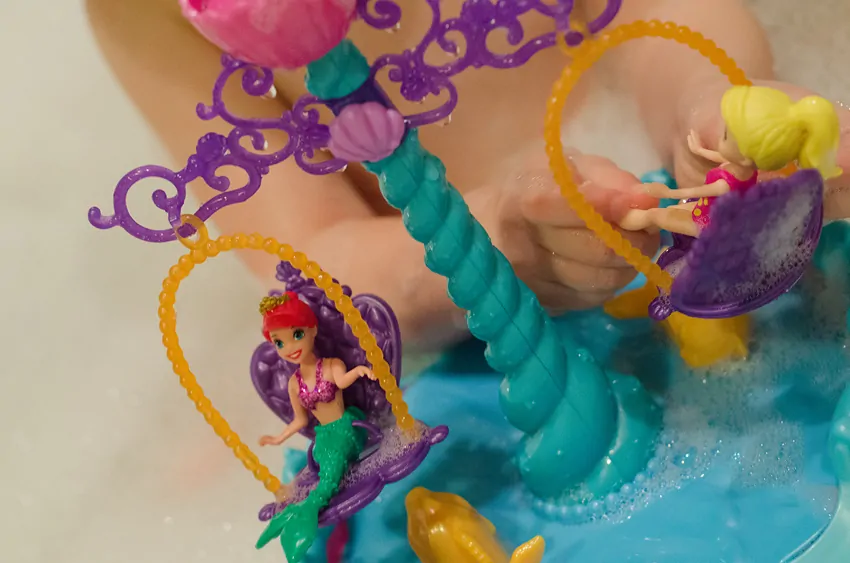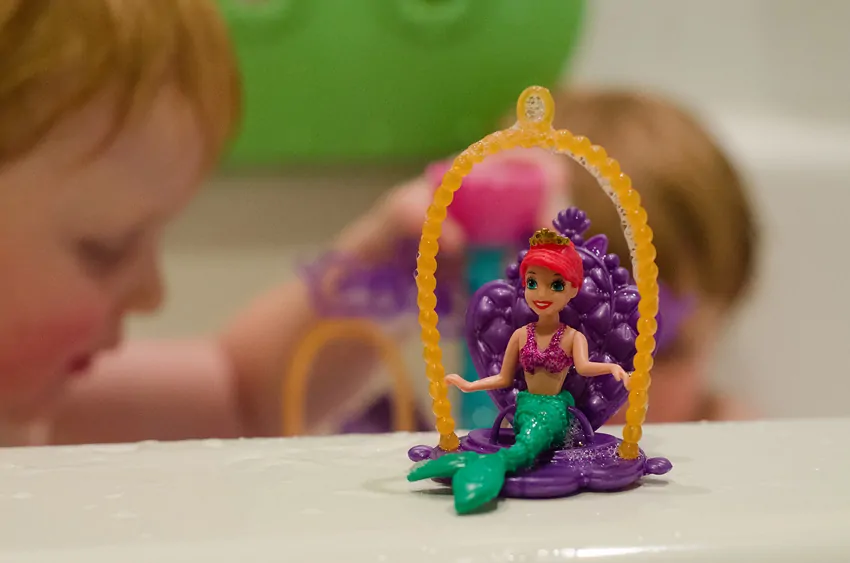 I am wearing my Best Mom Ever crown with pride today and my squeaky clean kids can't wait to play with Polly Pocket® and Princess Ariel again tonight!
Enter to win!
One winner will get both of the items listed above! Use the Rafflecopter form to enter this giveaway. New to Rafflecopter? Watch this 45-second video on how to enter!
Mom of 2 ginger children, knitter, crafter, baker, interneter extraordinaire. Blogs at http://bebehblog.com.