This post may contain affiliate links. Read my disclosure policy here.
It all started with an innocent walk through the grocery store after church. Our list was small, I think we only needed milk, but we were shopping at lunch time and I was hungry. You all know the rule about shopping while you're hungry- it just shouldn't happen.
And so, I spotted the bacon. Looking at my love, I got serious. "I want bacon." He was like "um, okay…do you want thick bacon? Thin? Peppered? Hickory? What kind of bacon?"
"Just pick out some bacon" I said. "I don't care if it's thick, thin, peppered, smoked, long or short. Just grab a package of bacon. Please."
So, here we are. The bacon was purchased and so was spinach because I've been majorly craving spinach lately. Spinach, Sweet Potato and Bacon salad is one of my new favorite things and so, I thought I'd share it with you all.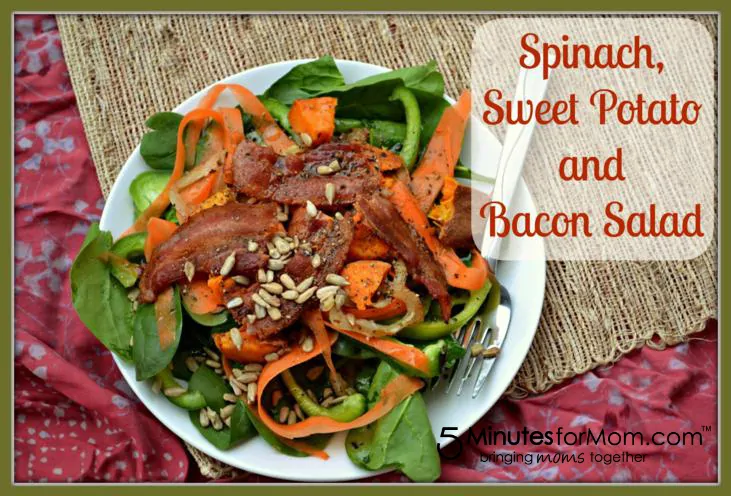 Here's how to make it:
Wash and dice a sweet potato into approx. one inch chunks, leaving the peel on.
Drizzle the sweet potato with olive oil and sprinkle with salt and a touch of black pepper. Or if you're like me, use an unusually large amount of black pepper, because it's just so stink'n good.
Bake the sweet potato in a preheated 400 degree oven for 20-25 minutes, or until soft.
Thinly slice a green bell pepper.
Thinly slice or shave a large carrot. In our house, everyone is more likely to eat the carrot if it's shaved and so, that's what I did.
Cook up some bacon until it's nice and crispy. I like cooking bacon on our counter grill because it's easy to keep the bacon in long, flat slices and the grease drains off while it cooks.
After the bacon is cooked, set it aside and place some onion slices on the grill.
At this point, your house is smelling really good. The sweet potato is baking in the oven, the bacon is cooked and grilled onions are on their way. This is a salad that even a husband will like for dinner.
Pile your plate with fresh spinach. Add slices of green bell pepper, carrot, cooked sweet potato, bacon and a touch of grilled onions. Garnish with a toss of sesame seeds and then drizzle with your favorite vinaigrette.
I'm sharing this recipe without exact measurements or quantities because you guys are smart. It's a salad and you know how to do it. Cook as much bacon as you want. Use more or less carrots. If you don't like vinaigrette dressings, use another kind.
This is just another recipe that this prego happens to be loving lately. Hopefully it'll inspire you to create a delicious outside-the-box salad for you and your family.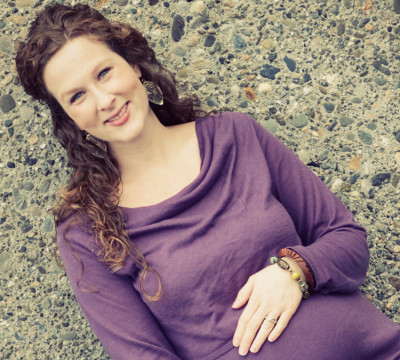 All of my life, being a stay at home Mom was something that I dreamed of. Now that I'm living that dream, I realize that it isn't always easy but, it's a great blessing as well! I have a 4 year old, a 2 year old and another baby on the way. When I'm not chasing my kids, you'll find me snapping hundreds of photos, writing about our daily adventures or sharing recipes that we love.  I hope that through my posts you'll find recipes that your family will love and that you'll also get encouraged to not only live this mothering journey but, to also truly enjoy it!  Come visit me on my blog, Pinterest, Facebook, Twitter or Instagram