This post may contain affiliate links. Read my disclosure policy here.
I grew up in chilly, frigid England. The house I grew up in allegedly had central heating but my breath froze when I was IN the house. In fact, my grandma would stuff my school uniform in to my bed each morning, so that I wouldn't have to dress in the chill of my bedroom.
My feet were warm only when I placed them on the radiator attached to the wall of my bedroom. I shivered even under layers of sweaters and thick socks. At times it was warmer inside than out. Was I ever warm during my childhood?
My American husband's childhood was far less severe than mine. You see he grew up in a toasty warm home heated by a wood fire. When I met him he would wear a short-sleeved t-shirt IN winter as his home was so hot! He wore sweaters when leaving the house, but not while inside the house.
When it comes to heating and staying warm, my husband and I are NOT cut from the same cloth. He is all about the heat, while I would rather add on layers to stay warm. We argue about the setting off the thermostat…all the time. He hates when I adjust the thermostat. Don't even get me started on what he wants to set the AC on!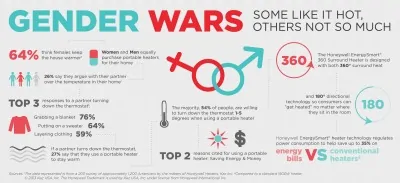 According to Honeywell, my husband and I are not alone in our arguments on heating. A new infographic from Honeywell addresses how men and women deal with the heat. The infographic entitled:
Gender Wars: Some Like It Hot, Others Not So Much
states that the following interesting facts:
64% of men think women keep the house warmer
26% of men and women argue with their partner over the temperature in their home
54% of men and women are willing to turn down their thermostat 1 to 5 degrees when using a portable heater
Did you know that Honeywell's EnergySmart 360 Surround Heater is designed with both 360 degree surround heat AND 180 degree directional technology? Consumers who use the Honeywell EnergySmart heater will see that the directional technology will heat a room no matter where you sit. Sounds very cozy to me!
I'm no fan of being cold, that is for sure. Like those surveyed by Honeywell, the top 3 responses when a partner turns down the thermostat are that:
76% will grab a blanket
64% will put on a sweater
59% will layer clothing
And did you know that over 50% of people are willing to turn down the thermostat 1 to 5 degrees when using a portable heater? I have a space heater in my very cold basement, but had not thought of putting on the ground floor and upstairs. According to Honeywell's survey, women and men equally purchase space heaters for their home.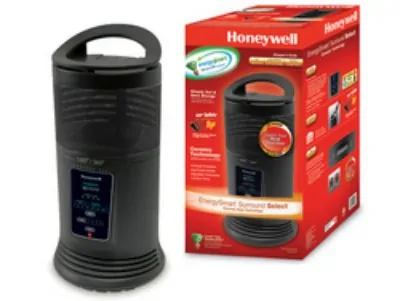 With the Honeywell EnergySmart 360 Surround Heater, you can stay warm through the space heater's versatile and energy efficiency. The Honeywell EnergySmart 360 Surround Heater is equipped with an energy savings thermostat that gives you just the right amount of heat by regulating the wattage consumption based on your desired temperature.
This surround heater saves consumers money without sacrificing comfort. Designed with both 360° surround heat and 180° directional technology, you can "get heated" no matter where you sit in the room; a terrific choice for those looking to stay warm and cozy during the year's coldest months.
The Honeywell EnergySmart 360 Surround Heater is available from amazon.com for $59.99. The surround heater comes with a 3-year limited warranty.
Enter to win
One lucky reader of 5 Minutes for Mom will receive a Honeywell EnergySmart 360 Surround Heater (retail value: $59.99). Use the Rafflecopter form to enter this giveaway. New to Rafflecopter? Watch this 45-second video on how to enter!
a Rafflecopter giveaway
I was compensated to write this review.  The views expressed in this review are my own.