This post may contain affiliate links. Read my disclosure policy here.
We moms are pretty obscure, the invisible hand making sure that clothes are clean, meals are cooked, and pantries are stocked. I think that most of us have come to terms with the fact that we just do what needs to be done without accolades or even thanks at times, especially if our children are very young. But because of that, I think we might seek out the spotlight somewhere else — in our job, or our work in the community or church, or in our blogging. But what would happen if we embraced that obscurity instead of striving to be recognized?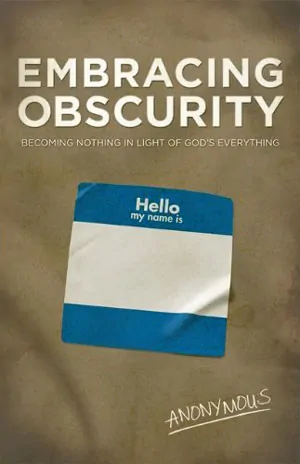 Embracing Obscurity: Becoming Nothing in Light of God's Everything by Anonymous really puts his/her money where his/her mouth is. Well, I'm assuming the author got paid in money, but by remaining anonymous he/she sacrifices any personal benefit that being a published author would provide — personally, professionally etc. This is a bit of stumbling block at first, because there's a lot of focus on it, and of course, there's a curiosity that cannot be quenched about who really wrote this book. This is something that some can't get over.
But for me, once I did get over it (well, sort of, I'm still extremely curious), I found Embracing Obscurity to be a practical and enlightening read. I'm not sure that that "obscurity" conveys the right message. It's less about disappearing into the background — what I think of as obscurity — than about humbly accepting one's place in God's plan, accepting His complete sovereignty and authority, and putting others above yourself.
The author devotes individual chapters to such topics as
success
servanthood
significance
suffering
hope
Using scripture as well as the example of Jesus, the author helps us to see that obscurity isn't such a bad thing after all. Putting others above myself (or just thinking about myself less in general) is something I've been trying to work on, and
Embracing Obscurity was a wonderful encouragement to me in this regard. It doesn't mean giving up my dreams, or never speaking a word, or not being good at something. I can't explain what it is exactly, but it's basically about motivation.
Proverbs 15:33 Humility comes before honor.
If you'd like to win a copy of this book, please use the rafflecopter below, starting off by answering the question "What appeals to you about this book?"

a Rafflecopter giveaway