This post may contain affiliate links. Read my disclosure policy here.
Hello, friends! I am happy to be here as one of 5 Minutes For Mom's new food contributors and I look forward to getting to know you all. I blog over at Accustomed Chaos and if I'm a new face to you, there are a few things you should know about me and the recipes I will be sharing.
1. I have three kids who are picky eaters. We all eat dinner together and as much as I love my kids, I don't love to make 5 separate dinners for everyone's unique food quirks — so I don't. I don't believe in "kid friendly" meals because as long as it's food and healthy — it's technically "kid friendly" to me.
2. I eat gluten free and dairy free at home so all the recipes I share will be gluten free and for the most part, dairy free as well. Six years ago I went gluten-free thanks to celiac disease and while I was not at all thrilled at the idea of giving up all that food, I've come to realize that there's not much I miss out on. We have three people in our family who are on the gluten free diet, but we all eat gluten free at home. We also have three of us who can't have dairy (lactose or casein) so all the meals I make for the family are without the cow milk too (right down to no butter).
3.  You will notice that I don't like complicated things – even in recipe form. I don't use recipes that have obscure ingredients or take complicated directions that I don't have time or patience for. I like to eat healthy and one of our bucket list items for 2013 is to try new foods and expand our menu rotation.
Earlier this week, we tried a new vegetable side dish for our dinner – Roasted Baby Bok Choy with Garlic Salt. I wasn't sure how my kids would respond to bok choy, but pleasantly to my surprise two out of three kids ate it (and then ate it again later in the week) and my husband and I enjoyed it as well. It's quick to prepare and cook so works well for those crazy-busy days and it's become a quick favourite around here.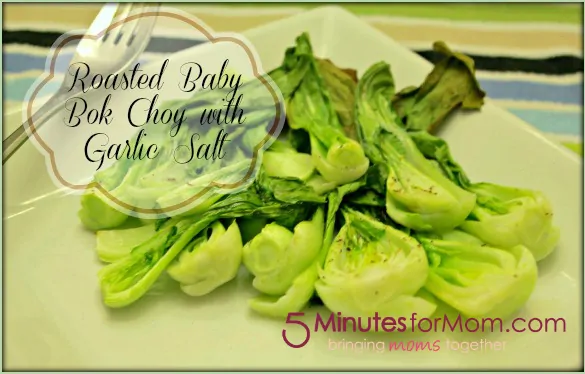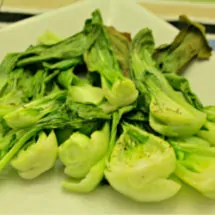 Ingredients
1 pound baby bok choy; bottoms and leaves trimmed
4 teaspoons olive oil
1/4 teaspoon garlic salt
Instructions
Preheat oven to 450°F.

Wash and cut bok choy heads in half and toss with olive oil and garlic salt

Place on a rimmed baking sheet and put into the preheated oven

Cook for approximately 7-10 minutes until leaves are slightly blackened (watch closely so you don't burn them)

Variations: add some grated parmesan cheese or lemon zest