This post may contain affiliate links. Read my disclosure policy here.
Do you love Oreo cookies? Then you're going to really love this recipe for Oreo Stuffed Chocolate Chip Cookies.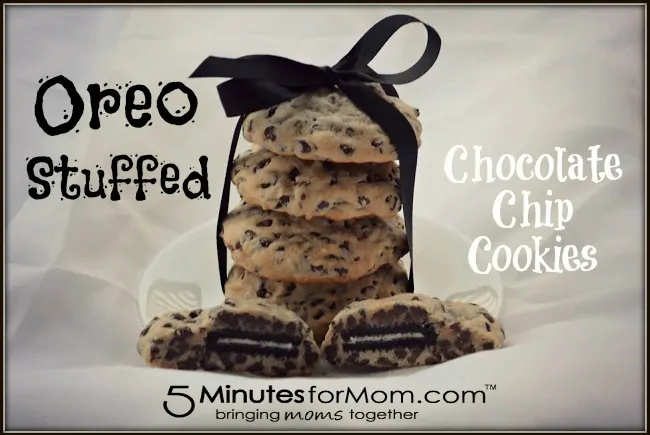 Hi there, 5 Minutes for Mom readers! I'm Angela, from Angela's Adventures and I'm so very excited to be a new food contributor for this awesome site! As a stay at home Mom of a 2 year old, a 4 year old and another baby due in March, I know just how important it is for each Mom to have a few moments to catch her breath, connect with other Moms and get inspired!
I hope that my recipes will be something that you and you're family will love and I also hope that through my writing, you'll hear that I'm a busy Mom who loves her family something fierce, just like you! When I'm not busy chasing after my kids, you'll find me trying new recipes, snapping thousands of photos (mostly of kids and food), and of course, writing. Writing is my passion, whether I'm writing about the season of life that we're in or the latest salad that I've been craving, I write and I love it.
Today I'm sharing a recipe that I made a few Sunday's ago, for a big football game that we watched. Our team didn't win and so, what a relief it was when my husband said that these cookies are the BEST he's ever had. Nothing washes away a bad football game like the perfect chocolate chip cookie, stuffed with a soft and chewy Oreo.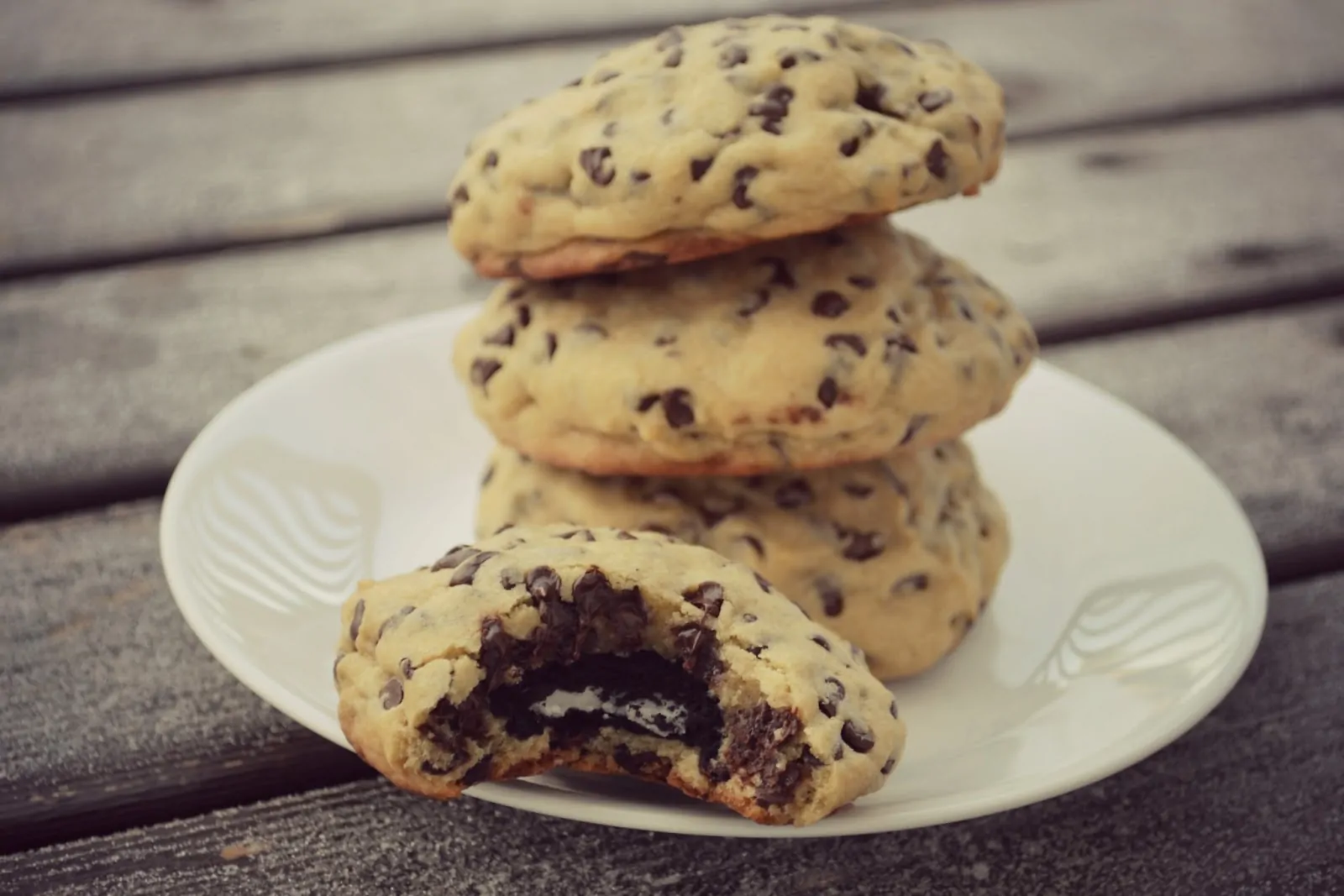 These cookies are the perfect Super Bowl snack that'll leave your friends begging for more, or a Valentine's Day treat that says "I love you". The bonus for you is that they're easy to make and not too time consuming! Delicious is great but, delicious and easy is way better!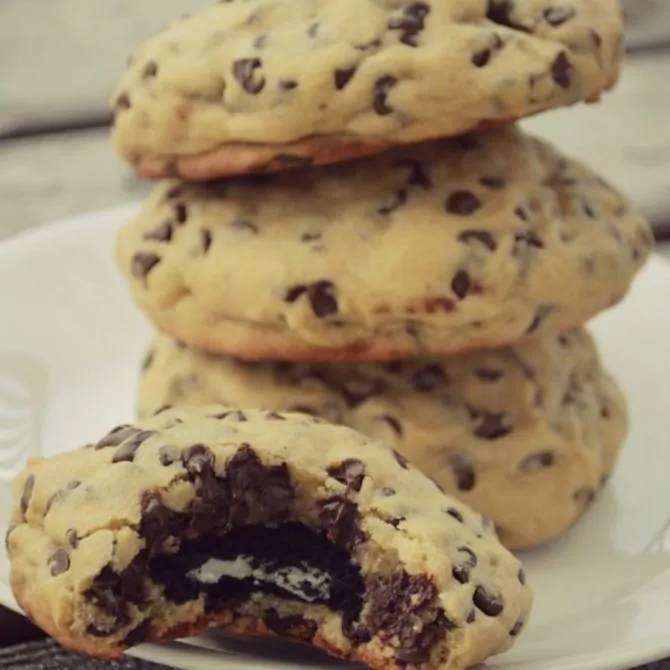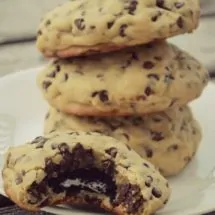 Ingredients
3/4 c. unsalted butter softened
3/4 c. brown sugar
1/4 c. granulated sugar
1 egg
2 tsp. vanilla extract
2 c. all purpose flour
2 tsp. cornstarch
1 tsp. baking soda
1/2 tsp. salt
1 c. mini chocolate chips
12 Oreos
Instructions
Preheat oven to 350 degrees F. Line a baking sheet with parchment paper.

Cream together butter and sugars until fluffy and light in color. Add egg and vanilla and blend in.

Mix in flour, cornstarch, baking soda and salt. Stir in mini chocolate chips.

Chill the cookie dough for at least 30 minutes. After the dough is chilled, scoop a 2 inch sized clump into your hand and flatten it out like a pancake. Lay the Oreo on top of the dough and then shape the dough around the Oreo, until the Oreo is completely hidden. The cookies will be large so, put only 4-6 on each baking sheet. Continue to chill the dough in between batches of cookies. Bake for 15-17 minutes, until barely golden brown, just around the edges.

Let cool on the sheet, for a minute or two and then transfer to a wire rack. Makes 12 large Oreo Stuffed Cookies.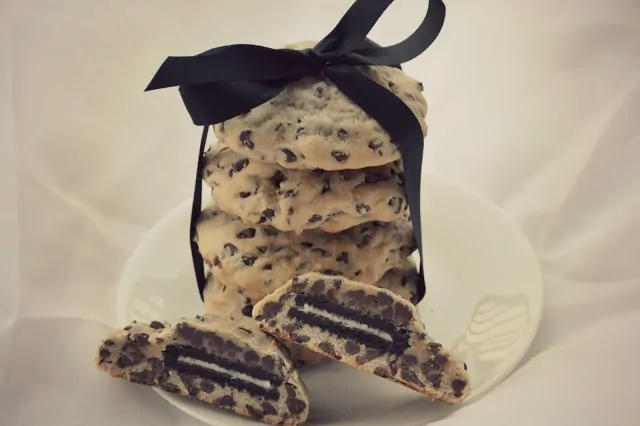 More Cookie Recipes
My ultimate soft and chewy chocolate chip cookie recipe.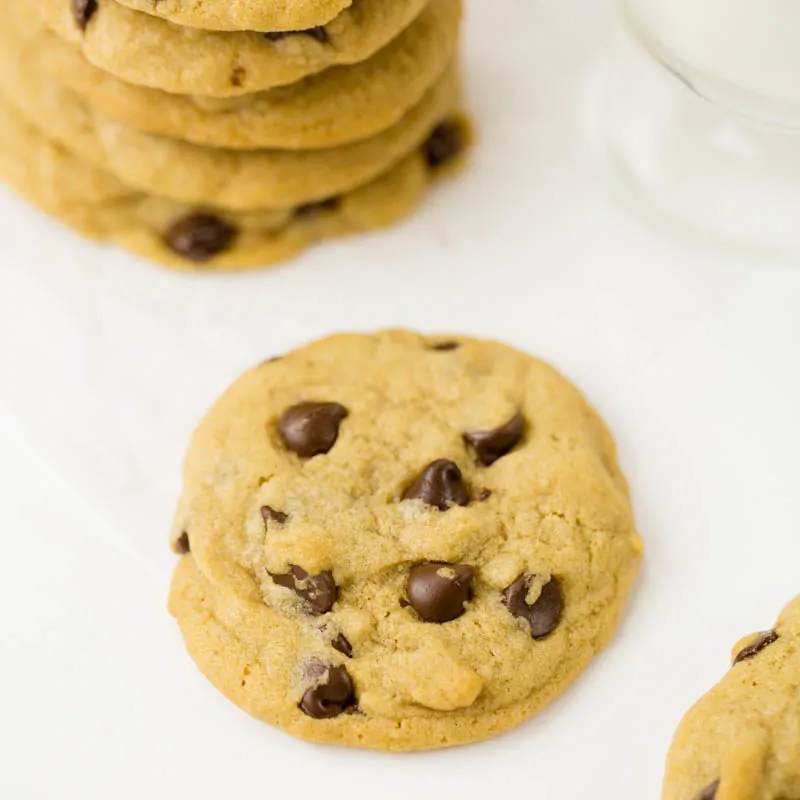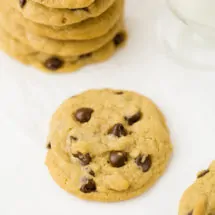 A simple gluten free oatmeal cookie recipe, using gluten-free flour blend, gluten-free oats, and chocolate chips.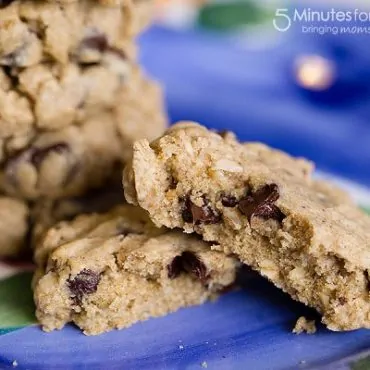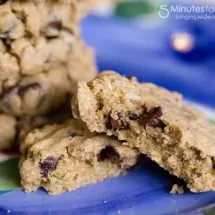 A rich, complex, dark double chocolate chip cookie that complements its sweetness with a hint of bitterness, a dash of salty, and a smidgen of minty.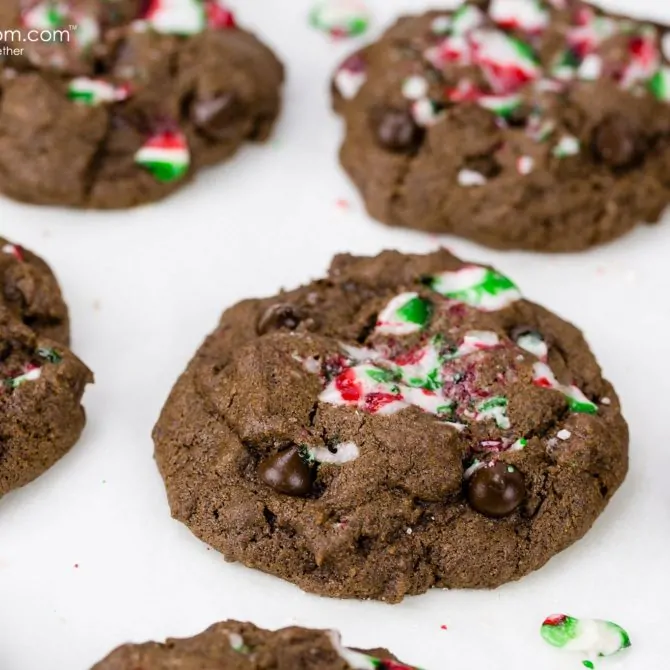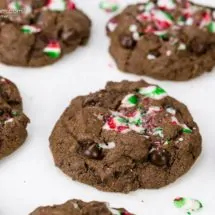 Red Velvet Cake Mix Cookies that are quick to make and taste delicious!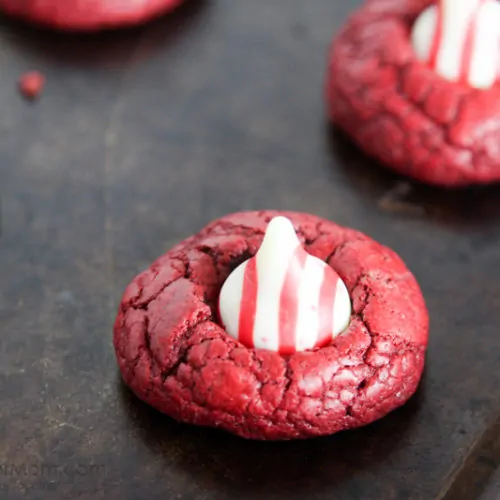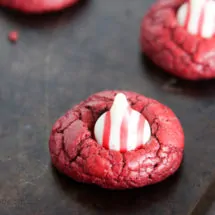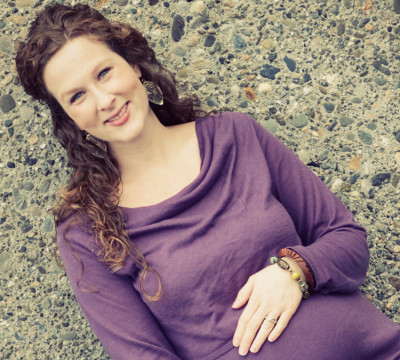 All of my life, being a stay at home Mom was something that I dreamed of. Now that I'm living that dream, I realize that it isn't always easy but, it's a great blessing as well! I have a 4 year old, a 2 year old and another baby on the way. When I'm not chasing my kids, you'll find me snapping hundreds of photos, writing about our daily adventures or sharing recipes that we love. I hope that through my posts you'll find recipes that your family will love and that you'll also get encouraged to not only live this mothering journey but, to also truly enjoy it! Come visit me on my blog, Pinterest, Facebook, Twitter or Instagram
Pin it for Later