This post may contain affiliate links. Read my disclosure policy here.
It's the start of a new year, and for many of us, that means resolutions. While most resolutions have to do with weight loss – and who wouldn't want to look good in a bikini a few months from now? – after the first few weeks of not seeing the results we want, it can get overwhelming.
The big changes we made at the start of the year aren't sustainable, and we give up. Or at least I do. The Cooking Channel has solutions with Drop 5 Lbs with Good Housekeeping, a show on the Cooking Channel starring Melissa D'Arabian.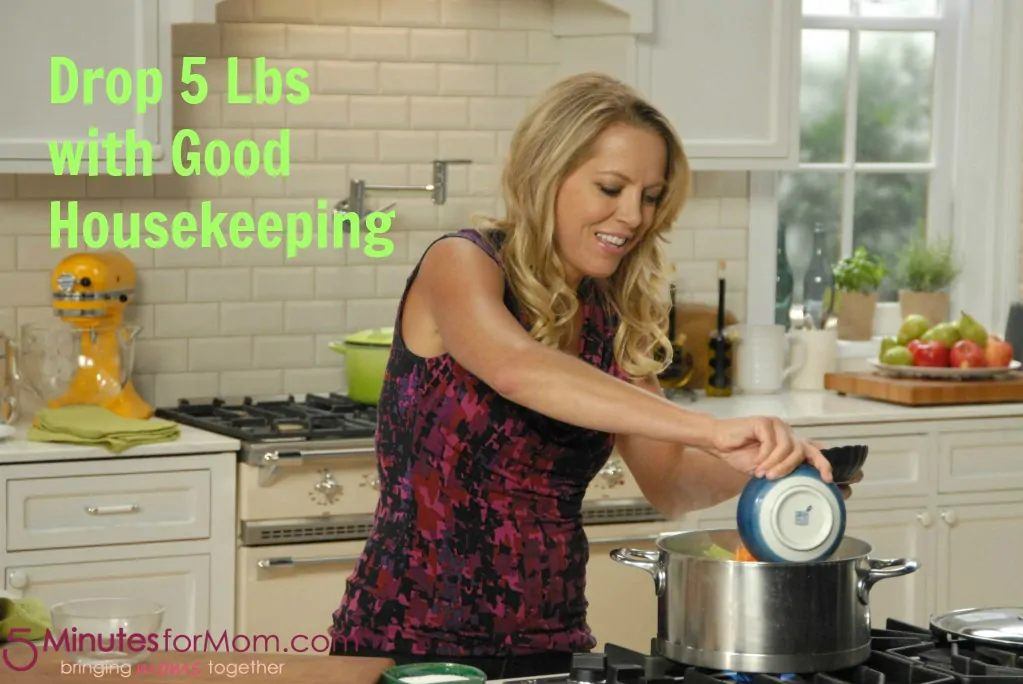 Drop 5 Lbs
offers small lifestyle changes we can make easily that aren't part of a diet that we'll quickly give up but instead can be incorporated without making a big deal of them – yet they make a big difference in the long run. Whether the viewers are looking to lose five pounds or fifty pounds, the show is there to help with more than just healthy recipes.
There is a nutritionist who shares tips of healthy convenience foods, a trainer with fitness tips, and plenty more.  You choose what you want to change, but these small changes will make a big difference.
So what are some of those changes we can make? Fortunately, Melissa D'Arabian is here to answer some questions to give us a jump start.
Many people have the idea that eating healthy is expensive. What tips do you have for feeding our families healthy foods without breaking our budget?
Start your shopping in the produce aisle! If you stick with what's in season, it's almost impossible to break the bank in the produce aisle, and it is definitely the healthiest place in the market!  And, the produce aisle is the perfect place for what I call the "safe splurge." You can splurge on a handful of some fancy mushrooms, for instance, and still spend only a buck or so extra. Turn that splurge into the star of your meal (maybe a gorgeous wild mushroom omelet, for instance), and you can have a crave-worthy, healthy meal for not a lot of money.
Can you eat regular foods that are not organic and it still be considered healthy?
Eating "regular" versus "organic" is personal decision that should be based on family priorities and budget.  That being said, eating organic is absolutely possible on a budget!  A few tips:

Make a list of "high priority" items that you decide to buy organic.  Perhaps look at the "Dirty Dozen" and "Clean 15" lists to help.
There may not be as many organic varieties on sale each week, but the same logic that you use in the produce aisle applies to the smaller organic section: focus on buying what is on sale!  A little fruit and veggie flexibility on your part will result in a much cheaper grocery bill!
Organic produce may not necessarily be on the same "sales cycle" as its non-organic counterpart, so be sure to check prices.  I've seen organic carrots on sale for less than the regular carrots, and people just pick up the non-organic carrots out of habit, even though the organic ones were cheaper!
Consider frozen vegetables, which have their own sales cycles. They're worth checking.  (Extra bonus for coupon clippers, as there are often coupons for frozen veggies, unlike fresh).
Hit the farmer's markets!  Almost all the produce there will be organic , or follow organic practices (some smaller farmers can't afford the expense of actual certification, even if they follow organic practices; be sure to ask).  The farmer's market will likely not be cheaper than the grocery store, but my family can spend a fun couple of hours there, so I figure a few extra bucks for the entertainment is still cheaper than a movie for all of us.
Speaking of farmer's markets, an insider tip is to go during the last hour.  Many farmers cut their prices drastically to avoid taking home heavy product.  This weekend, we got a ton of organic fruit for half price, making it cheaper than non-organic fruit from the grocery store.  Sure, it was a bit picked over, but ever since seeing Food Network's special on food waste (called The Big Waste), I have a soft spot in my heart for the oddly-shaped tomato that is rejected by most consumers.
If you want to buy more organic foods, be strategic and make your menu more veg-heavy.  Organic veggies are still cheaper than regular meat!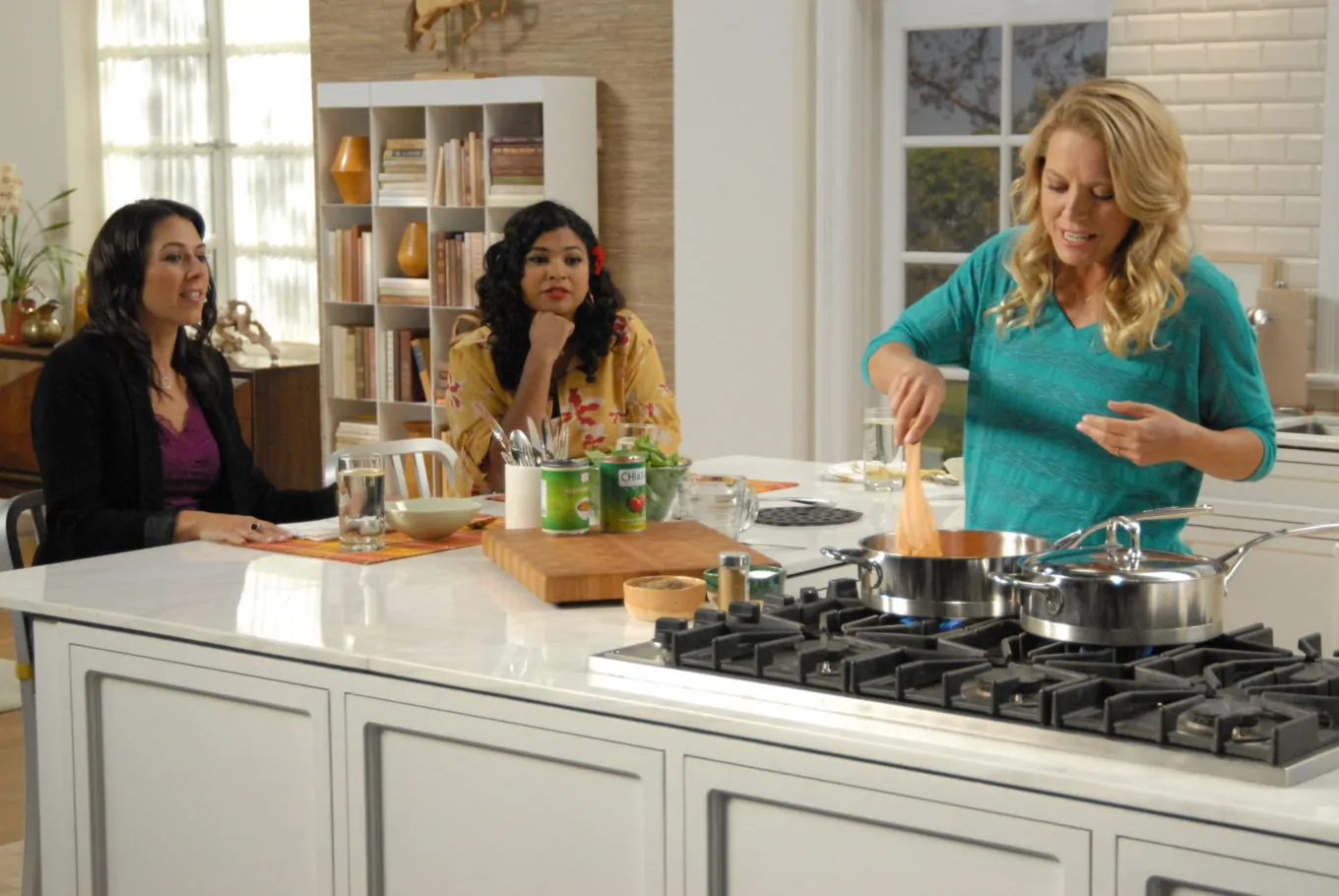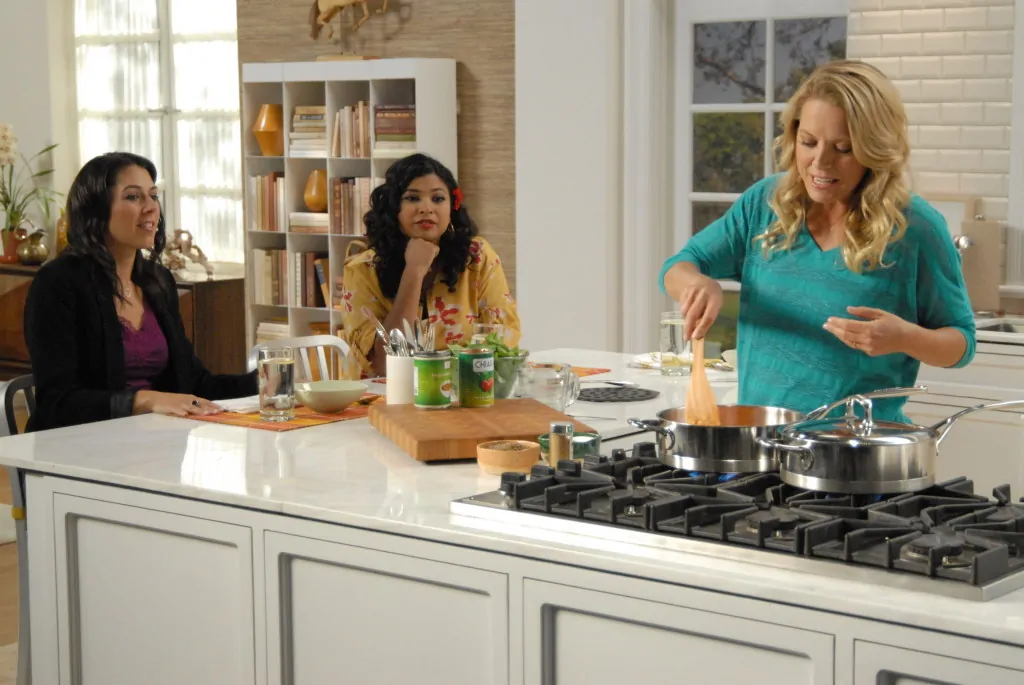 What do you recommend should be the #1 fat that we eat?
Salmon!  I try to eat salmon a couple of times a week.  Fatty fish are filling and satisfying, and the benefits to heart and brain health are incredible.  Plus, it's great mood food, which is always a bonus!
One of my favorite fats to eat is Avocado. What is your favorite recipe using this ingredient?
I love avocado!  I dice up some for salads, use cubes to add richness and creaminess to a spicy salsa, and I love adding a few slices of avocado to my smoothies.  One of my favorite Drop 5 recipes is the Guiltless Guacamole, which cleverly adds creamy white beans to avocado for a fiber and protein-filled treat!
How can we stay on track serving our families healthy meals?
Start small.  You don't have to change everything overnight.  Watch one episode of Drop 5 Pounds and decide on the two or three tips or recipes you are going to try that week.  If each week you add in another healthy habit or two, pretty soon that will build up into a toolkit that will equip you to reach your goals.  But, give yourself permission to start small.
What are some of your suggestions for substitutes in recipes that call for higher calorie items like sugar?  
The key to subbing out ingredients is understanding what the function of the ingredient is within the recipe.  Sugar, in a baked recipe, for instance, not only adds sweetness, but adds moisture (as it is liquid when it melts).  Fat adds moisture and tenderness (which is why so many "low-fat" foods have higher levels of sugar to compensate.)  When swapping out ingredients, ask yourself two questions: what is the flavor?  What is the function?  If you are looking for something creamy, try low-fat Greek yogurt.  Need some moisture and sweetness?  Try mashed banana or applesauce.  Also, don't forget that you can get a lot of benefit out of swapping out just part of an ingredient.  Maybe in brownies, you could use applesauce instead of half the oil, and use whole wheat flour instead of half the all-purpose flour.  One of my favorite swaps: whole wheat pastry flour!  It makes tender baked goods that my kids love, while also adding fiber and protein.  In savory recipes, focus on bringing in lean meats to swap for fattier ones.  Pork tenderloin is super lean, yet it satisfies my "fatty pork" cravings every time!
What one important tip can you offer us that will help us create a healthy delicious dinner for our families?
Drop 5 Pounds recipes are delicious enough to serve the whole family, even those who aren't watching their weight.  Having to make several meals to satisfy everyone in the house is just not sustainable for most busy parents!   If you want to add something "extra" to round out the meal for your kids (or a non-dieting spouse), then add a basket of whole grain rolls to the table.  My kids can have their picky moments, just like any children their age, and my insurance policy is a basket of whole grain bread!
Melissa D'Arabian came to fame when she won "The Next Food Network Star" in 2009.  Her show Ten Dollar Dinners premiered in 2009 and is still airing new episodes.  She's since come out with a cookbook,  "Ten Dollar Dinners: 140 Recipes and Tips to Elevate Simple, Fresh Meals Any Night of the Week" (Clarkson Potter, a division of Random House, Inc.) in August 2012.
She also also hosts Cooking Channel's Drop 5 lbs. with Good Housekeeping a cooking and lifestyle series that premiered in January 2012 based on the magazine's popular monthly column.  National and local media, including Today Show, CNN, People, Food Network Magazine and iVillage.com, regularly feature Melissa's recipes and tips.  Fans can stay in touch with Melissa on Facebook and Twitter where she is @MelissadArabian.
In the interest of full disclosure, this was a compensated post.  All opinions, however, remain my own.