This post may contain affiliate links. Read my disclosure policy here.
Not a day goes by when I don't see some crazy photo on Facebook. Might be a dog wearing people clothes. Or an angry looking cat. Or even one of those vintage cards where the Victorian lady is all, "I'd cook dinner, but I'm too busy searching for recipes on Pinterest!" I LOL and at times I even ROFL. Chuckling at a photo is a nice way to break the tension of a day of writing, ferrying kids to activities, and housework.
Speaking of odd images… I'm sure you've seen a slice of toast with an image of a religious icon on it. Or perhaps the slice of toast depicted the skyline of New York. You might have seen toast with Elvis or Queen's image on it. Finding these scorched images on toasted slices of bread is nothing short of miraculous, isn't it?
Well, now is your chance to create your own toasted and miraculous masterpiece! That's right Rudi's Organic Bakery is kicking off the New Year with Toast-A-Gram. Rudi's Organic Bakery has a fun and creative Facebook application that allows you to create your masterpiece… on a slice of toast. Now how fun is that!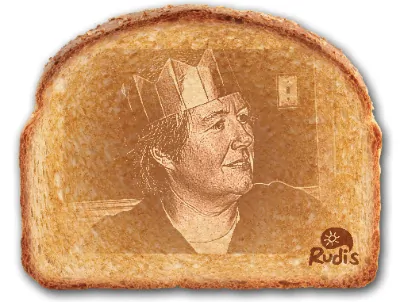 Rudi's Organic Bakery wants to toast (get it!) to good health, good food, and good fun. What a great way to start the new year! Plus, you'll be invited to celebrate the creation of your masterpiece by downloading a $1 off coupon good for any Rudi's Organic product. So run don't walk to the Rudi's Organic Bakery Facebook page!
Once you get to the Rudi's Organic Bakery Facebook page create your Toast-A-Gram masterpiece, explore the gallery of toast creations, and download the $1 off coupon for any Rudi's product. I created a Toast-A-Gram of myself and called it Queen Musings from Me!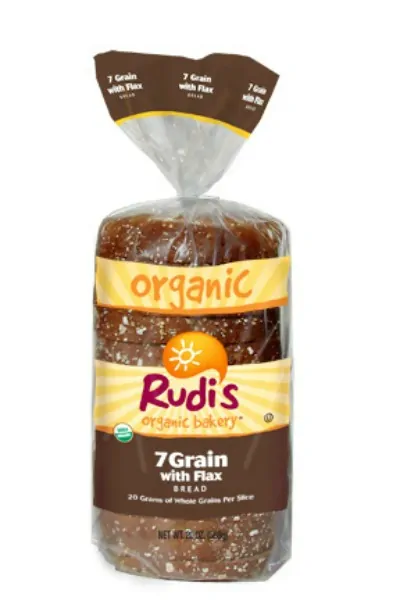 What you need to know:
Enter to win a Rudi's Organic Toast to a Creative Spreadable Kitchen Prize pack
Rudi's Organic Bakery will give away a "Toast to a Creative, Spreadable Kitchen" prize pack to one lucky 5 Minutes for Mom reader:
Inside the prize pack you will find:
Pop art toaster
Napkin rings
Condiment spreader set
Artichoke tomato bruschetta spread
Justin's Natural Almond Butter Honey
Rachael Ray plate set in red
Use the Rafflecopter form to enter this giveaway. New to Rafflecopter? Watch this 45-second video on how to enter!
a Rafflecopter giveaway
I was compensated to write this review. The views expressed in this review are my own.