This post may contain affiliate links. Read my disclosure policy here.
I love to read. I spend countless hours pouring myself into any and every book I can get my hands on. However, none of the ones I have read have ever touched me like Shari Rose Shepherd's new book, If You Have a Craving, I Have a Cure.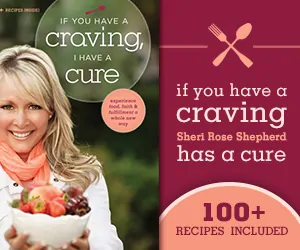 My Thoughts on the book
When I got this book, my first initial thought was — "hmmm…healthy recipes. This might come in handy." What I did not expect to find was page after page speaking to my dry and thirsty soul. Shari definitely knows how to cut right to the heart of the problem.
This book was such an easy read for me. I literally had to make myself put it down so I did not devour it in one setting. It was moments like this one that my soul was screaming — "Yes! Yes! This is me — 100%!"
Too many times we are so focused on what we are not allowed to do and what we should not eat that we end up feeling deprived and depressed, as if following Christ were more of a burden than a blessing.
God has not called us to burn ourselves out; in fact, one of the things I've learned in my life is that if the devil can't make us bad, his next trick is to make us busy so he can burn us out.

We rarely allow ourselves to rest in the Lord and enjoy the gift of refreshment and relaxation. He wants us to rest our physical bodies, our minds, and our souls. This is not something we need to feel bad about — it does not mean we are weak.
Don't you just love some of those promises that I just shared with you? As I was reading this book, it was like a light went off in my mind and in my heart — living a life that honors and glorifies God will help me to live a healthier lifestyle — but in doing so, I need to take time to rest, rejuvenate and not be ashamed of doing so. As a mom — sometimes that is SO hard, don't you agree?
The Recipes
All throughout the book at the end of each chapter, there are delicious and healthy recipes for you to make and serve to your family. I cannot wait to serve some of these healthier options to my husband as we are both on a mission to lose all this drasted weight we have gained. Some of my favorites are:
Fruit Fiesta Chicken Salad
Not Really Cheese- Cheese Sauce
Wrap Me Up
Banana Bliss
Strawberry Lemonade and more
At the end of each chapter, there is a barcode that you can scan that will take you to YouTube to watch a video with more information related to that chapter.
Watch this video from Shari sharing her struggles and her story behind the book, If You Have a Craving, I Have a Cure.
About the book:
Life can be hard . . . but food, faith, and fun are three amazing gifts from God to satisfy and refresh us every day. Yet all too often, we focus primarily on what we can not do, and what we should not eat—which leaves us feeling deprived and depressed. Instead of being energized by following Christ, we waste our days feeling bored and burnt-out on our faith, while battling the guilt that comes from craving the food that we love. In If You Have a Craving, I Have a Cure, best-selling author and speaker Sheri Rose Shepherd encourages you to embark on a new adventure with faith and food. She reveals the food coaching tips that enabled her to lose over 50 pounds and keep it off, and shares fun recipes in celebration of the healthy, delicious food our God created for us to enjoy. It's time to let go of guilt, grab hold of grace, and recapture the life God craves for us to live! "Taste and see that the Lord is good. Oh, the joys of those who take refuge in him!" (Psalm 34:8)
Enter to win
We are giving away THREE copies of this book to you, our readers.  Use the Rafflecopter form to enter this giveaway. New to Rafflecopter? Watch this 45-second video on how to enter!
a Rafflecopter giveaway

This is part of a promotional campaign with Tyndale Publishers. All opinions listed are our own.