This post may contain affiliate links. Read my disclosure policy here.
This week I could have written about a million things, I swear I have had a week full of getting things done. But since so many of us are in the same boat, I figured that sharing how I organized our Christmas decorations would come in handy for many.
I have always been the type to set up Christmas early, and tear it down on Boxing Day. But this year I was late to the game, on both ends. I didn't put our tree up until mid-December, and it was almost New Years before it came down. Usually, when the time comes to put away the holidays, I am so done with it that I just throw everything in a box and hide it away until next year. This year I decided to take my mothers advice, and put it away properly.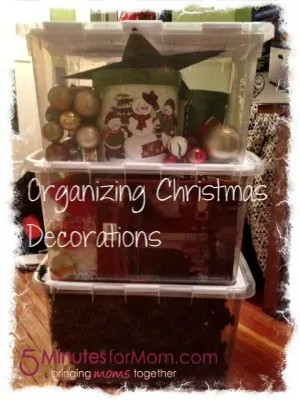 So off to the store I went in search of large totes and shoe boxes… At least I gave me a reason to hit those sales! Every big box store had storage containers on for very good prices! With four large totes in hand, it set out to tear everything down. Tree decorations separated into smaller containers, then all placed neatly into a large tote. Strings of garland and lights all individually wrapped, then stored in another.
It really doesn't take that much longer to do something properly, and I'm thrilled that come Christmas time next winter, everything will be much easier to find.
Note to self… listen to mom, she knows what she's talking about.