This post may contain affiliate links. Read my disclosure policy here.
I am so excited about the new Disney movie coming out in March — Oz the Great and Powerful. Have you seen any of the posters or trailers yet for the movie? It looks so exciting, and one of my favorite actors star in it — James Franco!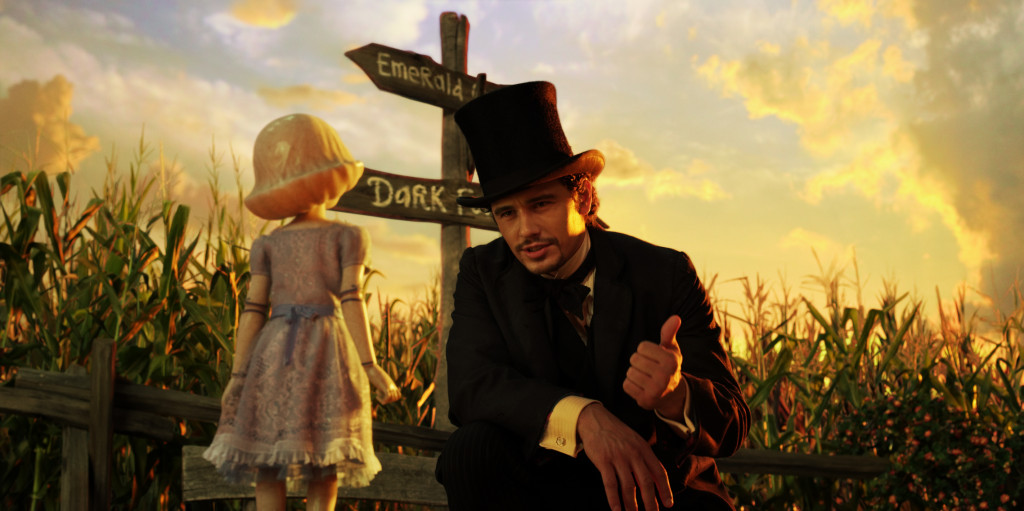 Enter to win a trip to the Emerald City!
Disney announced yesterday that they are launching a New Year's Sweepstakes and an Instant Win game in support of their upcoming, Sam Raimi-helmed film "Oz The Great and Powerful," which opens in U.S. theaters on March 8, 2013. The promotion runs through January 31, 2013, and offers a Grand Prize as well as Instant Win Prizes.
The grand prize is a trip to Emerald City. If you are a fan of Oz, this would be like a dream come true for you.
To enter to win, all you have to do is tweet your New's Years Resolutions to @disneyozmovie using the hashtag #disneyoz for a chance to win the Grand Prize—a 4-day/3-night trip to Seattle, Wash., for two.
Visit the Facebook page to tweet yours and to also play an instant win game and see what others are posting for their New Year's Resolutions.
About Oz the Great and Powerful
Disney's fantastical adventure "Oz The Great and Powerful," directed by Sam Raimi, imagines the origins of L. Frank Baum's beloved wizard character. When Oscar Diggs (James Franco), a small-time circus magician with dubious ethics, is hurled away from dusty Kansas to the vibrant Land of Oz, he thinks he's hit the jackpot—fame and fortune are his for the taking—that is until he meets three witches, Theodora (Mila Kunis), Evanora (Rachel Weisz) and Glinda (Michelle Williams), who are not convinced he is the great wizard everyone's been expecting. Reluctantly drawn into the epic problems facing the Land of Oz and its inhabitants, Oscar must find out who is good and who is evil before it is too late. Putting his magical arts to use through illusion, ingenuity—and even a bit of wizardry—Oscar transforms himself not only into the great wizard but into a better man as well.
"Oz The Great and Powerful" is produced by Joe Roth, with screen story by Mitchell Kapner and screenplay by Mitchell Kapner and David Lindsay-Abaire. Grant Curtis, Palak Patel, Josh Donen and Philip Steuer are serving as executive producers. "Oz The Great and Powerful" opens in U.S. theaters on March 8, 2013.
"Like" OZ THE GREAT & POWERFUL on Facebook: http://www.facebook.com/ozthegreatandpowerful
 "Follow" OZ THE GREAT & POWERFUL on Twitter: https://twitter.com/disneyozmovie
 Visit the website: http://www.disney.com/thewizard
OZ THE GREAT AND POWERFUL lands in theaters on March 8, 2013!
We were not compensated in any way to write this post. We just love all things Disney and enjoy sharing them with you. All opinions listed are our own.