This post may contain affiliate links. Read my disclosure policy here.
Today is Christmas Eve. Today is my birthday. Today I am fifteen. Today I buried my parents in the backyard.
Neither of them were beloved.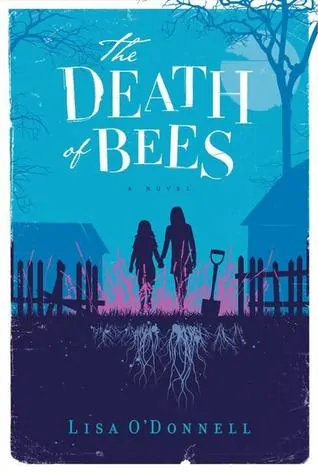 The opening lines of The Death of Bees
sent chills up my spine. Marnie and Nelly are two young teens. They live in poverty in the slums of Glasgow with parents who are abusive, neglectful, and often absent, but at least they are physically present often enough to pick up the rent check and spend it on alcohol and cigarettes. With their deaths, Marnie and Nelly are on their own. Desperate not to be separated in foster care, they bury their parents in the back yard and try to go on as normal, keeping their terrible secret. Marnie is 15 and smart, straight A's without even studying, sleeping around and smoking and caring for her younger sister as best she can. Nelly is 12, nearly 13. She's a talented violinist and speaks very formally, using old-fashioned words, yet she's often vague and it's clear she's been damaged. In some ways, she seems much younger than Marnie.
Their next door neighbour, an elderly man now single after the death of his lover and unfortunately branded a sexual pervert after an encounter with a young man he thought was of legal age, notices the parents have disappeared and assumes they've abandoned their kids again. Gradually, he finds himself taking care of the two girls, feeding them and doing their laundry, trying to fatten up Marnie, whom he worries is anorexic, becoming the caring father they never had. In the meantime, his dog has a strong attraction for his neighbour's yard, although the girls do their best to keep him out.
Chapters are short and are told in alternating voices–Marnie, Nelly, and Lennie. Each voice is very distinctive, and each manages to go somehow very deep into the human experience while at the same time moving along quickly. The Death of Bees
is an unusual book. Dealing with people who are living in the depths, somehow it offers hope for redemption, and although much of the subject matter is depressing, the book itself is full of humorous touches. They meet unusual people along the way–the drug dealer who's a former teacher and tutors Marnie in math and science, the grandfather who abandoned their mother when she needed him most but who now considers himself the most upright pillar in the whole society, who uses Christianity not as a faith but instead as a club to defend his own self-righteousness.
The Death of Bees
is a story about family and friends, those you can trust and those who betray, those who use and abuse and those who care and love. Ultimately you will care deeply about the fate of Marnie, Nelly and Lennie. Each is well-drawn, accurate in their own story, and sympathetic. Author Lisa O'Donnell has a deft touch and an ear for voices, and a talent for avoiding cliche and sentimentality. I thoroughly enjoyed this book. I highly recommend it.