This post may contain affiliate links. Read my disclosure policy here.
Are you looking for a fun birthday gift? Do you need a clever holiday gift? Look no further than the iscream Gummy Bear Microbead Pillow. 
The Gummy Bear Microbead Pillow by iscream ($25.00) is a soft and cuddly kid pleasing pillow.  You can't eat this pillow, but it looks just like the candy it is named after.  The pillow is made of 100% soft to the touch polyester fabric. It wipes up easily with a damp cloth, should your bear be on the receiving end of a spill.
Measuring 17 inches tall and 9 ½ inches across at the widest point of its outstretched arms, this pillow has two different sides.  One side is a pretty, bright blue color with darker blue details.  The reverse side is a bright and cheery pink color, with darker pink details.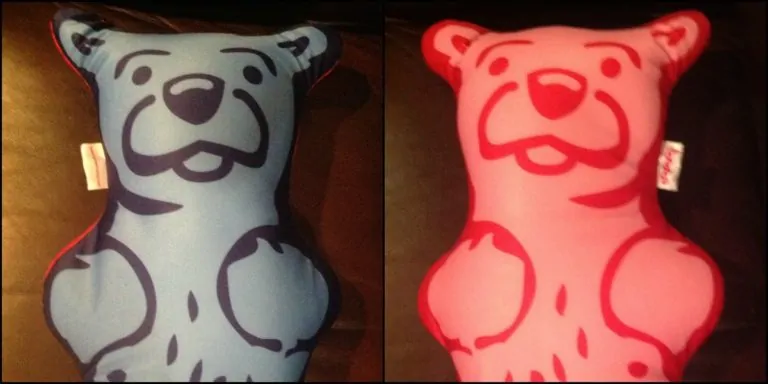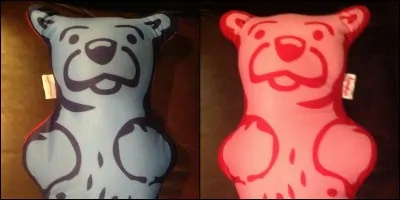 With a ten year old boy and a twelve year old girl in my house this color combination works out perfectly.  I was a little surprised at how excited my kids were when they opened the box and pulled out this pillow.  They immediately started fighting over "who gets it". Luckily, they were able to compromise on rotating the pillow weekly.  My son intends to keep the pillow "on the blue side" when it is his.  My daughter commented that the pillow would be perfect to sleep with on a plane or in the car because it is so "squishy". Given its soft, easy to clean fabric and manageable size, I have to agree.
The Gummy Bear Microbead Pillow is "squishy" but sturdy enough to be used as a basketball and quickly regain its shape. The bear  appealed to all of my three kids ages 10, 12 and 14. My 16 year old niece said the pillow was cute.  She wanted to pair it with some gummy bear candy and give it to her friend as a birthday gift. What a great idea! 
You can find iscream on Facebook or follow them on Twitter to learn more about their "fun, hip, creative designs for all ages". Check out the iscream Gummy Bear Microbead Pillow if you are looking for a reasonably priced, whimsical gift for any age.   If you order now, use the coupon code 12XMAS10 to receive 10 percent off your order.  Order a couple for last minute holiday gifts today! 
Enter to win a Gummy Bear Pillow
One winner will get their very own pillow. Use the Rafflecopter form to enter this giveaway. New to Rafflecopter? Watch this 45-second video on how to enter!
I was sent a Gummy Bear Pillow to write this review. All opinions listed are my own.