This post may contain affiliate links. Read my disclosure policy here.
I love organization.  When I am organized, I am productive, and I feel good.  I love spreadsheets and being able to find what I need when I need it.  Most of my life is run this way, but I've found that the older the wee ones get, the busier they – and I – get, and the harder it is to stay on top of everything.
Fortunately, Neat's Digital Filing System is there to help make everything less overwhelming.  The system works with either Mac or Windows PCs, as well as Apple and Android mobile phones, with their  NeatMobile® service.  For traditional uses, you use the software that comes with a desktop scanner called the NeatDesk ($399.95, currently $379.95) or a thin, more portable scanner called NeatReceipt.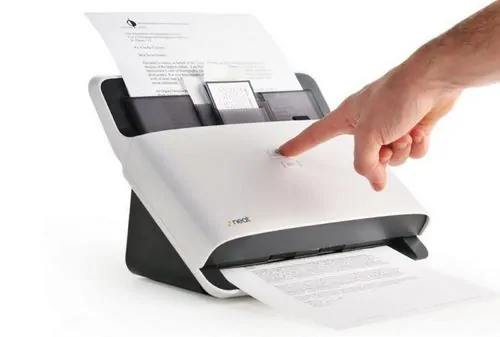 You can scan a variety of flat media, from receipts to recipes to artwork to explanations of benefits and more.  The truly "neat" part is that the software identifies, extracts, and organizes key information from what is scanned to make it searchable, fileable, and more.
Scan Medical Papers
Personally, I would love to use this for Mister Man's medical history.  He is on the autism spectrum, so we have hundreds and hundreds of pages of reports from therapists and evaluations and more.  Whenever we have an IEP meeting, I like to review some of it, and I often need to share it with new therapists or the school.  To be able to quickly and easily pull up what I need and then share it rather than digging through my multiple folders in my filing cabinet and then making photocopies alone would be worth the price for me.
Scan children's artwork
Neat also works beautifully to store children's artwork.  The wee ones still come home with projects on at least a weekly basis, and I unfortunately cannot keep all the paper, as fun and memorable as the artwork is.  I allow the wee ones to choose their 10 favorites from the year and keep those, but the rest gets recycled.  I feel guilty about this, but with Neat, you can simply scan each piece as you receive it and store it electronically, which is far more accessible.  Nothing gets faded, ripped, or ruined that way.  You can place them in folders on your computer by child, by year, and more, so that you can pull up what you want when you want.
Email with the NeatCloud
When you're on the go, Neat is there for you now, too, with the NeatCloud.  This add-on subscription service ($5.99/month for personal, $14.99/month for home and office, and $24.99/month for business licenses) allows you to email important documents to your NeatCloud for them to be stored there.  I think about that option as "Pinterest for organizing."  The home and office and the business licenses also get you NeatMobile, where you can take photos that will then scan to your Neat software.  If you see a wine you like, snap a picture.  The same goes for receipts (I'm looking at you, bloggers, who need to track expenses for tax purposes) or even your important documents like credit cards, passports, and birth certificates – just in case.
Once the information is into your NeatCloud account, you can easily create expense reports, export contact information (great for all those business cards you pick up constantly), or even search recipes you've scanned for particular ingredients you want to use.  It takes all the paper that piles up day after day until you aren't sure what to do with it anymore and instead puts it in one, easy to access place where you can search for key words instead of searching through piles upon piles.
I look around at my bin of papers to be filed, and I know I need to find another solution.  The more I look into Neat, the more I realize this may be what I've been looking for.  It is, quite simply, neat!

In the interest of full disclosure, this is a sponsored post.  All opinions remain my own, however.