This post may contain affiliate links. Read my disclosure policy here.
Ahh! Holiday shopping! Strolling through the stores, leisurely browsing the aisles for those perfect gifts while taking in the blissful holiday smells and sounds…
MOOOOM!!! Are we done yet???
And snapped back into reality! Christmas shopping with my kids can be anything but leisurely and blissful. It's often time stressful and frustrating. Trying to wrangle kids in the crowds, balancing diaper bags and shopping bags. It's quite the scene!
This year, however, my holiday shopping was eased a bit as I tackled the mall and stores with the new Britax B-Ready stroller!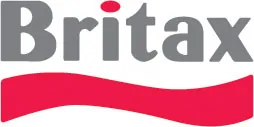 The Britax B-Ready is one of my absolute favorite strollers and I know it will quickly become your's, as well! Here are my top three favorite features of the Britax B-Ready:
1. Adjustable handle height
When your husband is a foot taller than you, you quickly find out that strollers are not always "one size fits all". Strollers that are comfortable for me to push aren't always comfortable for my husband because the handle sits so much lower for him. The adjustable handle height on the Britax B-Ready makes the stroller comfortable for me and my husband to push as we easily change the handle height! Even my 4 year old can push the B-Ready (with a little sight-guidance from me)!!!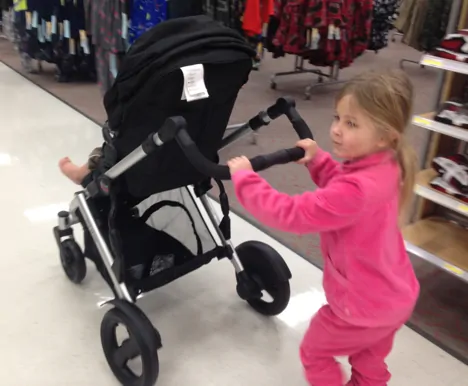 2. Sitting up high
Both of my daughters loved riding in strollers as babies. They would just go along for the ride. But my son, the current baby, isn't so happy to be riding these days. But, for some reason, he loves riding in the B-Ready! And, after comparing it to other strollers, I figured out why — the seat on the B-Ready sits up nice and high! He loves riding up a little higher and that higher seats allows for a large storage area under the seat (ahem, shopping bags!!)!!!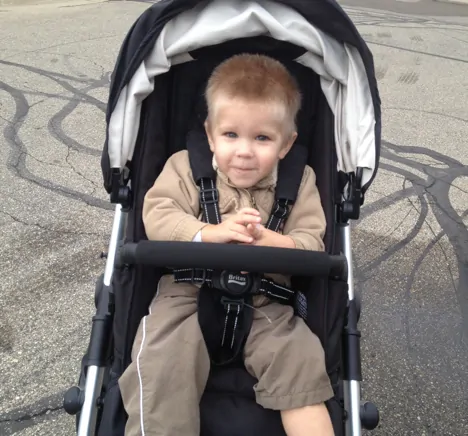 The seat on the B-Ready is also reversible and has 4 reclining positions (great for nap time during shopping) or can be replaced with a compatible car seat or bassinet for those little babies. And, because the top seat sits up nice and high, you can use the Britax accessories to add on a second seat (making it a double stroller) or ride-along board.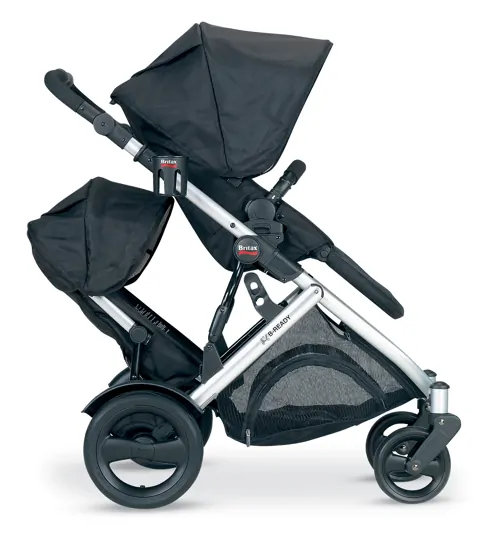 3. The details
When you've been using strollers (unfolding them, folding them, pushing them, traveling with them) for seven years, you begin to appreciate the details of those strollers that make the whole experience that much better!
With the Britax B-Ready, those details, for me, include the ventilation window on the canopy being secured by a magnetic "clasp" instead of noisy velcro! Also, the foam-filled rubber tires for comfortable riding, the comfortable and secure five-point harness and head pad, the "one-step" parking break, and how easily the whole system folds up for storage!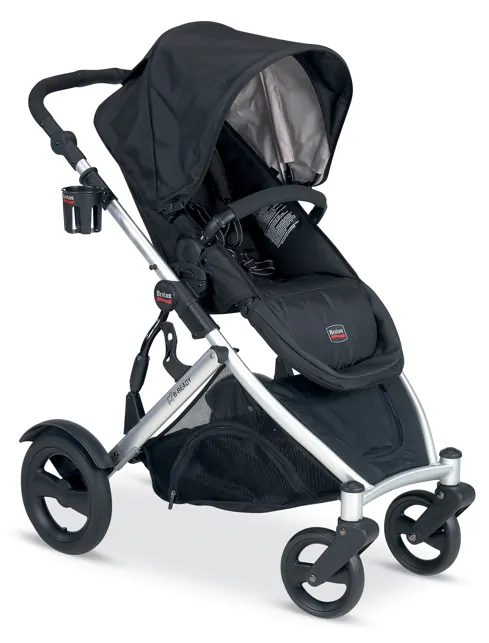 So, those are my favorite features! And, as we continue to stroll through busy malls and downtown areas, I'm finding more and more reasons why I really do love this stroller!
If you're expecting in the New Year (congrats!) or if you're looking for a great gift for an expecting loved one or friend, you will definitely want to check out the Britax B-Ready! You can find out all the stroller details at britaxusa.com.
Now, here's a little Holiday Cheer for you! We are giving away one of these strollers to YOU our readers.
Enter to win
Use the Rafflecopter form to enter this giveaway. New to Rafflecopter? Watch this 45-second video on how to enter!
a Rafflecopter giveaway
This is a sponsored post and I received a B-Ready stroller from Britax to help facilitate this review. All opinions are my own.  Blogging at StaceySays.com about life as a mother to 3 young kids, Stacey dreams big through her life list and is currently shopping two of her children's books to publishers.