This post may contain affiliate links. Read my disclosure policy here.
by Sarah Normandie
Do you have a young child that has trouble falling asleep? If so, you've got to check out the latest all natural sleep time solution- the Shnoozle. The Shnoozle is a back to basics bedtime plush with special patented "Shnoozie" eyelids that are tucked away in a secret pocket when it's time to "go to sleep". These special bedtime friends will easily become part of your child's bedtime routine.
Recently, I introduced my two-year-old son to his very own Shnoozle. The past couple of weeks he has had trouble falling asleep despite all attempts to make his bedtime transition easier. Then came our Shnoozle.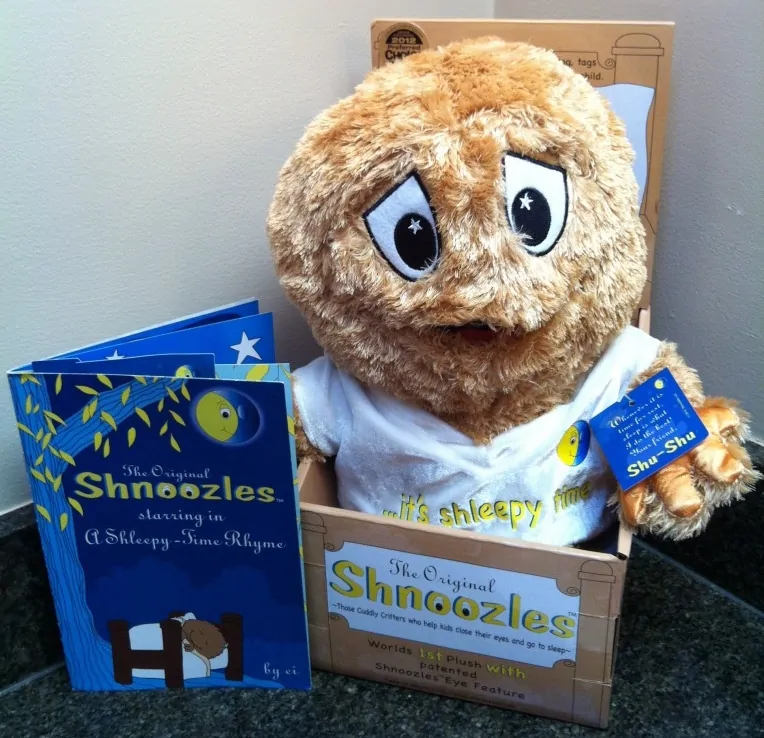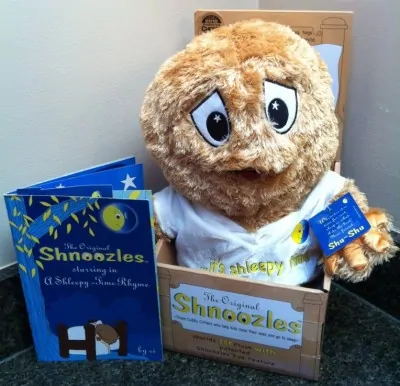 Instantly, my son loved him. He hugged the plush the moment it came out of the box. Throughout the day he carted him around, making his new plush part of his play. He showed the Shnoozle his favorite "choo-choo" and "fed him" milk from his sippy cup at lunch. He even cried "uh-oh!" when his Shnoozle fell off the couch. He quickly picked him up and gave him a kiss. It was so sweet. 
Of course, then came bedtime. I was a bit nervous about it because of the recent sleep issue. We did his normal routine-bath, potty, and pajamas. But this time I tucked him in bed alongside his Shnoozle. Cuddled together, we read the special Shnoozle bedtime story, complete with its "countdown of cuddly dreams".
At the end of the story, I pulled down the Shnoozle eyelids and said "Shh.. Shnoozle is going to sleep." Of course, being two, my son lifted up his eyelids and sang "Peek a boo!" He did this a couple of times. But, after a few minutes he hugged Shnoozle tight and fell fast asleep. 
Product Details: 
There are two Shnoozles to choose from: a pink Shnoozle named Sha-Sha or a brown Shnoozle named Shu-Shu. Both Shnoozles are made of soft cuddly plush and come with their very own bedtime story, as well as a "Sleepy Time" bedroom doorknob sign. The bedtime story has a special "bedtime rhyme" that counts down cuddly dreams. This rhyme helps children deescalate as they unwind for sleep.  Additionally, the Shnoozle has no lights or sounds so there is little bedtime distraction. 
Each Shnoozle provides a sense of security for your child and promotes creativity. They become special "imaginative friends" that your child will enjoy for both daytime play and nighttime sleep.  This special attachment helps children self soothe at night, which is especially helpful for toddlers that have trouble falling asleep on their own. 
Most importantly, the Shnoozle has proven success. It is highly recommended by pediatricians and it won first place for the 2012 Preferred Choice Award from Creative Child Magazine. 
Don't miss your chance to make Shnoozle part of your child's bedtime routine. This special back to basics plush will quickly become your child's new best friend. He certainly has become my son's new pal, both day and night.
As they say, "When Shnoozle sleeps, everyone sleeps" Busy mom and dads know how important that is!
If you'd like more information on the Shnoozle you can visit their website at http://www.shnoozles.com.
Enter to Win
Also, be a part of our give a way! One lucky reader for 5minutesformom.com will win their very own Shnoozle. Use the Rafflecopter form to enter this giveaway. New to Rafflecopter? Watch this 45-second video on how to enter!

Sarah Normandie is a stay at home mom, law student, and writer.  She has an MA in early childhood development, and several years of early childhood teaching and education management experience. In addition, she has been a student in the UCLA Writer's program, where she penned my first novel, The Broken Girl. She is currently seeking agent representation. Find her at http://redroom.com/member/sarah-normandie.