This post may contain affiliate links. Read my disclosure policy here.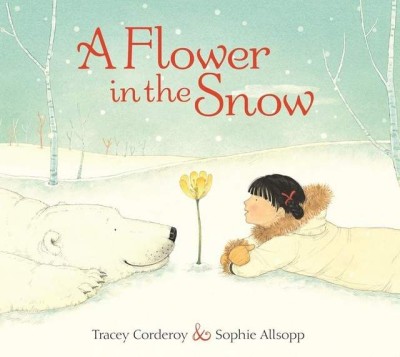 A little girl named Luna lives in a snowy world with her best friend Bear as her closest neighbor, residing in a snow cave nearby. From the opening pages of Tracey Corderoy and Sophie Allsopp's new picture book A Flower in the Snow, the joyful friendship between Luna and Bear is lovingly presented, and the story that follows shows a dedicated friend going to the ends of the earth to bring happiness to another.
The book opens by introducing Luna, an adorable young girl warmly dressed and playing in the snow. When she shares a page with her pal Bear, their friendship is immediately apparent. They joyfully play together in their snowy world. But one day, the appearance of a small yellow flower in the snow surprises Bear, who picks it to share with Luna, knowing it will make her happy. And he's right, for Luna declares that she will treasure her "little sunshine flower" forever.
Sadly, the flower eventually wilts as flowers are wont to do. But with it goes Luna's joy and smile, so Bear becomes determined to find another flower for her. He soon sails off to distant lands in search of a flower to bring back Luna's smile, leaving behind only a simple note. Though he searches and searches, he has no luck finding another yellow flower for Luna, and he heads back with a sadness that he won't be able to bring Luna some cheer. Upon Bear's return, Luna shows Bear a surprise that makes them both smile, even though their reunion was truly all they needed to both feel happy again.
A Flower in the Snow is a quiet picture book that encourages a thoughtful reflection for its young readers. The imaginative and unlikely friendship between a young girl and a polar bear won't be questioned by the preschooler set, and the illustrations evoke a wintry world warmed with love.
We're happy to have a copy of A Flower in the Snow in today's giveaway. Use the Rafflecopter form to enter this giveaway. New to Rafflecopter? Watch this 45-second video on how to enter! This giveaway is open to U.S. and Canada shipping addresses. We'll announce the winner in our review column on December 31.
Book Reviewer Dawn has an unabashed obsession with picture books, and in her roles as a preschool teacher and mom, she gets to indulge in the joy of reading with young children every day. She blogs at my thoughts exactly.