This post may contain affiliate links. Read my disclosure policy here.
The waddle. The flapping of the feet on the ground. The soft fabric that you want to snuggle…not to mention the cute kid that you want to snuggle with too! Is there anything cuter than a toddler in footie pajamas? No, there is NOTHING cuter than a toddler in footie pajamas.
In our family we call them footie jammies. But others call them footie pajamas. I loved the way I could put my fidgety, moving-all-over-the-crib, kick-all-the-blankets-off toddler to sleep for the night in one-piece footie pajamas suit. I knew that whatever the temperature in the house my toddler would be snug and warm in the cozy layers of her pajamas.
Toddlers aren't the only one who love the snuggly-ness of footie pajamas. Last year, I was shopping on Christmas Eve for a few last minute gifts for the kids and food for Christmas Day, when I spotted a rack of footie pajamas. I remembered how much the kids loved them. I had the thought of buying pajamas for all three kids. Would they wear them? Would I find the sizes I needed? remarkably, even on Christmas Eve I was able to buy three pairs of footie pajamas that fit. My son insisted on putting his on over his clothes. My kids wore those one-piece footie pajamas all over Christmas break and in to the winter.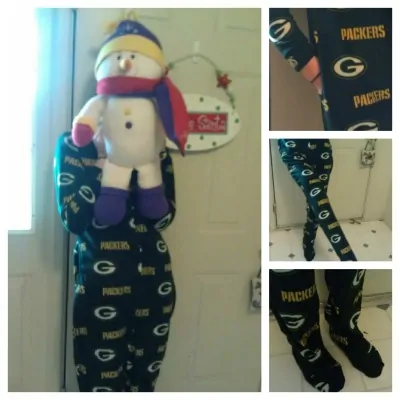 When I was asked if I wanted to review a Green Bay Packers Green Footie Pajamas, I didn't have to ask my kids if they wanted to do the review. In fact, my teen was very excited to wear the jammies. She couldn't wait to try them on once the package arrived. The weather has been getting colder and colder and she loves that she can wear the jammies to bed, to hang out, or even to do her homework or read.
The officially licensed by the NFL footie pajamas I reviewed are from Fans Edge. I reviewed the Green Bay Packers Green One-Piece Footie Pajamas Suit. The Green Bay Packers women's pajamas retail for $44.99 and are available in Small, Medium, Large, and Extra Large (currently Extra Large is out of stock).
You can support your team in style, and more importantly comfort with this cute, comfortable, and stylish Green Bay Packers Footie Pajamas. This one-piece Packers footie pajamas suit boasts a number of details:
Covered feet. No more cold tootsies!
Full zip
Printed team logos
100% Polyester micro fleece
Officially licensed Packers pajamas
Enter to win
Fans Edge want to give one lucky reader of 5 Minutes for Mom a Green Bay Packers Women's Green One-Piece Footie Pajamas Suit (retail value: $44.99). Use the Rafflecopter form to enter this giveaway. New to Rafflecopter? Watch this 45-second video on how to enter!
a Rafflecopter giveaway
I was compensated to write this review. The views expressed in this review are my own.