This post may contain affiliate links. Read my disclosure policy here.

Embelle Baby Bibs famous for their adorable novelty bibs bring you the ultimate holiday mealtime accessory for your little princess or cowboy with their Holiday Bib Collection. 
I must say that I was impressed with the bibs as soon as I took them out of the box. Most 100% cotton bibs that are screen printed are stiff and not soft at all. Embelle bibs are soft right out of the package. The colors are rich and vivid and the prints are sure to make even the biggest holiday Grinch smile.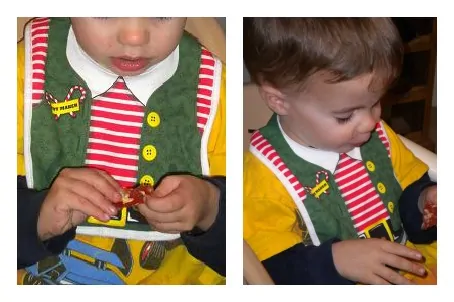 The bibs arrived on pizza night at our house. My son chose the elf bib because of the yellow buttons and the green vest design. He liked the bib so much he asked for extra napkins to keep his "special bib" clean. He even dressed up his bears and monkeys after dinner because they deserved a "special bib" too.
I found that the bibs washed well and the print still looked good as new after a wash to get out the pizza sauce and chocolate chips from dessert. The bibs were a little small in the length for my son who has a really long torso but would be perfect for the new to solids or young toddler crowd if coverage is a big concern.
Embelle also has other fantastic designs such as the tuxedo, scrubs, and ballerina bib. They also have the tuxedo, scrubs, and cowboy designs in a wipe-off nylon coated Polyurethane bib. You can find Embelle Bibs on Facebook or via their website at http://www.embellebaby.com/
So, protect the precious holiday dresses and suits in stylish fashion with Embelle Baby Bibs available at Target, Burlington, Sears, Mejier's and other fine retailers.
Enter to win
Two readers will win sets of all the holiday bibs including Santa, Elf, Book Worm, Reindeer and two assorted bibs from the holiday collection. Use the Rafflecopter below to enter this giveaway. New to Rafflecopter? Watch this 45-second video on how to enter!
a Rafflecopter giveaway
Disclosure: I received a sample pack of the Holiday Bib Collection in exchange for my honest review. I am an artist, art educator, cook, mom, pet parent, runner, and backpacker. I can be found online at http://briarroseartstudio.blogspot.com and http://scottishroseartstudiollc.tumblr.com