This post may contain affiliate links. Read my disclosure policy here.
Those of you without a little snark gene in your body may know just by reading the title that this book is not for you. However, others of you probably smiled and nodded. Sometimes we can feel like we are doing just fine raising our kids until those other parents and their thoughts and their opinions and judgments weigh us down and make us feel like throwing in the towel altogether, or at least living in a cave where we don't have to deal with them anymore. Or is it just me?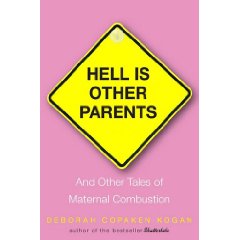 Well, it's not just me. Author Deborah Copaken Kogan picked the title of that particular essay for her book Hell Is Other Parents: And Other Tales of Maternal Combustion because it sums up the root of many of the other issues she addresses. And I probably don't have to tell you that the tone of the essays is a bit snarky and infused with humor, but you might be surprised that there's quite a bit of heart there too as she examines her role as mom.
These essays read like your favorite well-written blogs: Funny, relevant, personal. Since they are short and light, this would be a perfect book to keep in your car to read while waiting in the carpool line, or waiting at the pediatrician's office, or waiting at the soccer fields. In all that time waiting for your children, why not treat yourself to another mom's insight? Or at the very least make your life look easy by comparison?

We have a copy to give away to one U.S. reader. Leave a comment if you'd like to win. The winner will be posted in next week's column.

The winners of Chicken Soup's Extraordinary Teens is #14 Val Pearson, #5 Shawntele, #19 Terri.
Written by Jennifer Donovan, 5 Minutes for Mom contributing editor and 5 Minutes for Books Managing editor