This post may contain affiliate links. Read my disclosure policy here.
Way back in the day when I had my Fisher Price record player that played actual records, I used to hang out in the basement playing my favorites with my friends, over and over again.  As I grew older, I graduated from my read aloud storybooks but my Alvin and the Chipmunks Christmas album remained a mainstay.  In fact, I had to buy a second Chipmunks Christmas album because I listened to the first one so much that I eventually scratched it beyond repair pulling the needle back to replay my favorite songs.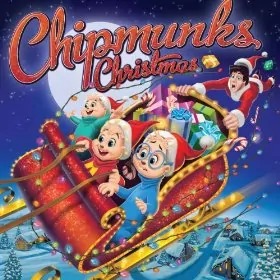 Fortunately,  the Chipmunks Christmas is once again available, this time on CD ($9.19).  The CD includes all the favorites that were on my record, including "All I Want for Christmas Is My Two Front Teeth!" where Alvin wishes he could sing about "thithter Thuthy thitting on a thithle" that never failed to make me giggle.
Of course my favorite remains a mainstay on the CD with "The Chipmunk Song (Christmas Don't Be Late)" where Dave gets frustrated at their ad libbing and yells at them mid-song.  The by-play between Dave and the Chipmunks makes it just that much more fun.  There are even two new songs on this 18 song CD, "Here Comes Christmas" and "Ho Ho Ho."
As with most music these days, the album is available via MP3 files, as well.  You can purchase those individually for $0.99 per track $5.99 for the entire MP3 album.  The files are compatible with MP3 players, including iPods, iTunes, Android devices, and Windows Media Player, so you can play them on the go.  At least this way, I know the wee ones will never scratch the record.
The album contains the same songs that I grew up listening to, and I'm thrilled that it's once again available so that my own children can create memories singing along to the goofy merriment that is the Chipmunks Christmas album.  I can't wait to introduce them to some nostalgia from my childhood that I think they'll truly enjoy.  It's "Rudolph the Red-Nosed Reindeer," "The Twelve Days of Christmas," "Deck the Halls," and more in a way they've never heard them and one in which I'll bet they giggle just as much as I did at their age.
Enter to win
TWO readers are going to get signed autographed copies of the Chipmunks Christmas CD! New to Rafflecopter? Watch this 45-second video on how to enter!
a Rafflecopter giveaway

In the interest of full disclosure, I was compensated for writing this promotional post.  All opinions remain my own.
Written by 5 Minutes for Mom contributor Michelle who is thrilled that she can finally start singing all her favorite Christmas songs now that her birthday has passed and the Christmas season has officially begun.  Share this and her other idiosyncracies on her blog Honest & Truly! and follow along with her on Twitter where she is also @HonestAndTruly.
Michelle may never stop running around Chicagoland, but she always makes time for the important things in her life – her wee ones, cooking, reading, and spending time with friends – and of course, writing. You can see what she's up to on her blog Honest & Truly! or on Twitter where she tweets as @HonestAndTruly.