This post may contain affiliate links. Read my disclosure policy here.
I'm so happy to be here today sharing with the 5 Minutes for Mom readers! My name is Becky and I blog at Clean Mama where I simplify everyday life with checklists and a great cleaning routine.  I also have a printables Etsy shop called Clean Mama Printables where you'll find great homekeeping checklists and kits sure to make your life a little easier and more organized.
Today I'm going to share some tips to make your holidays a little more manageable.  As moms, we have so many things that we are trying to multi-task and the holidays are no exception.
A few simple things I do to make December easier?
1.   Wrap each family's or person's gifts in one wrapping paper pattern – easy to locate and grab all the gifts that go to one location.
2.   How about a little holiday cleaning bucket to do a festive quick clean anytime.  I stock mine with a holiday scented candle, all-purpose cleaner, cleaning cloths, cleaning wipes, carpet freshener, and mirror/window cloth.
3.  Ask your kids what they really want to do and concentrate on those traditions.  Maybe you are going crazy with all the decorating and running around and all your kids want to do is drive around and look at lights or make frosted cookies with you.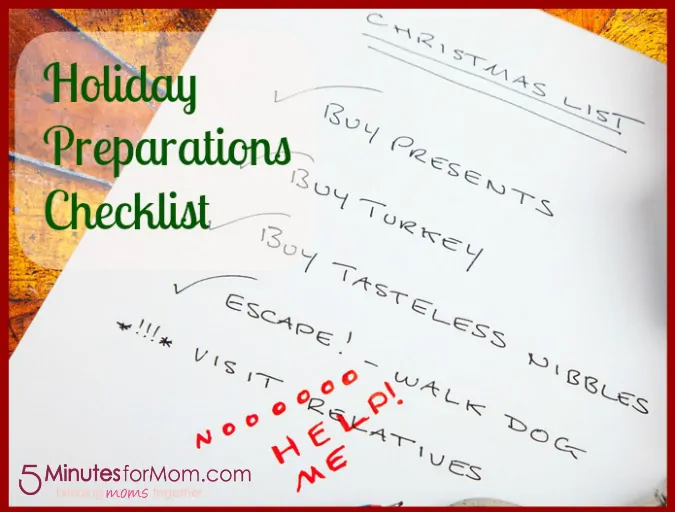 With so many things going on in such a short period of time, how can you possibly make it easier?  I like to break down my tasks into smaller, more manageable tasks. 
Sure, the list might be a little longer, but more tends to get done and I get to that feeling of accomplishment a little sooner. So instead of putting 'holiday cards' on your checklist, break down the process – order cards, address cards, send cards.
Rarely do I  have time complete one major to do in one sitting, but if I break it down it's a little less overwhelming. I break down the major to-dos of the season and make a list – holiday cards, gifts, decorations, bake, menu, and gifts to make – then each to do gets broken down into three steps to completion.
How about a free printable checklist to get you started?  You can go here to get your checklist – I hope it simplifies your holiday season!