This post may contain affiliate links. Read my disclosure policy here.
Jennifer Weiner writes with humor, self-awareness, heart, and sensitivity — all with an honest approach that never goes over-the-top into the realm of sappy or maudlin. Her latest novel, Best Friends Forever takes a little darker approach, but is still classic Jennifer Weiner.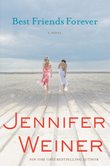 It's time for Addie's fifteen-year high school reunion. Since her parents have died, she has made their home her own. So, she's living in the same place she lived in high school, but nothing could drag her to the reunion. High school didn't treat Addie so well, since it isn't usually kind to loner girls who are slightly overweight.
Addie's life changes when Valerie moves across the street: Girl the same age living across the street equals instant best friend. Addie and Valerie are best friends until something separates them their senior year. They haven't talked since then, but after the reunion (which semi-celebrity weather-girl Valerie did attend), Valerie shows up on Addie's doorstep begging for Addie's help.
Valerie convinces Addie to go along with her to investigate the result of her not-at-all-accidental hit-and-run that occurred in the parking lot after the reunion was over, and the former best friends end up on the lam aka Thelma & Louise.
The darkness comes from the themes covered: The ruthlessness of revenge, the shallowness of self-absorption and vanity, and the reality of loss — the loss of a future and of lives squandered. But you'd be wrong if you saw this book as a depressing heavy tome rich with symbolism and desperation. The novel is written with Jennifer Weiner's spot-on humorous observations about life and ends with hope.
It's still basically chick-lit — it just delves a little deeper into the human psyche.
If you'd like to win one of three copies (U.S. residents only), leave a comment. We'll announce the winners in next week's column.
The winner of the two mysteries by Emyl Jenkins is #49 Pam.
Written by 5 Minutes for Mom contributing editor and 5 Minutes for Books managing editor Jennifer Donovan