This post may contain affiliate links. Read my disclosure policy here.
One of our readers asks our organizer Jessica Duquette:
Where and how is the best place to keep shoes?

I have about 40 pairs that I am forever tripping over. Some I keep by the front entrance, others I keep in my closet for visual cues with certain outfits, and others end up in my laundry room. I can't seem to pick "one" system that would address the whole issue. What do you think about what would work best? Thank you so much for your time!

From:
Shoe-shocked!
Jessica says:
Dear Shoe-shocked,
Great question! You are not alone in the 'what on earth do I do with all my shoes?' dilemma.
I have so many clients who have the same issue, it can be very frustrating, especially when you spend good money on poorly designed products that don't work.
First off, I would say do not bother with any of the flimsy shoe racks they sell for about $15. Those are more of a pain than anything else as they fall apart easily and you won't end up putting your shoes back on them because it's too much effort. As with anything that has to do with organizing, you want it to be as easy as possible for everyone involved. This means keeping the most used items closest at hand and available for the people who need them.
Keep kid's things low and handy so that it's easy for them to get them when they need them and put them away when they are done. For kids, you can even call the place where things are kept "home". So…'time to put your shoes back in their home', or ask them, 'where do these shoes live?'.
I think you are off to a good start with having your most worn pairs by the front door, the problem of course, being that they end up in a huge messy pile. That doesn't work. First off, you didn't mention if the piles at the door were just yours or those for your whole family? If you have enough room, I would recommend something like a shoe bench. The fancy ones can get quite pricey, but I saw one at www.benches.com that was lovely for just around $100 US.
(By the way, these are NOT affiliate links.)
If you have a hall closet nearby, you may want to use an over-the-door shoe organizer and/or one that hangs on the rod (of course, that may open a whole new can of worms of clearing out the hall closet!)
Over at www.organize.com, they have several varieties, just type in 'shoe organizing' in the box up top. Either one of those solutions will take care of 10-15 pairs of your shoes. I wouldn't recommend this solution for your kids, however, because it's too much trouble for little hands.
For kids, I would use a small sturdy rack right by the door like this one shown here.
Or even a separate basket for each kid to put their shoes and backpacks, with a hook right above it for their coats. Shoe cubbies work well for this as well, depending on how much room you have.
As for the shoes in your clothes closet, SS, I would separate them by how often you use them. If you rarely use them (for example fancy shoes for formal occasions), I love to use the clear shoe drawers from www.containerstore.com.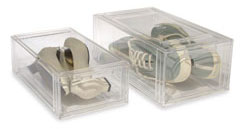 The reason I prefer these drawers to boxes, is that you can stack them two or three high without having them come crashing down on you when you are trying to get the pair on the bottom of the stack! I would go for the larger ones, as they are great for sports shoes and shoes with any kind of heels. You can also keep scarves, mittens and hats, 'special' lingerie, etc. in these and stack them as high as you need to in your closet, they are great!
Remember the organizing principle that says to keep the things you use the most closest at hand, with the things you rarely use in the hard-to-reach places, like that shelf on top of your clothing rod that you can't reach without a step stool. If you are lucky enough to have a shelf that is at eye level, you can keep your every day shoes right there so you can just grab them and go!
I hope this helps, I would love to see the "before" and "after" shots of your solutions!
Remember, I am on your team!
..· ´¨¨)) -:¦:-
¸.·´ .·´¨¨))
((¸¸.·´ ..·´ Jessica -:¦:-
-:¦:- ((¸¸.·´*
Did you find this post helpful? You can easily get my blog posting updates automatically by email! Just
click here
to subscribe to the feed, and you won't have to keep checking back every day.

Do you have an organizing question for Jessica?
Submit your question and let professional organizer Jessica Duquette help you clean up your own house and you can get free promotion for your blog.
And join us on the third Saturday of each month to read our exclusive "Ask the Organizer" column with Jessica. (The month's edition was a week late.)