This post may contain affiliate links. Read my disclosure policy here.
Susan has been moonlighting…
A few months ago, Scott Common Sense approached us about contributing to their blog. We said, "Sure!" and this month Susan has had four posts published at the Scott Common Sense Community Blog.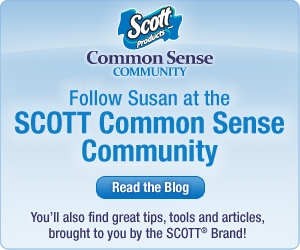 You can read about Susan's packing tips in, Packing Like a Pro. If you want to find out how to enjoy your vacation memories even more, check out, Bring Your Vacation Memories to Life.
If flying with young kids is in your near future, you might want to read what Susan has to say after several flights with her girls in her post, Enjoying Air Travel with Young Children.
And finally, if you head out on the road with your family, Susan shares some of my car packing secrets in, Clean Kids, Clean Car.
Susan has had a ton of fun working on this project with Scott Common Sense. Make sure you check out the blog next couple months too, as she finishes up her three month gig as the Scott Common Sense guest blogger.

NOTE: Scott Common Sense site is up and running again now. Sorry that it was down earlier. 🙂