This post may contain affiliate links. Read my disclosure policy here.
I love experimenting with new ingredients in my baking recipes, don't you?
A few weeks ago, I came across Justin's Hazelnut Butter at our local gourmet market and thought that it would make a nice alternative to Nutella. While it tasted quite nice, the texture was far too gritty for us to enjoy it the same way we do Nutella.
We all know how expensive all natural foods can be, and this Justin's Hazelnut Butter was no exception at $9.99 a jar.
While I knew that we wouldn't be using it, I couldn't see letting it go to waste. I'm a huge fan of banana bread and thought I'd try mixing up one of my banana bread recipes by adding the hazelnut butter.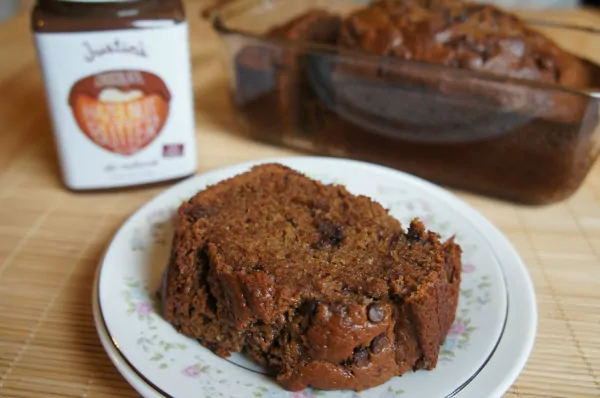 The banana hazelnut bread was delicious, but it tasted more like a cake than a bread!
I decided to try the recipe again, only this time, changing the ingredients a bit to make it taste more like a cake. I think this was the perfect Banana Hazelnut Bundt Cake recipe, and it didn't take long at all to make!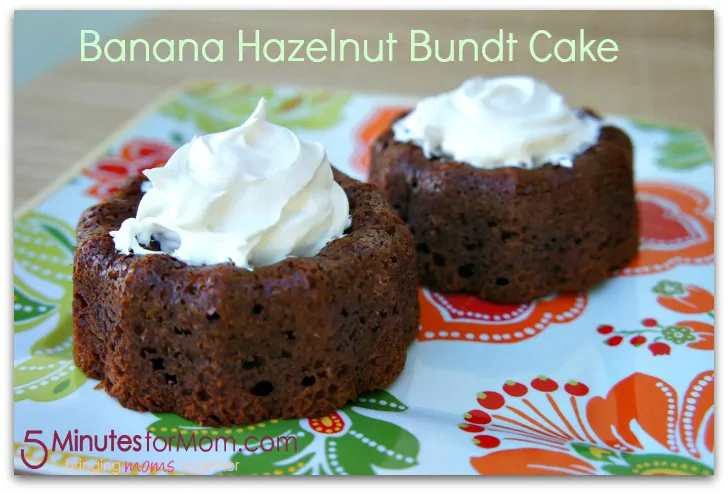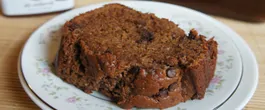 Ingredients
5 tablespoons chocolate-hazelnut spread such as Nutella or Justin's
3 tablespoons room temperature butter
1 teaspoon canola oil
3 tablespoons unsweetened apple sauce
1/2 cup light brown sugar firmly packed
2 medium ripe bananas
2 large eggs
1 1/2 cup unbleached cake flour
3/4 teaspoon baking soda
1/2 teaspoon baking powder
1/2 teaspoon salt
1 tablespoon cocoa powder
2/3 cup milk
Nonstick cooking spray
1/2 cup mini chocolate chips
Instructions
Preheat your oven to 350 degrees.

Mix the chocolate-hazelnut spread with 1 teaspoon oil in a microwave-safe dish and cook for 30 seconds, mixing until completely combined.

Add the applesauce, butter, brown sugar, and bananas and beat at medium-high speed until thoroughly blended. Then add eggs, 1 at a time, beating well after each one.

Combine flour, baking soda, baking powder, cocoa powder and salt in a separate bowl and mix thoroughly.

Add your flour mixture and milk to your banana mixture, stirring until combined. Add mini chocolate chips and swirl throughout your batter.

Spray your Bundt pan liberally with nonstick cooking spray and fill halfway with batter.

Bake at 350 degrees for 55 minutes or until a toothpick inserted into the center comes out clean. Cool for 10 minutes and invert Bundt pan over cake stand - it should slide right out!
I used mini Bundt cake pans to make individual servings, but this recipe is perfect for a regular Bundt cake pan or a loaf pan!
Just add a dallop of whipped cream and you have a light and fluffy, decadent dessert!
Don't Miss This…
If you like this Banana Hazelnut Bundt Cake, be sure to also make our Gingerbread Bundt Cake.