This post may contain affiliate links. Read my disclosure policy here.
The other night I fixed a delicious dinner of lasagna, garlic bread, and a healthy salad. It's an old family recipe full of hearty flavor, tons of cheese, and yummy tomato sauce! It is a dinner fit for a king and one that provides a lot of leftovers.

Ingredients
1 box of lasagna noodles
1 jar of spaghetti sauce
1 pound of hamburger meat cooked and crumbled
1 8 ounce tub of cottage cheese
1 egg
1 cup of Parmesan cheese
1 16 ounce bag of mozzarella cheese
Instructions
Brown the ground beef and set aside.

In a large pot, place your lasagna noodles and fill with water and then salt it good. Cook until al dente.

In a large bowl combine ground beef and spaghetti sauce. Set aside

In another bowl, combine cottage cheese, egg, and Parmesan Cheese. Mix together and set aside.

To assemble the lasagna:

Place a scoop of sauce mixture on the bottom of your lasagna pan. Top with a few noodles (around 4 or 5). Top with 2 more scoops of meat sauce. Add a layer of the cottage cheese mixture and smooth out. Sprinkle with mozzarella cheese.

Repeat the layers until you run out of room. End with mozzarella cheese on top.

Bake at 350 degrees for about an hour and a half. If cheese is getting too brown, cover with foil.
One thing about lasagna is the cleanup! My pans always get so messy and I have to let them soak in a sink of hot, soapy dishwater in order to get it clean. The clean up is my least favorite part.
Then I heard about the Finish Revolution challenge and how clean my pans would be after just ONE washing through the dishwasher. Could this really save me hours of scrubbing and cleaning?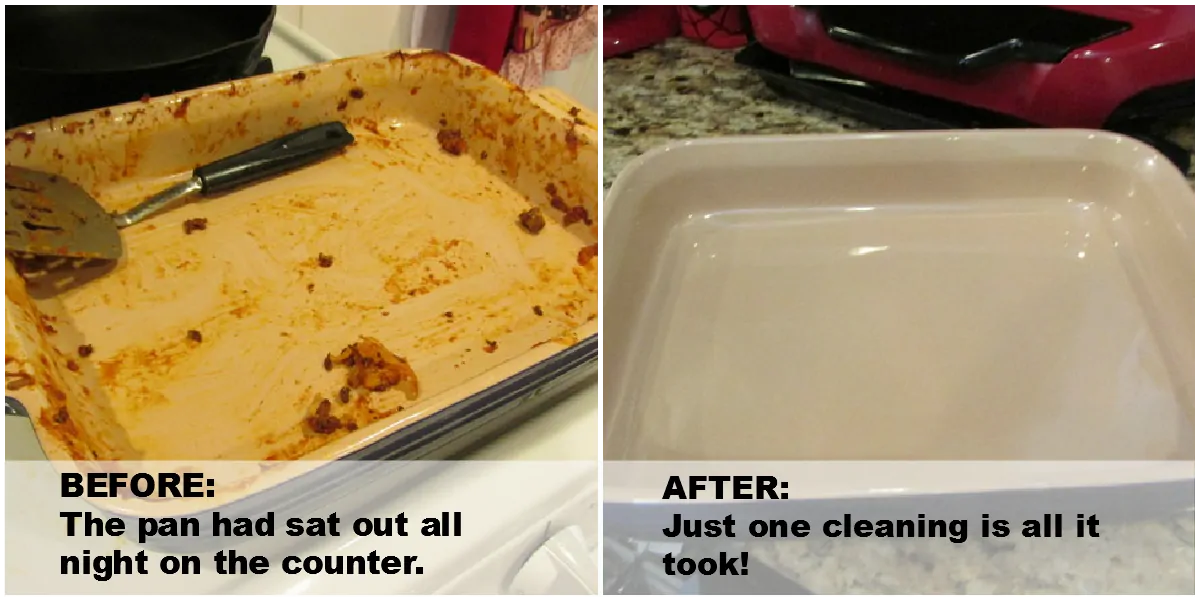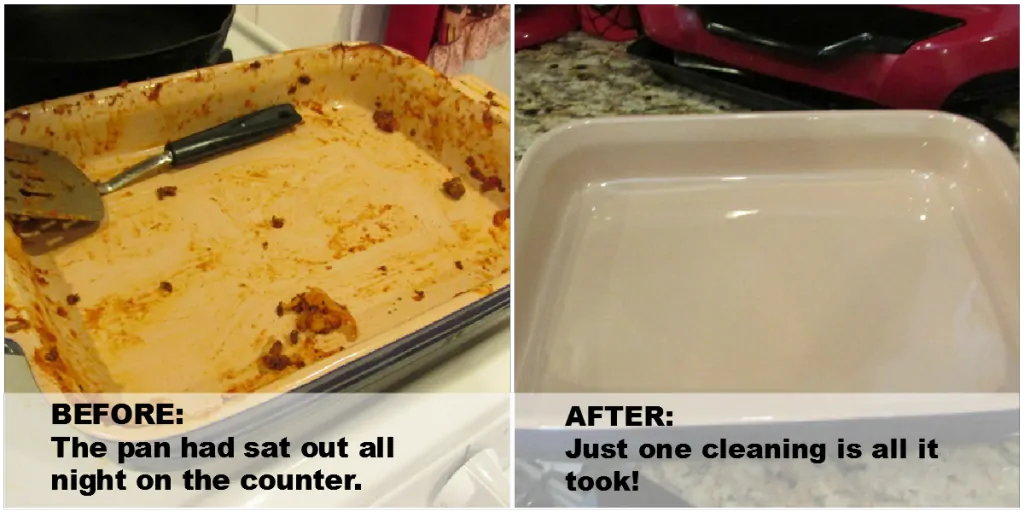 I was totally surprised at the fact that the Finish product actually cleaned my dishes like it said it would. I have never been able to just throw them in the dishwasher without cleaning all the leftover food off first. This was definitely a challenge I was glad I could take.

So what do you think? Would you like to take the challenge too?
About Finish Revolution
Take the #finishrevolution challenge and receive free-samples and take the challenge yourself, then share your experience using the hashtag #FinishRevolution on Twitter
About Finish Quantum

Finish® Quantum® has 3-chamber technology that releases agents that breaks down food residues: It's so powerful, there's no need to pre-rinse! It's also wrapper free!
Finish® Quantum® releases each agent when needed during the cycle
Rinsing Gel Powerball® – Works to wash away residues for sparkling clean glasses and dishes
Powerful Scrubbing Microbeads – To break down even the toughest food residues so they can be washed away
PowermaxTM Bleach – To attack tough stains like tea and coffee
Head on over to the Finish Facebook page and take the challenge, get free samples, and share with others about this amazing product!
I was sent product to review in order to try this challenge. All opinions listed are my own.