This post may contain affiliate links. Read my disclosure policy here.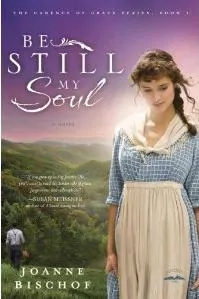 Be Still My Soul
is the debut novel by Joanne Bischof, and the first in what will be her Cadence of Grace series. As the book opens, we meet Lonnie Sawyer, an almost-eighteen year old girl living with her family in the hills of Appalachia a little over a century ago. Although she does not have a boyfriend, she is forced into marriage by her father after Gideon O'Riley, a bluegrass musician and the local ladies' man, steals a kiss one evening.
Lonnie finds herself an unwelcome addition to the O'Riley household, and it's not long before Gideon decides they will strike out on their own to find a future somewhere else. The long journey goes from difficult to perilous, culminating in a providential encounter with an older couple who offer them not only food and shelter, but also a place to find their footing as man and wife.
This book is a story of journeys, both physical and spiritual. As Lonnie leaves her parent's house and then even her home in Rocky Knob, she is also moving from being a girl to a woman, as well as a wife and mother. Gideon has a parallel journey, although it is filled with more twists and turns as he fights against his situation in life as well as against the call of God to surrender to His plan.
I truly enjoyed this sweet story. The Appalachian setting and dialogue rang very true, and the combination of plot action and character development seemed well-balanced. It was heartwarming to see how this older couple was put in the younger couple's life and made up for the lack of warmth and caring from their earlier lives.
Joanne Bischof is a fresh voice in the world of inspirational, historical fiction, and I would recommend this book to anyone who enjoys this genre of books. You can learn more about Joanne and even read the first chapter of the book at her website.