This post may contain affiliate links. Read my disclosure policy here.
I love flavor and this Chicken Tortilla Soup recipe is full of flavor. Give me a dish with sauce, cheese and all the toppings and I'm happy. That's why Italian used to be my favorite type of food. But as age (and birthing four children) has made that favorite pair of jeans tighter, my recent obsession is Mexican.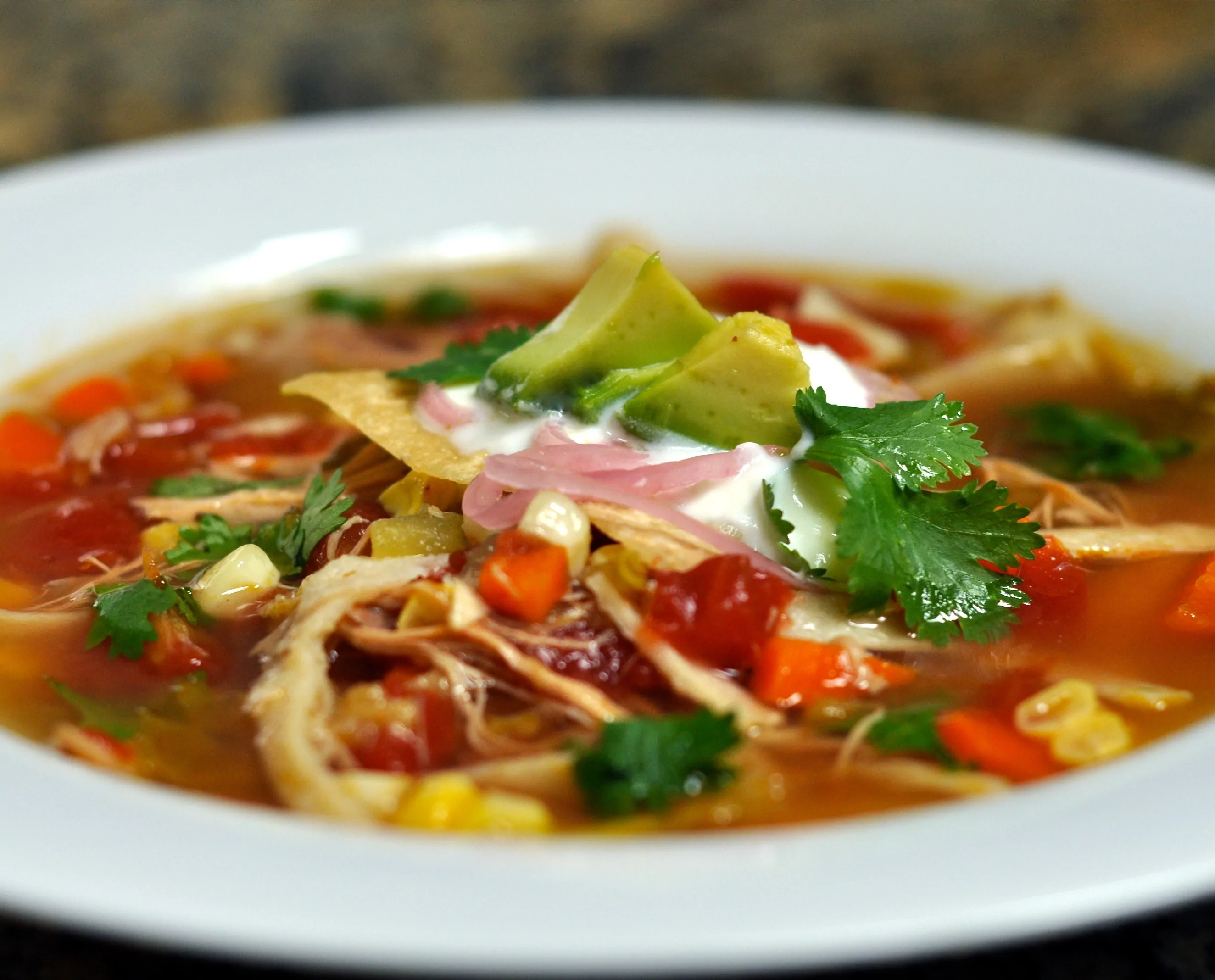 Good Mexican cuisine packs a satisfying flavor punch without tons of fat. Of course you could add gobs of sour cream and cheddar cheese, but there's a melodic simplicity that intrigues me in the way fresh ingredients are separate but still harmonize when rolled together in a tortilla. And then there's the practical convenience of providing the basic ingredients with a slew of optional toppings that picky children can, well, pick through and eager eaters can pile on.
Taco night is always a success in our house, and because we just ate our way through two nights of tacos, leftovers called for an alternate recipe: Chicken Tortilla Soup.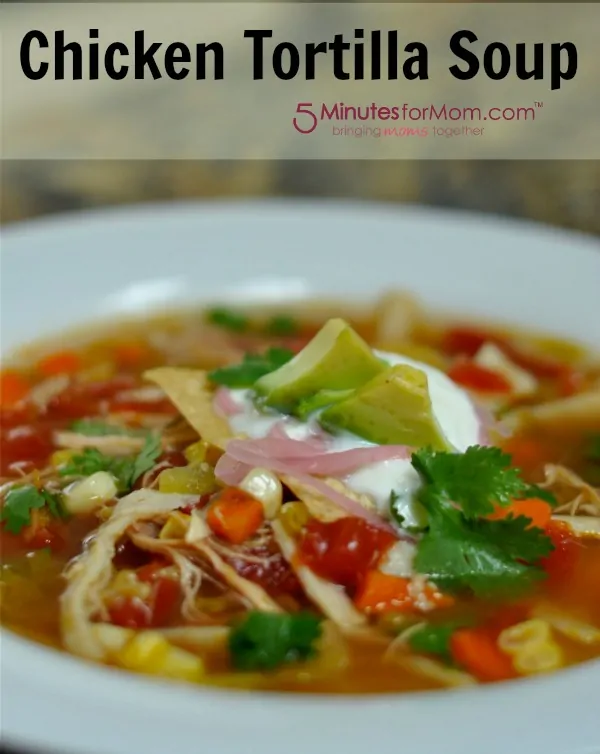 I used leftover shredded chicken, but ground beef or shredded pork would work just as well. I also had some Savoy cabbage remaining from my slaw taco topper, so into the soup it went. Almost any vegetable goes into this soup, so if you have leftover peppers, mushrooms or even zucchini, dice them up and throw them in when you sauté the carrots and onions.
Soup weather is here – enjoy!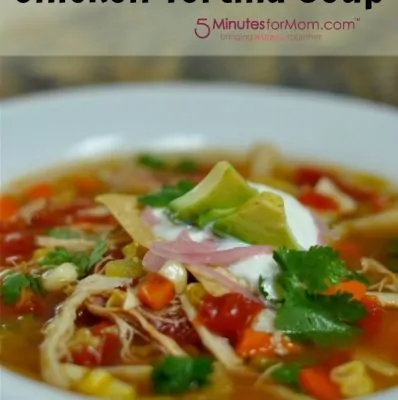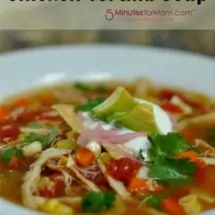 Ingredients
2 large carrots peeled and diced
1 smallish purple onion diced
2 cloves garlic diced
2 Tbsp. olive oil
1 tsp. cumin
1 tsp. chili powder
1/2 tsp. dried thyme leaves
1/2 tsp. salt
8 cups chicken broth
1 28- oz. can diced tomatoes
2 4- oz cans mild diced green chiles
2 cups shredded chicken
1 cup Savoy cabbage cut into thin strips
3-4 corn tortillas cut into strips
1 1/2 cups of corn frozen is fine
loose handful of fresh cilantro leaves
juice of 1/2 a lime
Optional garnish: avocado cheese, sour cream, salsa, chopped tomatoes, pickled red onion (delicious and so easy!), sliced scallions
Instructions
In a large stock pot, heat olive oil over medium heat, and saute carrots and onions 5 minutes. Add garlic and cook 1 more minute.

Add cumin, chili powder, thyme and salt. Stir.

Add broth, tomatoes, chiles, chicken and cabbage and simmer for 30 minutes on low.

Add tortillas and corn and simmer another 10 minutes.

Adjust seasonings to your taste (you'll probably need more salt if you used low sodium chicken broth).

Stir in cilantro and lime before serving.

Garnish with your selection of toppings.
Notes
Broth-based soups always taste better the day after, so if you put the basics together the night before, just stir in the lime and cilantro the next day.
We like a little fire in our soup, so I add a few shakes of Tabasco.