This post may contain affiliate links. Read my disclosure policy here.
Do you want to help your family expand their palettes to appreciate a variety of spices from around the world? In this guest post, Amanda Mouttaki shares helpful tips and ideas for spices to stock your kitchen.
My mom was a very good cook. However being raised in the northern Midwest, there weren't a lot of spices used outside of the basics.
It wasn't until I began cooking for myself and travel took me around the world that I had a new appreciation for spices. It's so important to me that my children are exposed to other cultures and I have found one of the best ways to do this is through food.
To begin preparing foods from around the world it's important to have the right tools.  On the front line of this is gathering the right spices. It's perfectly fine to pick up spices from your grocery store but if you can try retailers like Penzey's or My Spice Sage who make it their business to curate the freshest spices from around the world.
You don't have to buy everything at once, add to your spice stock as you cook new meals. Spices lose their potency over time so keep in a tight container, in a cool location or in the freezer to maintain maximum freshness.
There are multiple world cuisines but to begin I will focus on five major food styles and the spices that make them up. I am also listing some items that are herbs.  It is best to buy herbs fresh but the dried varieties work as well. Ready to get started?
Asian
Chinese 5 Spice
Cloves
Ginger
Lemongrass
Yellow Mustard seeds
Sesame
Mediterranean
Cilantro
Coriander
Oregano
Turmeric
Middle Eastern
Cardamom
Cinnamon
Coriander
Fenugreek
Mint
Paprika (sweet and hot)
Sumac
Saffron
Scandinavian
Caraway
Cardamom
Cinnamon
Dill
Central and South American
Allspice
Cilantro
Cumin
Dry and ground peppers (multiple varieties)
You will notice there is some crossover and in most cuisines garlic and onions are the base of the dish. There are also of course a whole set of Indian spices, but that's for another post.
This list is a big starting point and this is a fantastic base to start stocking your world kitchen!
Which spice is your favorite?  The most intimidating?
Pin it for Later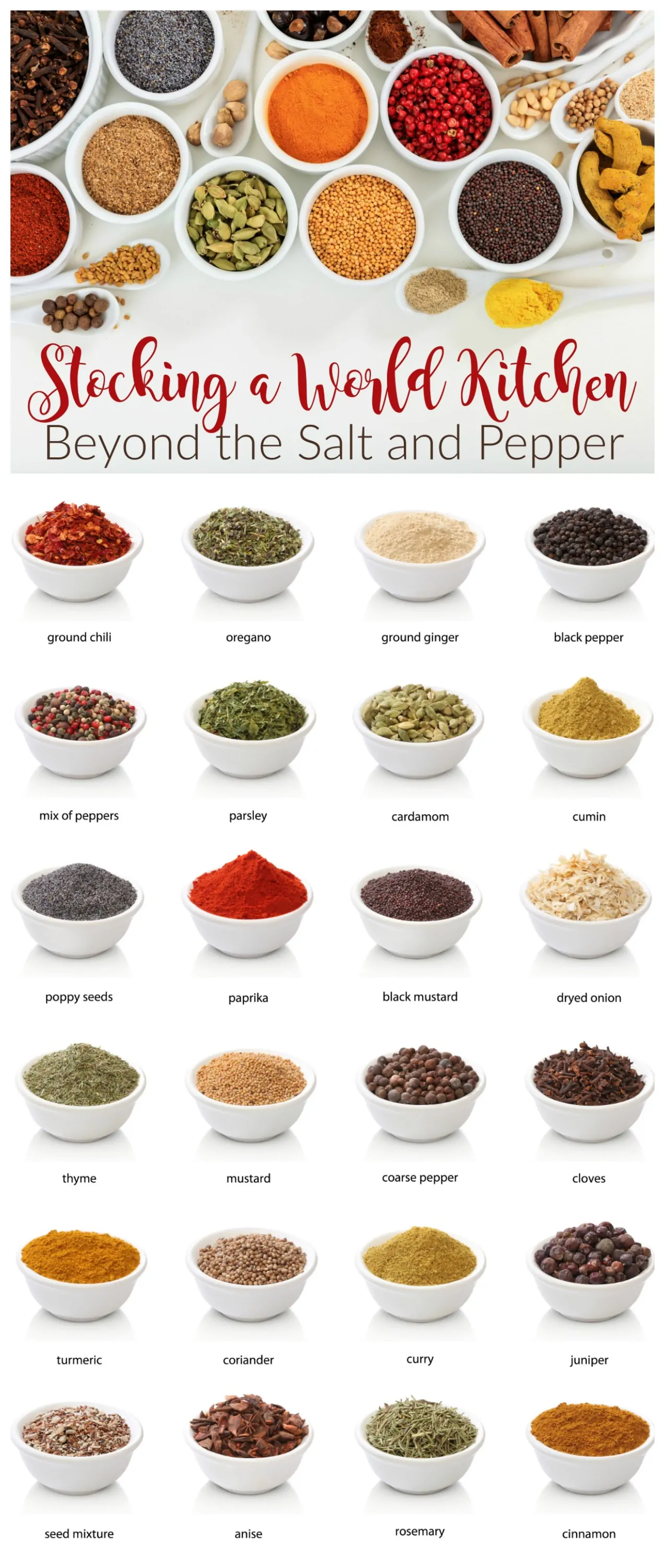 Written by Amanda Mouttaki of MarocMama.com, A Fearless Guide to Food and Travel.
We first published this post on December 11, 2012. Now, we've updated the images to share it with you again.