This post may contain affiliate links. Read my disclosure policy here.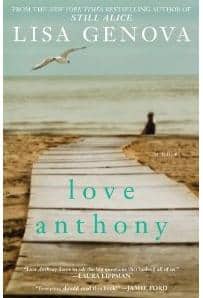 Love Anthony
by Lisa Genova is not so much a story about the life of the young boy named Anthony as it is a story about the echo he left behind. Anthony had autism, and just as his mother Olivia was beginning to embrace the reality of who he was, his life was cut short by a seizure. Olivia comes to their Nantucket cottage to grieve, leaving her now-estranged husband David at their home near Boston.
For Beth, Nantucket is home, where she lives with her husband Jimmy and their three daughters. Her routine existence is shattered when she learns that Jimmy and a co-worker are having an affair. As Beth examines her life after Jimmy has moved out, she wonders what has become of the adventurous, spontaneous person she used to be – and exactly when she let her ambition to be a writer die out.
Beth begins to write again, inspired by a dream to tell the story of a little boy named Anthony who cannot talk but nonetheless has something to say. Meanwhile, Olivia is reading through the journals she kept while her son was alive, and it soon becomes clear to the reader that we are hearing two sides of the same story.
Genova uses this mystical element in such a powerful way that I was more than willing to suspend my disbelief and immerse myself in the unfolding revelations. There were a number of times that I had to stop and reflect on something in the book that spoke directly to my soul, such as when Olivia is considering how her son's "severe" autism compared to the "milder" Asperger's of a fictional character:
Exact opposite ends of the spectrum, like red and violet in a rainbow. In the most obvious ways, they were entirely different, yet she found subtle and surprising similarities that comforted her, restored her hope. Violet isn't blue because it also contains red.
While it would be easy to recommend this solely as a book about autism, it is really so much more than that. Love Anthony
is truly a story that encompasses how Beth and Olivia experience life, from the way each views herself to the way she connects with those around her. And any author that can ask the question, "Why are we here?" and answer it in a way that wrenches open my heart is one that shouldn't be missed.
I'm pleased to say that we have one copy of Love Anthony
to give away. Use the rafflecopter below to enter. We'll announce the winner here in our book column on October 1.
The winner of The World Almanac for Kids is Renee.