This post may contain affiliate links. Read my disclosure policy here.
Did you know that this week is National Work at Home week? I know many of you out there are WAHMs or have aspirations to one day become a work at home mom!
Mary Byers (herself a WAHM) quit the corporate world eleven years ago. She began a home-based business and raised her children all while making sure everyone had clean underwear and food to eat. She's had her share of failures along the way, but she's also has her successes.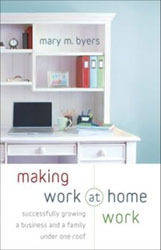 Mary has written several books, but her latest book, Making Work at Home Work: Successfully growing a business and a family under one roof shows moms how to develop an entrepreneurial mind-set without sacrificing their families.
It covers important topics such as developing a successful business philosophy, balancing time between work and family, setting realistic goals, and handling the challenges of being both "Mommy" and "CEO" while running a profitable home-based business. In addition to including her own experiences, author Mary Byers profiles real moms with home-based businesses who offer their hard-won advice.
Mary says she "feels really privileged that I was able to write this book. I wrote it with Work at Home Moms in mind. There are so many unique challenges about working at home that only another work-at-homer can understand!
She says the most important question to ask yourself is: Why are you working?

Believe it or not, there are a lot of people who don't know why they are working. Most assume that they are working for money. But when I talk to people about the topic, I hear a lot of different reasons for work. Some work for the mental stimulation. Some to keep their skills up to date. Others work to support their scrapbooking habit or to be able to purchase cosmetics at a discount.

There's a big difference between working to put food on the table vs. working for the "extras" such as summer camp or a vacation. Both are legitimate but it's essential to be honest about your motivation. Knowing what drives you will help you keep your priorities in order. When my children were young, I worked for the extras. However, instead of stopping when I earned enough to help with vacation costs I kept right on going, becoming a workaholic in the process. It didn't serve me or my family. When I recognized my error, I was able to cut back on work in order to create a healthier balance. Now that my children are school-age and I'm working to help cover orthodontia, tuition and retirement, I've increased my hours accordingly.

Understanding why you are working makes it easier to make tough work-related decisions. Will you work on the weekends? Stay up late to get it all done? If you're working to put food on the table, the answer will more likely be yes. But if you're working for the fun of it, you may choose not to compromise family time by late night or weekend work. When you know why you are working, it gets easier to decide what kind of boundaries you'll adhere to.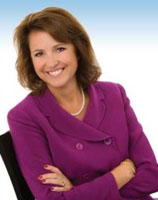 Excellent advice Mary. Let's find out a bit more about you and how you first began your Work at Home career!

When did you start your business? 1998
Why did you decide to start your business and how did you choose the type of business? The business found me, actually. I left full-time employment outside the home when I was expecting my second child. The decision to leave a job I loved was so agonizing I hadn't even thought about what I would do after my son's arrival. Colleagues began calling, however. "Would you speak at our conference?" "Would you write an article for our publication?" I said "yes" to everything and my business as a professional speaker and author was launched from our guest room.
What is your favorite thing about being in business for yourself? I get to work in my pajamas many days and have the freedom and flexibility to set my own schedule, making it possible to manage both work and family in a way that's comfortable for me.
What turned out to be harder than you thought? Balancing work and family when my children were preschool age. I was always wondering when I would be able to find the next block of uninterrupted time to work. It was mentally grueling.
Looking back, what is one thing you know now, but wish you knew back then? That I'd still be at it a decade later and by business would be thriving. Had I known that, I wouldn't have worried so much in the beginning.
Do you participate in any business groups (mentoring, networking, etc)? I'm part of several informal groups and have many friends who also work at home. We call each other for advice a lot!
As a business owner, it can be easy to work all the time – do you have any tips for balancing your business and your personal life? I finally have set office hours, which includes an ending time each day. Occasionally I'll allow work to spill over into Saturday morning, but I try to limit this as much as possible.
What have been some of your best business successes? My first book was published in 2005 and I've written four more since. Adding "author" to my credentials was a dream come true!

What are you planning to do with your business in the future? I'm taking on bigger projects which increases revenue and makes it possible for me to plan further out rather than chasing smaller projects that require the same amount of preparation but sometimes result in more stress. In addition, I plan to facilitate accountability groups for other at-home-entrepreneurs, which reflects my passion for helping other women succeed in a home-based business.
I've also launched a blog on this topic at www.makingworkathomework.com.
What one piece of advice would you give to work-at-home moms? Remember that your children are only young once. When my children were preschool age, the days seemed to last forever. Now that I have a 13 and 11 year old, I'm seeing how fast it really goes. There will always be time for work. There won't always be time to snuggle!
Mary has also developed at Making Work at Home Work blog ring. She'll be sending out helpful tips and monthly articles for your blog (and your personal use) as well as connecting Work at Home Moms. Go here to find out more info!
In celebration of National Work at Home week, we are giving away five copies of Making Work at Home Work: Successfully growing a business and a family under one roof.
To enter simply leave a comment on this post by Friday, June 5th. Five winners will be chosen at random and announced on Saturday, June 6th. This contest is open to US & Canadian addresses.
As always, don't forget to earn more entries: subscribe to our Feed, sign up for our 5M4M Newsletter, add our 5 Minutes for Mom button in your sidebar, write a post and link back to this contest on your blog, and spread the word via Facebook, Twitter, or email! Please see our site's Terms and Conditions of Use for a complete list of our contest and giveaway rules.
This post was written by guest contributor Amy Lathrop from Sprightly Amy Anne.