This post may contain affiliate links. Read my disclosure policy here.
The other day, just as I was testing out my new Method Dryer-Activated Fabric Softener Spray, my friend dropped by. As she walked in, I noticed something coming out of the bottom of her jeans. It was a dryer sheet!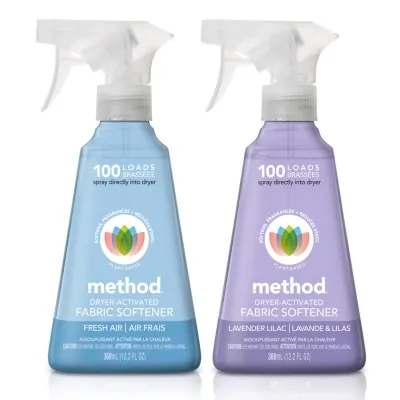 I laughed at the coincidence — because with Method's new Dryer-Activated Fabric Softener SPRAY I never have to worry about dryer sheets stuck to my jeans!
Yes, with the spray, my clothes take the place of the sheets — better for me and the environment! That is Method for ya!
Want To Do LESS Laundry?
As moms, I can quite safely say that we all have TOO much laundry in our lives. It is never-ending. If only money collected in our purses as fast as dirty laundry collects in our laundry hampers, (and on our children's floors!)
So, if you are looking to cut down on some laundry, or even more importantly not over-wash your best clothes, Method is here to help! You can pop clothes into the dryer, spray some Method Dryer-Activated Fabric Softener Spray on the clothes, which is available in Fresh Air and Lavender Lilac, and quickly "refreshen" them — saving time AND water!
This past week, I also used the Dryer-Activated Fabric Softener Spray to get rid of a nasty chemical spray in a new suitcase. I sprayed it on and then used the hair dryer to activate it. Ta Da! My suitcase now smells GREAT! (I think I might try that on my son's hockey gear! lol)
How Does Method's Dryer-Activated Fabric Softener Spray Work?
Simply spray onto wet clothes, and let the dryer do the work for you!

How Is Method's Dryer-Activated Fabric Softener Spray Different from Dryer Sheets?
Other brands' dryer sheets are often made out of polyethylene or polyester, meaning that they can't be composted or recycled after use. They are also frequently made with animal fat in the form of tallow for softening.
Method's fabric softener spray bottles are made from 100% PCR PET plastic and can be recycled, using a formula made with coconut oil.

Please Note: We are working with Method in their Method Mavens ambassadorship program. But my love for Method has nothing to do with contracts — it is all mine.
Written by Janice Croze, co-founder of 5 Minutes for Mom.