This post may contain affiliate links. Read my disclosure policy here.
The Chore Pad HD App is the answer for busy moms who want to use a chore chart and reward system for their children. Instead of paper charts and the hassle of rewriting, checking off chores and using stickers, you create your own customizable chart for each member of your family with just a few taps and some typing on your iPad. Included are templates, icons for chores, stars and trophies which make it pleasing to the eye and fun for your kids.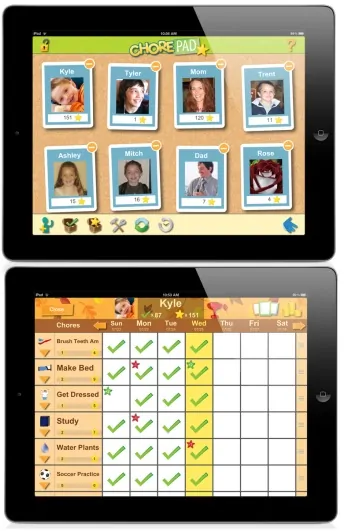 Open up Chore Pad in Parent mode which is password protected. Start off by creating a card for each person. Add their name and a photo if you'd like. Next assign specific chores, the days they need to be completed and the intervals (weekly, daily). Then choose the star value for each chore. For example, making the bed may equal one star while a more difficult chore like cleaning the bathroom may equal 10 stars.Then decide on the rewards when various levels are reached.
Easily tap on the chore when it's done and watch the checkmark and stars appear. If a chore isn't done, stars can be removed. Even Mom and Dad can include themselves and their chores so the whole family sees that working together makes your household run smoothly. Chore Pad HD would work well for homeschoolers who assign lessons as well as chores. Even classrooms use this app.
Chore Pad is also available on the web and the app is easily synced to the online version. Syncing is available for for the iPad and iPhone apps as well and automatic backups save your information. The Chore Pad HD app makes managing chores a breeze.
*Disclosure: This is a sponsored post. All opinions expressed belong to the author.