This post may contain affiliate links. Read my disclosure policy here.



We promised you excitement this Mother's Day Giveaway — and we were not kidding…
Yes, this Mother's Day, one of YOU is going to win a sleek, ultraportable Toshiba Portege!
I KNOW!!! We are so excited for you!
But now that you have stopped screaming and dreaming, let's talk about this super Mother's Day treat, the Toshiba Portege A600.
It seems like the traditional Mother's Day gifts of flowers and jewelry are not the only presents moms are hoping for these days. Technical gifts are zooming up the wish list!
I think there is an extra satisfaction in purchasing each other gifts that are not only useful and important to the family, but that are also special and exciting. Gifts like laptop, feel like "money well spent." It will be very well used, AND its a thrilling, meaningful gift! (I know for me, I always lean toward gifts that keep me connected to my friends and family — like computers and cameras.)
This Mother's Day I know a ton of you moms would love to hear, "Happy Mother's Day" with a Toshiba Portege A600! This feather-light laptop, weighing just 3.22 lbs, is the perfect companion for the busy mom on-the-go, whether that means at the coffee shop or in the kitchen.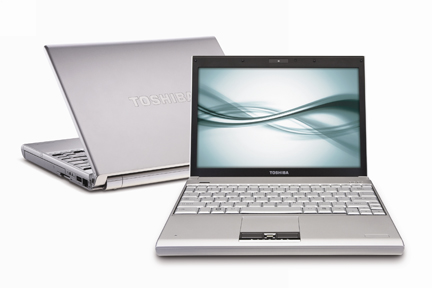 Ultraportable and durable, the Portege comes equipped with video multimedia capabilities, an extended battery life, and all the tools necessary to stay connected to friends, family and co-workers virtually anywhere.
Key Features:
Intel® Core™ 2 Duo Processor SU9300
12.1″ diagonal widescreen display with an LED backlight
Built-in Webcam and Microphone
Integrated Bluetooth® version 2.1 plus Enhanced Data Rate (EDR)
Energy Star 4.0 Compliant
DVD-SuperMulti (+/-R double layer) with Labelflash™ drive
1-yr Parts and Labor, 1-yr Battery Warranties
Finger Print Reader for security
All of these features are great but, let's be honest, the biggest feature, the one that matters the most, is the price. And you're going to love this price… The Portege A600 runs just $1,299 – $1,399.99! Affordable, powerful, small, and beautiful!
Yes, this computer is beautiful. The Portege is available in classic Aluminum Silver, Cosmic Black, or Soft Pink. I love the Soft Pink!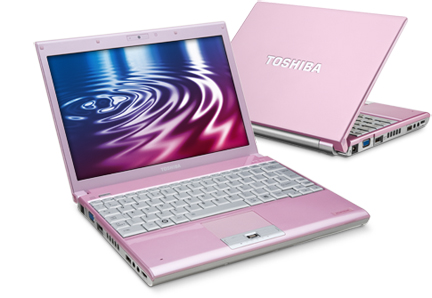 While we at 5 Minutes for Mom haven't had the chance to test out the Toshiba Portege, my husband purchased a Toshiba laptop three years ago and it is still serving him very well! My husband chose Toshiba because of its affordability and he has been thrilled with its performance and durability.
We want to keep you connected to your friends and family. We want one of you to take home your very own Portege laptop this Mother's Day!
That's right! We are giving away a Toshiba Portege A600 laptop to one of our readers. Oh yes, this Mother's Day is about to get even more exciting for one of you!!!
To enter this giveaway:
Leave a comment on this post. This giveaway is open to US shipping addresses.
Either link back to our Mother's Day Giveaway 2009 post and include a "Mother's Day 2009 Giveaway" button in that post or on your sidebar or link to this post.
As always, non bloggers are welcome to participate. We understand you can't link, but please spread the word to your friends!
Additional entries can be earned by Subscribing to our Feed, Signing up for our Newsletter, or spreading the word via Facebook, Twitter, email, etc.
Please visit our Mother's Day Giveaway 2009 post and our site's Terms and Conditions of Use for a complete list of our contest and giveaway rules.