This post may contain affiliate links. Read my disclosure policy here.
Lolli here…
A black and white animated movie? I admit my first impression of Frankenweenie, Tim Burton's newest stop-motion animated film, was curious, at best. It wasn't until I saw an extended sneak peek of the movie in Los Angeles last month that I totally changed my perception and added Frankenweenie to my must-see movie list this Fall.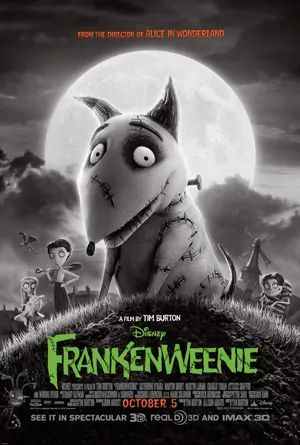 Frankenweenie is like nothing I had ever seen…part family-friendly, old-style "horror" flick and part tender love story between a boy and his dog. Even in the short preview that I saw, there were plenty of moments of comedy, as well. Take a look at this clip about the movie:
About Frankenweenie
Frankenweenie, the newest film by Tim Burton ("Alice in Wonderland," The Nightmare Before Christmas") is a heartwarming tale about a boy and his dog. After unexpectedly losing his beloved dog Sparky, young Victor harnesses the power of science to bring his best friend back to life—with just a few minor adjustments. He tries to hide his home-sewn creation, but when Sparky gets out, Victor's fellow students, teachers and the entire town all learn that getting a new "leash on life" can be monstrous.
Interesting facts about Frankenweenie:
Frankenweenie is renders completely in black and white as well as digital 3D, making it a unique movie see in the theaters.
When Tim Burton originally conceived the idea for Frankenweenie, he envisioned it as a full-length, stop-motion animated film. Due to budget constraints, he instead directed it as a live-action short, released in 1984.
Frankenweenie follows in the footsteps of Tim Burton's other stop-motion animated films "Corpse Bride" and "The Nightmare Before Christmas"—both of which were nominated for Academy Awards®.




Over 200 puppets and sets were created for the film.
The voice cast includes four actors who worked with Burton on previous films: Winona Ryder ("Beetlejuice," "Edward Scissorhands"), Catherine O'Hara ("Beetlejuice," "The Nightmare Before Christmas"), Martin Short ("Mars Attacks!") and Martin Landau ("Ed Wood," Sleepy Hollow").
Several of the character names—Victor, Elsa Van Helsing, Edgar "E" Gore and Mr. Burgemeister— were inspired by classic horror films.
To read more fun facts about Frankenweenie, visit my post on Better in Bulk.
Are you excited about seeing Frankenweenie this October?
Connect with Frankenweenie
See FRANKENWEENIE in theaters 10/5/12
Facebook: facebook.com/Frankenweenie
Twitter: @DisneyPictures
Website: http://disney.com/frankenweenie
Written by 5 Minutes for Mom author, Lolli. You can find Lolli blogging at Better in Bulk and tweeting at @1momof5.