This post may contain affiliate links. Read my disclosure policy here.
Jennifer here-
Lately, it has become a passion for my daughter to take care of the environment. She has a new-found love of recycled materials, composting, and making her living space a little greener. Since she has started living this lifestyle, it has caused me to take a look at what I can do for the environment, too, and I am so thankful for companies like EnviroCare to help me with that.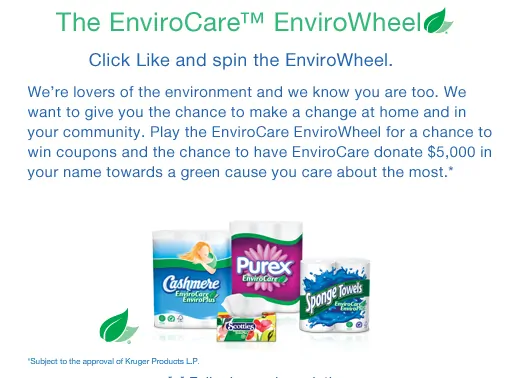 The folks at EnviroCare created a Facebook app, an educational game called the EnviroWheel, to help raise awareness of what we can do to help our environment. If you go through loads of paper towels in the kitchen, or endless bathroom tissue, why not do it the right way and use 100% recycled paper products? EnviroCare products are the same products many of us use every day – Cashmere, SpongeTowels and Scotties – but are made of 100% recyclable material and are environment friendly. Just look for the FSC or EcoLogo on these products and other paper products and you know you're making a good choice for your family and the environment. EnviroCare products are great because you don't have to sacrifice on softness or quality and you're doing something good for the environment – and they don't cost more!
The EnviroWheel game gives players clues to solve a frenzy of puzzles, all while learning how they can make a change at home and in their community by learning how recycled household paper products can positively impact the environment. Players are also able to accumulate points and compete for the top spots on the EnviroWheel leadership board, collect coupons, and even have a chance to win $5,000 to donate towards an environmental charity of their choice! You can play just by clicking this link. 
This app will only be available through July 18th, so be sure and spread the love and play the game. We would love to know what you think about the EnviroWheel. Check back often for product samples, contests and fun games for the family. 
EnviroCare is a Canadian product and not available in the United States.